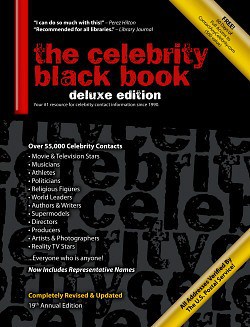 From the July 2010 issue of Steve Harrison's Book Marketing Update:
"Getting endorsed by a well-known name will give you instant credibility. This is not as hard to do as you might think. Start by making a long list of celebrities or experts in your field that you would love to get a quote from. You can get their addresses from their agents or through this website: www.contactanycelebrity.com.
Get On National TV!
Get Big-Time Publicity - Meet National TV Producers & Print/Online Editors One-On-One, Face-To-Face.
Apply Now To The National Publicity Summit 2020, Coming Up October 21-24th, 2020 In New York City.
Only 100 Spots Available -
Apply Now!
When writing a request letter, make it as easy as possible for the celebrities you target to respond. Tell them why you admire them, give them a few examples of things they could say about your book and include a return envelope with your manuscript. I had a client who took this approach with his tax book and he succeeded in getting quotes from Larry King and Charles Schwab.
Here's another tip: Ask them to talk about you in their quote rather than your book. For example, "Jane Johnson is on a crusade to help all parents become exceptional parents." When you receive blurbs like that, you can use them to promote your talks, workshops and other products, in addition to using them on your book cover."
Basic Membership
🆓 FREE 7-Day Trial then $39/month
✅ Low Monthly Rate
🕶 Search 59,000+ Celebrities, Influencers & Public Figures In Our Private Online Database
📬 Verified Mailing Addresses
🔎 Unlimited Online Searches
😎 14,000+ Agents, Managers, Attorneys, Production Companies, Publicists & More
📞 Rep Emails & Phone Numbers
🏢 7,000+ Entertainment Companies
🖥 Lightning-Fast Online Database
💫 Dynamic Lookup Technology
⏱ Daily Database Updates
🤩 Member Concierge
📩 Postage Refund Guarantee
🔎 Free Research Requests
👍 How-To Articles & Pro Tips
📘 Celebrity Leverage: How To Get Celebrity Endorsements E-Book
📗 Help From Hollywood: How To Hold An Autograph Auction E-Book
📕 Secrets To Contacting Celebrities: 101 Ways To Reach The Rich & Famous E-Book
💯 Cross-Linked Search Results
🎗 Celebrity Causes Database
💻 Monthly Insider Expert Webinars
😍 100% Satisfaction Guarantee
❌ Cancel Anytime Online
VIP Annual Membership
🆓 FREE 7-Day Trial then $197/year
✅ Best Value for Professionals
🕶 Search 59,000+ Celebrities, Influencers & Public Figures In Our Private Online Database
📬 Verified Mailing Addresses
🔎 Unlimited Online Searches
😎 14,000+ Agents, Managers, Attorneys, Production Companies, Publicists & More
📞 Rep Emails & Phone Numbers
🏢 7,000+ Entertainment Companies
🖥 Lightning-Fast Online Database
💫 Dynamic Lookup Technology
⏱ Daily Database Updates
🤩 VIP Member Concierge
📩 Postage Refund Guarantee
🔎 Priority Research Requests
👍 How-To Articles & Pro Tips
📘 Celebrity Leverage: How To Get Celebrity Endorsements E-Book
📗 Help From Hollywood: How To Hold An Autograph Auction E-Book
📕 Secrets To Contacting Celebrities: 101 Ways To Reach The Rich & Famous E-Book
💯 Cross-Linked Search Results
🎗 Celebrity Causes Database
💻 Insider Expert Webinars
😍 100% Satisfaction Guarantee
❌ Cancel Anytime Online