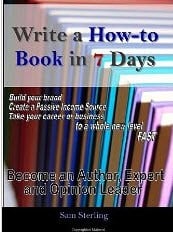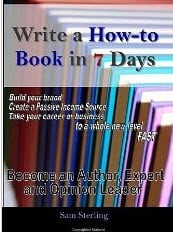 In her book, 'Write a How-To Book in 7 Days,' author Sam Sterling says…
"No matter how great your book is, to the buyer, your opinion won't matter as much as a third person's opinion. Getting others to say positive comments on your book is an important selling point to readers – especially those on the fence about buying it. It also creates buzz and interest in your book.
To get such reviews, testimonials and comments, send requests to other authors and experts in your industry, to local and national media publications and related periodicals. Industry-specific executives at large companies would also influence public opinion.
Often, Dunn & Bradstreet (D&B, NYSE: DNB) will have executives' contact information at big companies. D&B is the world's leading source of data on businesses with 177 million business records, culled over 169 years.
ContactAnyCelebrity.com is a good resource for getting a hold of celebrities' managers and agents.
Want Big-Time Publicity?
Meet 75 TV Producers & Print/Online Editors Who Want To Feature You & Your Work. Apply To The National Publicity Summit 2021 (VIRTUAL EDITION!)

Just A Few Spots Left - Apply Now!
Other authors often have blogs and an online presence giving you a way to contact them directly.
Some prefer review copies of your book. Some prefer a few sample chapters, others a summary. Do not send unsolicited manuscripts to everyone on your list. Not only will you waste money and paper, but you may end up burning potentially important connections by such an assumptive move. Find out which someone prefers by personally calling. Frame your request with respect and in terms of how it would benefit him/her.
For example, you can have a conversation along the lines of, 'Mr. Jones, I am the author of 'How to Maximize Frequent Flyer Miles.' I admire your work at Boeing and appreciate your programs there. I thought some publicity as an industry leader with such programs would benefit you and your company. Since I have reviewed in depth some key elements of your program, would you be willing to take a look at the book and consider giving an endorsement? I could send you a review copy of if you're busy, I can email you a summary.'
Give people time. You are probably getting endorsements from leaders pressed with many demands on your your time. A couple of gentle reminders via phone call or email over the course of one to three months may be appropriate. After all, you only need some testimonials, and you will likely have them.
While you wait, you can send out a summary of your book to everyone whose email you know, asking for testimonials.
Honestly wanting to know someone's opinion on things is one of the most powerful ways to engage them. It is flattering. Get feedback from readers.
Final note – do not send out your first rough draft, as tempting as it may seem to be done with it already. Send out your final manuscript that's been through at least three revisions by you and an editor."