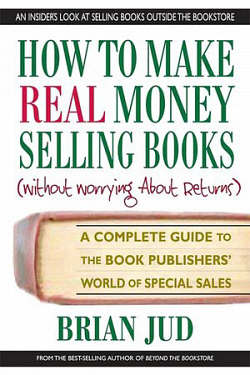 In his book, 'How to Make Real Money Selling Books,' author Brian Jud explains how to get celebrity book endorsements…
"Endorsements, also called testimonials or blurbs, are statements made by people attesting to the quality of writing and the value of the content in your book. If you can get celebrities or industry experts to endorse your book, it can have a significant positive effect on prospective buyers. In marketing terms, this is called the 'Halo Effect,' meaning you benefit from another person's or organization's notoriety.
Celebrities have attention-getting value, and if one or more of their names is connected with your book, their renown can be transferred to it. Similarly, if you have an industry expert substantiate your content, it gives you and your message more credibility, especially if you are not well known in your niche.
Aim high. Before you ask a celebrity or expert for an endorsement, ask him or her to write the introduction to your book. Most people will be flattered to be asked, but will probably turn you down. You might just get lucky, though.
Getting Celebrity Endorsements
Want Big-Time Publicity?
Meet 75 TV Producers & Print/Online Editors Who Want To Feature You & Your Work. Apply To The National Publicity Summit 2021 (VIRTUAL EDITION!)

Just A Few Spots Left - Apply Now!
Obtaining endorsements from celebrities may seem impossible, but in actuality, it is not. The best way to go about contacting celebrities is through networking. If you can somehow find a mutual acquaintance to contact a celebrity on your behalf, you will have a better chance of getting his or her time and attention.
Another option for getting in touch with celebrities is through mailings. The key is to make it as easy as possible for them to reply to your request. Your initial query should include a cover letter that asks for their endorsement of your book. You should also include the table of contents, a galley copy, or sample chapters for their review, as well as a self-addressed, stamped envelope (SASE) for their reply.
Let them know you recognize how busy they are, and send sample testimonials from which they may choose if they do not have the time to create their own. The following list includes several organizations and websites that can help you begin your search for celebrities:
The Screen Actors Guild represents nearly 120,000 actors in film, television, commercials, and music videos. SAG has two locations – one in California and the other in New York – and many branches. In addition to learning about industry standards and terms through SAG, you can search its branches to find the nearest one. Then, visit or call to learn how you can contact celebrities locally or nationally.
Screen Actors Guild; 5757 Wilshire Blvd., Los Angeles, CA 90036
Tel: 323-954-1600; website: SAG.org
Screen Actors Guild; 360 Madison Avenue, Fl. 12, New York, NY 10017
Tel" 212-944-1030; Website: SAG.org
Celeb Fan Mail claims to have a database of over 15,000 reliable celebrity addresses. There is a free to join, but once you are registered you will be given full access to the members' area, which allows you to search the database of celebrity addresses. [Note: Celeb Fan Mail has been acquired by Contact Any Celebrity].
You can join Contact Any Celebrity for a fee and get access to an online database that contains the mailing addresses, phone, and fax numbers, email addresses, agents, managers, publicists, and charitable causes for several celebrities.
Contact Any Celebrity; 8721 Santa Monica Blvd. #431; West Hollywood, CA 90069; Website: ContactAnyCelebrity.com
Reel Classics, the classic movie website, provides a free list of addresses for certain celebrities that have approved the use of their contact information.
Responses from celebrities can take time, but if you do not hear back from someone you sent a request to in two or three weeks, send a follow-up letter or email. Celebrities are busy people, and their mail is often screened by an assistant, which can delay or even prevent your request from getting to them. Therefore, try to make direct contact with them if possible.
For example, many receive people following their performances, so you might try to grab their attention then. That is how I received a testimonial from Wayne Dyer. Or, if a notable person is conducting a book signing, speak to him or her there. I had my picture taken with Oprah Winfrey and Jack Canfield at two similar events. I even got them to pose for the photograph with a copy of my book in hand – an implied endorsement. Do what it takes to ethically get celebrities to endorse you or your book, and the results will follow.
Getting Industry Expert Endorsements
If you have been in an industry long enough to write about it, you probably know, or at least know of, the leading authorities on your topic. Your research might have even been based on some of their earlier writings. Many experts are willing to endorse authors like yourself, particularly if you use their theories or mention their titles or papers as a source. Find their websites and contact them directly. If you cannot find their information, try going to the website of the major associations in your industry to find out if your target authority is a member, or perhaps on its board.
Endorsements go both ways. Be sure the celebrities and experts you ask to endorse your book portray images with which you are comfortable being associated.
Other Endorsements
If you are having trouble obtaining endorsements from celebrities or experts, it can still be useful to get them from average readers. Sometimes the sheer number of endorsements can have a significant impact, regardless of who they are from. Author Bill Creed solicits testimonials creatively. 'I make sure that a bookmark is in every book I sign and encourage readers to send me a testimonial. For this reason, my personal email is on the bookmark. I get many responses, and of course, I save the email addresses for future use.'
When listing average endorsements in your book and sales-promotional literature, apply the marketing principle of primacy and recency. This principle states that in a list of more than three items, people are more likely to remember the first and last entries. Therefore, list your celebrity and expert testimonials in the first and last positions, and all of the others in between.
Using Your Endorsements
Endorsements can be very persuasive, so you want to be sure prospective buyers are able to see them easily. You should include the best blurbs on your website and in your personal sales kit, press releases, media kits, advertising, and sales promotional items. you could also place them on the rear cover of your book. Or, if you have an especially powerful endorsement from a top celebrity or a recognized industry expert, you should consider putting it on the front cover.
If an endorsement goes over two or three short sentences, it may be too long for people to grasp its meaning before losing interest. In those cases, extract a short phrase that characterizes the essence of the testimonial and use only that. Be sure that doing so does not misrepresent the intention of the endorser, though. According to the Federal Trade Commission,
'The endorsement message need not be phrased in the exact words of the endorser unless the advertisement affirmatively so represents. However, the endorsement may neither be presented out of context or reworded so as to distort in any way the endorser's opinion or experience with the product. Endorsements must always reflect the honest opinions, findings, beliefs, or experience of the endorser.'
Do not rely on your name and message as the sole technique for communicating the advantages of your content. Apply the Halo Effect and use the impact of a connection to a celebrity to support your message and extend your name recognition. This is particularly important if you are not a well-known person in your niche. You may be surprised at how often and vocally television and radio hosts will refer to your book if it has a celebrity connection on the air. People are enamored with notoriety, and your association with fame can only add to y our sales and positive exposure.
Also See: