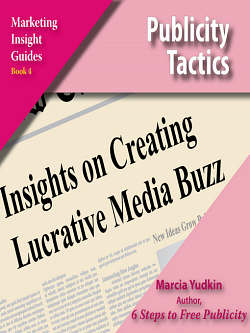 In her book 'Publicity Tactics,' marketing expert Marcia Yudkin explains how to get brilliant blurbs for your books…
"But I don't know anyone important or influential,' protested a client recently when I suggested he get some high-powered quotes for his to-be published book.
You needn't be a familiar name or face to someone to request comments on your book (or your product). Ordinary mortals whom I know have received blurbs from luminaries like the Dalai Lama and the Senator Bob Dole.
If you know and admire someone's work, get their attention by tying your admiration of them to the theme of your book or item. Depending on the topic you've written about, you might approach politicians, entertainers, company presidents, heads of associations or prominent people who share your hobbies or passions, as well as other authors.
Flattery helps, if it's specific and sincere.
Want Big-Time Publicity?
Meet 75 TV Producers & Print/Online Editors Who Want To Feature You & Your Work. Apply To The National Publicity Summit 2021 (VIRTUAL EDITION!)

Just A Few Spots Left - Apply Now!
Be willing to provide a printout of your entire manuscript. Although more and more work is done on computers, many people can't bear reading a long manuscript on screen.
Remember that you're asking the other person to put their credibility on the line for you. Go the extra mile to make the process convenient for them."
ACTION STEPS
* Make a list of potential blurbers. Think big and think thematic – who cares about the issue or cause at stake? For example, a client of mine who was publishing a memoir about growing up as a ward of the state approached a Boston TV news anchor who regularly ran features about foster children looking for a home. The news anchor enthusiastically agreed to write an endorsement.
* Before writing a cold letter or email, invoke the 'six degrees of separation' principle, and find out whether anyone in your network knows any of the individuals on your list. If so, request permission to use their name when you approach Mr. or Ms. Bigwig.