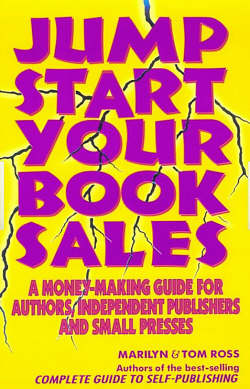 In their book, Jump Start Your Book Sales, Marilyn & Tom Ross write:
"Buzz is influential talk – a big time, no-nonsense force.
Buzz might be called the Tornado Alley of communication. But it needs an igniter. Several igniters actually. That's where advance comments, also known as "blurbs," come in. If you can get several celebrities or really well-known people in your industry to say nice things about your book, people will start talking about it. So in this chapter we'll be searching for one of the most elusive forces in marketing: the buzz of testimonials.
Prepare now for getting blurbs later
Ideally, you have developed a personal relationship with key individuals. This is one reason to continually network within your industry. Attend national conventions and regional seminars where you can reach opinion makers. Get to know these people. Follow up the meetings with personal notes. Keep in touch every six months or so.
Want Big-Time Publicity?
Meet 75 TV Producers & Print/Online Editors Who Want To Feature You & Your Work. Apply To The National Publicity Summit 2021 (VIRTUAL EDITION!)

Just A Few Spots Left - Apply Now!
Join associations in your field and volunteer to serve on committees. It's only human nature to be more willing to help out a friend or acquaintance than a stranger. When you come a callin' with a pre-publication endorsement request, your chances of going away a winner are much greater if you are approaching someone you know – and who knows you.
Use your contacts. If, for instance, you happen to be a member of the American Society of Journalists and Authors (ASJA) and you're trying to reach a celebrity, check the membership directory for those who specialize in writing about "Entertainment/Performing Arts." One of your colleagues just might have recently interviewed the luminary you're trying to reach for an article, or written a book about him or her.
This can work for other topic areas as well. Want to reach a fitness guru? Maybe one who writes about  "Fitness & Exercise" can help. Those who specialize in such subjects as Music, Personal finance, Women's Issues, Lifestyles, or Historical Subjects might also provide wonderful liaisons to important people in their fields. We've found our ASJA colleagues to be very generous of spirit.
If you're working really far out, here's another idea, once you've identified your potential endorsers: Determine their birthdays and interests by looking them up in a Who's Who directory. Purchase a book you know they would enjoy, autograph it appropriately, and send it to them on their birthday. It's guaranteed they will remember you when the time comes!
Researching for appropriate endorsers
But suppose you're not on a first-name basis with appropriate people? Don't fret. Get ye to the Internet! You don't have to kiss a million frogs to find a prince on the Net. Just for grins go to Amazon.com as a starting point. (Also see the many specific appropriate sites for locating experts and celebrities.) Often finding someone who matches your needs is as easy as typing a few keywords in an online search engine.
Or you might consider prospecting on a listserv that covers your topic. We know of one celebrity author who waxed eloquently via email after he replied to a request for advance reviews on a listserv – and found he loved the book.
Many people you can't access any other way are on the Information Superhighway. Check various Web sites for their email addresses. (This is a great way to go around gatekeepers, as many important people respond personally to their email.)
If the Web doesn't solve your program, try a large library. Look under your subject in Readers Guide to Periodical Literature, Magazine Index, and any of the specialized indexes such as Business Periodicals Index, Applied Science and Technology Index, or Index Medicus. Often article writers are experts in their field.
And don't overlook book authors, especially if you have a novel. Those who write in you genre are the ideal people to blurb your book. Other authors published by your same house or clients of your agent will be easier to reach since the publisher or agent can intervene in your behalf.
You can also find appropriate authors in Subject Guide to Books in Print (which is usually housed in the library's order department rather than in the open stacks in the patron section.) For best-selling authors who are deluged with requests, you usually have to write them in care of their most recent publisher. Find those addresses in Literary Market Place (LMP). (Or for a more sneaky approach, read the acknowledgments in their most recent book; they'll usually name their agent. Then look up that person in LMP.)
One resourceful author, who obtained a quote from none less than John Bradshaw, discovered how to reach him while preparing a reading list for her own book. When going through one of Bradshaw's books she noticed a phone number telling where he buys his tapes. It rang into his office and resulted in a rich and laudatory testimonial. Always keep your antenna out; sometimes a hot trail waits in disguise.
More strategies for locating the object of your affection
There are many useful directories that can serve as lightning rods for your search. Try the following: The Celebrity Black Book, The Yearbook of Experts, Authorities & Spokespersons; Celebrity Directory; VIP Address Book. Always use the most current volume. In these four directories you'll find thousands of film and television stars, authors, politicians, recording stars, athletes, and other famous people.
Bury yourself in various Who's Who references or specialized directories to get contact information and background data. Ask the reference librarian for help. While recently researching for a client who had a sports title he wanted us to promote, we discovered The Athlete Address Book. It proved to be a treasure trove of information for our purposes. There are many such industry-specific resources.
If you're after Hollywood types, try locating their agents or personal publicists through the Screen Actors Guild in Los Angeles at 213-549-6797. The New York Guild can be reached at 212-944-6797. As you might guess, the Guilds are deluged with requests and will only give out information on three actors at a time. Once you get an agent's name, call him or her and ask if the performer has a publicist. If not, the agent is your contact, so come on with your big guns.
Even if the agent or publicist offers to verbally pass along your request, it's wise to send it in writing. It's hard for another person to convey your passion for the project.
Need to corner a political type? Find out who their press secretary is by contacting the White House, Capital, or Supreme Court, whichever applies. Party headquarters can also be helpful in reaching certain elephants or donkeys.
Making it actually happen
Now that you know who you want to contact and how to reach them, the challenge is how to motivate them to agree. It's not that they object to giving a quote, it's the time needed to read the book. The celebrity or expert is often too busy to accommodate your request. Is all lost? Not necessarily.
Offer to draft appropriate comments yourself. You might say, "I know how busy you are. Why don't I put together a few lines for you – subject to your approval or revision, of course?" They often agree. Yes, you will write the blurb. It's done all the time. This saves the other person valuable time and gives you more control over both the content and the turnaround period.
Tailor the quote to the person by using language the individual would be comfortable with. Craft a quote that is specific rather than general. Saying something is "a good read" really says nothing. Instead, qualify and quantify to develop a strong testimonial. An evocative and credible quote might say something like, "With the ideas in XYZ book, I discovered how to accomplish the same amount of work in half the time."
It's the wise author or publisher who understands the agenda and hot buttons of the person from whom they are requesting a quote. Then you can explain that your book furthers his or her aims. Make it clear you understand the other person's causes and concerns by referring specifically to his or her work.
To expedite things, you might fax the quote, along with a Table of Contents, cover or catalog copy, and author bio for nonfiction. For fiction, it's harder to get a commitment without the other person reading the manuscript. If you wish to try, offer an author bio, synopsis, and a few sample pages so the potential endorser can see your actual writing style.
You may need to work through a personal assistant, agent, publicist, or secretary. If so, woo this person as diligently as you would the endorser. The gatekeeper can either get you in or slam the door shut permanently.
For really important blurbs, call and get the name of the gatekeeper and let him or her know to be on the lookout for a priority or overnight package. Send not only the manuscript, but also write the secretary a personal note of thanks for passing the manuscript along. Call four days later to be sure it got there. Send the gatekeeper a registered letter again thanking him or her for facilitating your contact. Nobody treats these assistants this way. You will be remembered and valued.
How do you proceed once you've garnered these precious testimonial gems? Promote the heck out of them! The advance comments you collect from expert or famous people can be put on the back cover of the book, added to the inside at the very front before the title page, and interwoven in promotional materials. If you manage to get a dynamite testimonial from a heavyweight, you may want to incorporate it on the front cover."