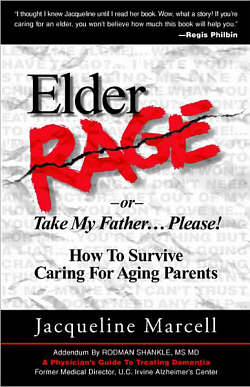 John Kremer, author of '1001 Ways to Market Your Books,' reveals how one first time, self-published author got over 40 celebrities to endorse her book…
"When authors tell me that they can't get any celebrity testimonials because they don't know any celebrities, I just tell them the story of Jacqueline Marcell…
When she self-published 'Elder Rage,' she got 40+ celebrities to give her endorsements. Below is her story in her own words. I'll comment on her points and critique her testimonials after the story…
'When I wrote my first (and probably last!) book, 'Elder Rage or, Take my Father…Please! How to Survive Caring for Aging Parents,' I didn't have a clue about publishing. I had just barely lived through an incredible nine-month experience with my elderly parents, I didn't have a degree in medicine and I'd never written anything longer than a postcard. What I did have going for me were many years as a sales and marketing executive in the television business, university-level teaching experiences and lots of naive chutzpa.
I poured over several books on self-publishing, took some classes, networked like crazy with self-published authors and decided that since I was a nobody, the only way my book would be taken seriously would be to have numerous celebrity endorsements.
Want Big-Time Publicity?
Meet 75 TV Producers & Print/Online Editors Who Want To Feature You & Your Work. Apply To The National Publicity Summit 2021 (VIRTUAL EDITION!)

Just A Few Spots Left - Apply Now!
I decided that I wanted to have the most endorsements ever seen on a book, so I went into hyper-work mode and approached everyone I could think of. I realized that I had really hit a chord with my topic because eight months later I was on cloud nine when I emerged with impressive quotes from Steve Allen, Ed Asner, Jacqueline Bisset, Dr. Harold Bloomfield, John Bradshaw, Pam Dawber, Fred de Cordova, Phyllis Diller, Hugh Downs, Duke University Center for Aging, Jerry Dunphy, Ken Duchtwald, Dr. Dean Edell, Betty Frieden, Leeza Gibbons, Dr. John, Mark Victor Hansen, Julie Harris, Senator Tom Hayden, The Institute for Successful Aging, John Hopkins Memory Clinic, Dr. Irene Kassorla, Janet Leigh, Art Linkletter, Ed McMahon, Hayley Mills, Regis Philbin, Jane Powel, Senator John D. Rockefeller IV, Dr. Bernie Siegel, Dr. Nancy Snyderman of ABC News and Robert Stack! But I really don't like to name drop…
Locating all of these people was no small feat. I found out SAG (Screen Actors Guild) would give me the phone numbers of agents to three celebrities at a time, and you better know which ones you're asking for when you call because they're very busy. For authors, I called their publishers and sent to them. The reference desk at the local library got to know me really well, helping me research how to find some of these people. Then I put together a riveting cover letter, my bio, a can't-put-it-down synopsis and sample quotes of what I was looking for and faxed, emailed or mailed to hundreds.
When I'd call to follow up, it was so upsetting to hear: "Sorry, we didn't get it. Please resend it." Or "That person doesn't work here anymore." Or "You need to talk to their manager." Or "No, we don't handle that; you need to talk to the publicist." Or, "Didn't anyone tell you he never endorses books?" Or "We get hundreds of these requests a month, I'm sure she'd have no interest in a book like that and we're very busy. I'm sorry." It was NEVER: bada-boom, bada-bing.
Polite persistence turned out to be the key. I re-sent and left messages re-emailed and re-faxed until their offices knew my name pretty well. "Hi, it's just me, Jacqueline Marcell… again." I finally got their attention and then those who were interested in the topic asked to see a galley of the book and then I had to wait…wait…wait for them to have time to read it, evaluate it, and respond. With one celebrity that I worked on for seven months, his assistant told me: 'He said that if you called one more time, he'd give it to you because of your pleasant persistence!' Yes, I was always polite – I begged a little – but I was careful never to be obnoxious or annoying.
Then I was elated when the quotes started to come in. One celebrity called and said that he loved it but was ill and asked if I'd mind taking his quote verbally. Uh… not at all! To save their brain cells from having to come up with something, I always sent several quotes that pertained to them and they could extrapolate from and make their own. One celebrity said, 'I like them all. Slap my name on any one of them and put me in there. I love what you've done.'
I was surprised that celebrities were more willing to help than I would have thought, but then I realized that they hadn't always been celebrities, and other people surely had helped them along the way also. When they see something worthy of their name and their help, many are willing to lend a hand.
Of course, I sent everyone an autographed copy of the finished book with a note of my everlasting gratitude for his or her support. I believe that because of their valuable endorsement, I've been able to become and advocate for eldercare reform much faster than I would have otherwise.
I am now a sought after speaker at conventions and on radio and television, helping adult children and spouses get the support and answers they are searching for. I always have to laugh because thee very first question an interviewer always asks is 'How in the world did you get all of these credible endorsements?' I always say, 'I hit a chord with an issue that they care about… and then I begged – politely!'
Here are some of Jacqueline Marcell's testimonials:
"A remarkable book! You have charted a relatively untrod field associated with the aging process. You deserve a great credit. Congratulations!
– Steve Allen, TV Personality, Best-Selling Author
This testimonial is rather bland. It doesn't really say much about the book, but it is by an older celebrity, so Jacqueline did use this quote on her cover.
"Jacqueline's persistence and grace in the face of overwhelming obstacles is incredible. Delightfully written with wit and compassion, this firsthand drama is a primer for anyone with aging parents."
– Ed Asner, Actor
This quote provides a good idea of how well-written the celebrity believes the book to be, and how highly he thinks of the author. This quote is a good choice because of who it's from and the kind of character it gives the book.
"As someone who has been through a similar journey with my own mother )for thirty-five years of dementia), I can relate to the sacrifice and reward, the horror an humor, and the evolution and eventual acceptance of circumstances that Jacqueline has gone through."
– Jacqueline Bisset, Actress
A great quote for one essential reason: It shows that elder age is not limited to ordinary people. It touches all of us. This is a quote that I might choose for the back cover.
"Jacqueline has written a powerful and poignant story about the family devastation of dementia. This is a must-read for caregivers."
– Harold H. Bloomfield, M.D., Best-Selling Author, 'Making Peace With Your Parents and Making Peace With Your Past'
This quote is useful because of who the author is, and what he has written about. Anyone who liked his book would be likely to buy Marcell's as well.
"This powerful and rewarding daughter's story illustrates that it's never too late to conquer family secrets. Anyone struggling to manage an elderly loved one will be grateful for this heart-warming book."
– John Bradshaw, Best-Selling Author, 'Bradshaw: On the Family, Healing the Shame That Binds You, Homecoming, Family Secrets'
Again, another good quote simply because it attracts fans of this author's work. This might be another one that I would put on the back cover. (Note: Marcell prints all the quotes in the front of her book, with only a few featured on the cover.)
"A poignant, humorous and entertaining roller coaster ride, laden with valuable and practical care giving advice. Having survived being raised in a home shared by a demented grandmother, my hat is off to you. You should be canonized, my dear!"
– Pam Dawber, Actress
This is another quote demonstrating that elder rage is very common.
"Fascinating! Once you open it, you won't be able to close it until you finish it."
– Fred de Cordova, Executive Producer, 'The Tonight Show with Johnny Carson'
A rather bland quote, since it really tells little about Cordoba's reaction to the book. This quote would be better if he had said why he couldn't put it down.
"There's nothing like a real-life story by someone who's been there, done that. This is a gripping true story that will make you cry and laugh."
– Phyllis Diller, Comedian
I like this quote for only one reason: Any book that can make you laugh and cry has got to be good.
"Jacqueline's story and style of writing will surely grab a large readership. Studded with flashes of humor, it demonstrates that the enormous resourcefulness and resilience of the human spirit."
– Hugh Downs, Former Host of '20/20'
I'd use this quote when promoting to bookstores and sales reps. The point about large readership should be emphasized in these groups.
"This Sharing of a care giving experience, which reflects a journey of self-discovery and perseverance in creativity, is a welcome addition to the shared journeys of adult children caring for their aging parents."
– Brian M. Duke, President, Children of Aging Parents
Another rather bland quote, but from someone who is important to a key targeted audience.
"As Frank McCourt did so poignantly in his bestseller Angela's Eyes, so too has Jacqueline captured in 'Elder Rage'. Both experienced devastating family tragedies, yet kept their sanity with touches of humor. As an elderly father, I would like to feel assured that there is someone as special in my family to play the role of caregiver with tough love and tender compassion as Jacqueline as done so avidly.
– Jerry Dunphy, Newscaster
Dunphy is not a major national celebrity, but he is important in Jacqueline's own backyard. His quote is most useful because if points out that the book is not only for older children, but also for the parents who may some day be a burden to their children.
"Fellow Baby Boomers, listen up! With all of the recent breakthroughs in medicine, you may find yourself caring for your parents in more years that they cared for you. Elder Rage will show you how to be an effective caregiver without ruining your own life in the process."
– Ken Dychtwald, Best-Selling Author of 'Age Wave and Age Power: How the 21st Century Will Be Ruled by the New Old'
Again, this quote targets fans of Dychwald's books as well as Baby Boomers who, may not now, but soon will be faced with a parent who might become burdensome.
"Elder Rage works! First, as a riveting non-fiction novel about a daughter's unconditional love for her aging parents. Second, as an informal book on caring for the elderly that solves the mystery of managing difficult elders. You will be helped and you will be touched by this amazing story's heart-line."
– Robert Stack, Actor
A one-two punch form an older actor, this quote should help to sell many books.
"Jacqueline tackles that part of life that most think will never happen and shoves us out of our denial with what it can really be like dealing with the personality and diseases of our elders."
– Dr. Dean Edell, Host of 'The Dr. Dean Radio Show' and Best-Selling Author of 'Eat, Drink, and Be Merry'
This quote should attract the audience for Dean's shows and books.
More Testimonials:
I am featuring the rest of the testimonials Jacqueline sent me because they really show what can be done if an author is persistent. I hope that the breadth of the testimonials she attained will inspire you to go out and get more testimonials for your books. As your read the rest of them, I bet you will find it hard not to run out and buy the book right away.
The book has got to be good: It's a great read (mentioned over and over again), an inspiring story and practical handbook. Get a copy today! (Note: As you read the following testimonials, try to guess which celebrities made use of the sample quotes provided by Jacqueline and which wrote their own. Some are obvious, some are not.)
"A fascinating look at human behavior that illustrates the success of a daughter's devoted persistence. Written with wit, compassion, and integrity that you'll never forget."
– Betty Friedan, Best-Selling Author of 'The Feminine Mystique, It Changed My Life, The fountain of Age, Life So Far'
"Jacqueline's heart-warming account of the love she gives her parents touched my heart. This is must-reading for the Baby Boomers."
– Leeza Gibbons
"I have consulted families with aging issues for over 25 years, and the problem of anger in dementia is one of the toughest. Jacqueline's story is a valuable resource that offers guidance and inspiration."
– Dr. John W. Gibson, The Institute for Successful Aging
"Jacqueline's ingenuity and her ultimate understanding will inspire and comfort anyone dealing with a parent's not-so-gentle decline. This true-life story is a valuable resource that offers guidance and inspiration."
– Barry Bordon, M.D., Ph.D., Professor of Neurology and Cognitive Science and Director, The Memory Clinic, Johns Hopkins Medical Institutions
"This devoted daughter's amazing journey will give you the skills and strength to manager your own elderly loved ones with humor and grace."
– John Gray, Best-Selling Author, 'Men Are from Mars, Women Are from Venus'
"Jacqueline's journey illustrates the power of wit, humor, and loving persistence that will keep you on the edge of your seat. You will laugh, you will cry—and you will never forget this daughter's story."
– Lisa P. Gwyther, MSW, Duke University Center for Aging
"Most Baby Boomers will spend more time and money on elder care than child care. This great insightful book will help you know that you are not alone."
– Mark Victor Hansen, Co-Creator of the #1 New York Times Best-Selling 'Chicken Soup for the Soul Series'
"What a contribution – a true story told with compassion and humor."
– Julie Harris, Actress
"Jacqueline has a story to tell that will engage anyone coping with the aging process in their own family."
– Senator Tom Hayden of California
"The reader will fell privileged to experience the challenges and eventual gratifying solutions that Jacqueline presents in this poignant narrative. Her courage, sensitive insights and excellent writing style will offer adult children a lifeline of hope and positive expectations."
– Irene C. Kassorla, Ph.D., Best-Selling Author
"You'll learn, you'll laugh, you'll cry—what a wonderful combination of emotions – and you'll never forget this daughter's incredible journey."
– Janet Leigh, Actress
"Bravo! What an incredible learning adventure. Written with humor and wit, keeping you spellbound — as if you're reading a riveting novel."
– Art Linkletter, Radio & Television Personality
"Congratulations! A very important subject that does not get enough attention, as more and more people are finding themselves having to cope with caring for their elderly parents."
– Hayley Mills, Actress
"I thought I knew Jacqueline until I read her book. Wow, what a story! If you're caring for an elder, you won't believe how much this book will help you."
– Regis Philbin, Television Personality
"Ms. Marcell has turned a tragedy into valuable guidelines for caregivers."
– Jane Powell, Actress
"This book provides great solace for anyone who has ever been through the pain of watching someone you love lose control and slowly become someone else entirely. I have lived through this nightmare and can attest to how difficult it is. Elder Rage is a thoughtful, personal story that will touch your heart and inspire you to keep going even in the most trying of circumstances."
– Senator John D. Rockefeller IV of West Virginia, Founder of Blanchette Rockefeller Neurosciences Institute
"Jacqueline illustrates that love is always the most powerful medicine."
– Bernie S. Siegel, M.D., Best-Selling Author, 'Love, Medicine, and Miracles'
"Jacqueline describes the extremes that a daughter must go through to save a father with dementia. She chooses the more difficult path of staying the course, a much tougher existence than just walking away, and brings honor to her parents and moves us to a world with insight.
– Nancy L. Snyderman, M.D., Medical Correspondent, ABC News
"Me thinks you have a blockbuster on your hands. You deserve some sort of award for producing a wonderful book like this – it's going to help so many people."
– Irwin Zucker, Founder, Book Publicist of Southern California
Have these testimonials worked for Jacqueline? Yes. Here's a summary from one of her recent emails to me:
"Things are blasting off for me: I was just on CNN with Miles O'Brien, KNBC came to do a story on me that will air tomorrow and then get picked up by the affiliates nationwide. AARP flew in their chief editor from Washington, DC, last week to do a major story on me for the AARP Bulletin and I'm going to be on the cover! This goes to MILLIONS! Since October I have done 12 radio shows, five TV shows, and numerous seminars. I have now sold over 4,000 books in four months, and I do EVERYTHING myself."
– Reprinted with Permission from John Kremer, Author of 1001 Ways to Market Your Books.