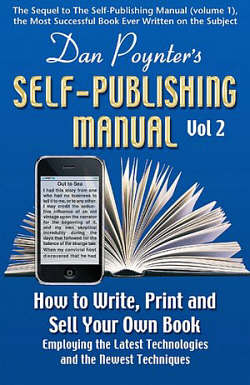 Dan Poynter, known as the 'Godfather of Self-Publishing' and author of 'The Self-Publishing Manual,' 'The Self-Publishing Encyclopedia,' 'Is There a Book Inside You?' and 'Writing Nonfiction' sends us this article on how to get blurbs, testimonials, endorsements and quotations for your books.
"Imagine you are in a bookstore browsing the shelves of a book to buy. You pick one up, read the back jacket and the author's biography. You are not familiar with the author, and considering the price, you decide not to buy it.
The next book you pick up is the same price and is also written by someone you have never heard of. However, you notice the back jacket contains reviews and positive comments from respected people and known experts – names you recognize. This book is one you are more apt to buy.
Testimonials, forewords, endorsements, and quotations or 'blurbs' sell books because word-of-mouth is one of the most powerful forces in marketing. (Coined by Gillett Burgess, a Boston-born humorist, and author in 1907 [1866-1951], a blurb is a short sales pitch or review of a book usually printed on the jacket or in an advertisement.)
More than 400 titles are published each day. There is no way anyone can know and rank them. That is why the book industry relies so heavily on reviews and blurbs.
Anything you say about your book is self-serving but words from another person are not. In fact, when readers see the quotation marks, it shifts their attitude and they become more receptive.
Harvey Mackay printed 44 testimonials in 'Swim with the Sharks'; he had endorsements from everyone from Billy Graham to Robert Redford. Did these luminaries buy a book and write unsolicited testimonials? Of course not. Mackay asked for the words of praise.
Some authors who do not want to do their own publishing take a tip from Mackay and gather endorsements on their manuscript. These blurbs get the attention of agents, publishers, their sales staff, and later, the bookstores.
According to 'The Wall Street Journal', fiction authors approach other well-known fiction authors so often that many potential endorsers now refuse all requests – and the group is growing. Many explain that they earn a living writing and do not have time to read manuscripts and draft blurbs.
"The irony is that I'll be you every single author who is no longer giving blurbs got them when they were starting out."
– Richard S. Pine, literary agent in 'The Wall Street Journal'
The reason the larger publishers are finding the obtaining of blurbs challenging is that they are not going about the solicitation in the best way.
Your mission is to get the highest-placed, most influential opinion-molders talking about your book. You have more control than you think over who you quote, what they say, and how you use their words. Testimonials are not difficult to get if you follow a plan.
Forewords are approached in the same manner as other endorsements. What you get back from the writer is just longer.
Endorsements may be gathered from people who read and comment on chapters or complete books but the sooner endorsements can be collected the better. The easiest and best method is a two-step process.
Step #1: Send each chapter of your book out for peer review. The easiest and most logical time to gather blurbs is following the peer review of the manuscript. Smart nonfiction authors take each chapter of their nearly complete manuscript and send it off to at least four experts on that chapter's subject.
Match the subject matter of the chapter to the personal interest of the peer reviewer. Each should have a vested interest in the material in the chapter. Enclose a cover letter that goes something like this:
"Dear Dottie,

You are an expert in this subject, and I value your opinion. Please comment on the enclosed chapter from the book I am working on.

Please make your changes, additions and comments with a red pen. You may comment on anything, even punctuation, grammar and style, but what I really need are comments on content. I want to be sure I have not left anything out and have not said anything that is wrong. Be brutal; I can take it. I would not ask for your input if I did not want it and need it.

If you will take part, I will mention your contribution in the Acknowledgements and will send you a free copy of the book as soon as it comes off the press.

I've enclosed the front matter and a mock-up of the front and back cover. Since 'everyone judges a book by its cover,' this will give you an idea of what the book is about.

As I am moving fast on this project, a self-addressed, stamped envelope is included for your convenience. Please get your comments back to me as soon as you can. Many thanks in advance for your help.

Sincerely,

X"
Send the chapters to the highest-placed, most important opinion molders and movers/shakers in your association or industry. They will love to be included and a single 15-page chapter will not overwhelm them. If you send the whole manuscript, it may be more than they can handle quickly and they may never get around to reading it.
What you get back is incredibly valuable: They add two more items to your list and they cross out whole paragraphs saying, 'We aren't doing that anymore.' They cross out that part you thought was cute but was really embarrassingly stupid. Sometimes they even correct punctuation, grammar, and style.
Enclose a SASE (Self-Addressed, Stamped Envelope) with the chapter you send for peer review, and 95% of your reviewers will reply within ten days. When the corrections arrive, spread them out on your desk by chapter and go through them page by page to make corrections on your computer. Evaluate each suggestion. Did they find a mistake? Did the misunderstand what you were trying to say? Are they behind the times?
When your book comes out, you don't have to wait for your readers' reaction, 'for the other shoe to drop,' because you know the book is right. After all, it has been reviewed and accepted by the best – the opinion-molders in your field. And, there is another valuable reason for peer view: you have more than a dozen important people telling everyone about your book – and how they helped you with it.
Ken Blanchard, co-author of 'The One Minute Manager,' says, 'I don't write my books, my friends write them for me.' He explains that he jots down some ideas and sends them off to friends for comment. They send back lots of good ideas that he then puts into his manuscript. Ken is being very generous, of course, and what he is describing is 'peer review.'
People like to see their names in print. As long as your book is reasonably good, experts in the field will jump at a chance to be mentioned. If they sell products or consulting, the exposure is invaluable to them. Whether for vanity or financial gain, recognizable people want to have their name in print. Authors and publishers do not pay for endorsements. In fact, quotations cannot be considered valid if payments are involved.
By the way, the testimonial you seek is a quotation, not a quote. Let's get the terminology straight.
Please do not ask Dan Poynter to endorse your book unless it is on book publishing or skydiving. His endorsement on other subjects would not be appropriate or valuable. The endorser must have a name or a title recognizable to the book's potential buyer.
Length. Keep the blurbs to less than three sentences. People are not likely to read more. You do not have room on your back cover for much more than one sentence for each of the three endorsers.
Your testimonial prospect does not even know how long the blurbs should be. Give him or her something to edit. Your one-sentence blurb will be a (comforting) guideline.
Of course, you may also interview important people in your field and use the material in your book. During the interview, if they provide some good sound bites, write them down, or record them. Later, run the quotation by them for approval along with some other material such as the first (introductory) chapter so they can see what you are doing.
Step #2. Approach your peer reviewers for a testimonial. Now the target is softened up. You are not surprising them by asking for a blurb for a book they haven't even seen.
Draft the (suggested) testimonial yourself. In order to get what you need and in order to control the blurb, draft a suggested testimonial. Then include a cover letter like this:
"Dear Dottie,
I want to make you even more famous by including your prestigious name in my new book with a testimonial on page one or the back cover.
I know you are busy, and I recognize that drafting an endorsement is a creative act – requiring deep thought for most. So I have come up with a suggested line: one that ties in your background to my project. Note that this is short with a single message. Of course, you may edit this copy, change the reference to you, or even start over (you are far more creative than I). You may even break my heart and blow your chance at immortality by round-filing this letter.
If you elect to take part, please make any changes to the enclosed and return it in the self-addressed, stamped envelope.
I am enclosing a mock-up of the covers along with a Table of Contents to give you an idea of the concept. Of course, I will send you a complete manuscript if you want to see it. And you will get a copy of the book as soon as it comes off the press. But please respond soon. I am (always) in a hurry.
Sincerely,
X"
—–

TESTIMONIAL REPLY FORM
Writing Nonfiction
Turning Thoughts Into Books
[ ] I like this one:
There are many ways to be rich: having a family, doing good, being recognized, and even earning money. Writing books and speaking professionally are two of the best ways to get there. – Dottie Walters, Co-author, Speak and Grow Rich
[ ] I can do better than that:
Signed: _________________________________ Dottie Walters
Please return to:
Para Publishing
Dan Poynter
P.O. Box 8206
Santa Barbara, CA 93118-8206
—–
You will need endorsements on particular points and you will need a variety. You certainly do not want all the blurbs to say the same thing such as it is a great book. List your book's attributes and then draft some testimonials to match each one. Write out an endorsement making a particular point, and ask the peer reviewer to look it over and edit it. Say that you need a quotation in this area. Editing is much easier than creating, and most people will accept the prompting quickly.
"It is easier to edit than create. Give your testimonial prospect something to alter."
– Dan Poynter
Testimonials must be specific. Most quotations do not work well because they are too broad, too general, too abstract, or make the same old claims others are making. 'It is a great book' or 'It is well worth the money' are nearly worthless. To be effective, your blurbs must tell what specific results the person got from the information in your book. Recite specific results.
"Most testimonials are superficial, teach the reader nothing and lack credibility."
– Ron Richards, Persident, Venture Network
Your bookstore browser and the potential buyer is looking for more than a good read, he or she is looking for a nonfiction book to solve a problem.
Identity. A blurb signed with initials and a city will not be believed. If you see a testimonial signed 'TL, Half Moon Bay, CA,' do you really think there is a TL? Or, do you think the writer of the copy does not have any real testimonials? Use a real name but not just any name.
The blurb should tie the endorser's background to the book. For example:
"The Self-Publishing Manual' is the first book I recommend to new publishers."
– Jan Nathan, Executive Director, Publishers Marketing Association
Each testimonial must be signed with a name and a title. Either the name or the title must be recognizable to the potential buyer. The name can be Jill Smith as long as she is the executive director of the national association of the subject your book is about. Potential buyers may not know her name but will recognize the name of the organization and they will assume she is important because she has a responsible position with the organization.
Blurbs from the back cover of 'The Self-Publishing Manual':
"This is the first book I recommend to new publishers."
– Jan Nathan, Executive Director, Publishers Marketing Association
"One essential ingredient to our 'Chicken Soup' success was consulting with Dan Poynter in the early stages."
– Jack Canfield, co-author, 'Chicken Soup for the Soul' series
"Dan Poynter has generously guided thousands to authorship. Their books make this a better world."
– Dr. Robert Muller, Past Assistant Secretary General of the United Nations and author of '2000 Ideas & Dreams for a Better World'
Let's look at the example above. Some browsers may not have heard of Jan Nathan or the Publishers Marketing Association (now Independent Book Publishers Association) but PMA/IBPA sounds like an important organization and Jan Nathan is obviously Number One.
Most people have heard of Jack Canfield and 'Chicken Soup for the Soul'. Now, we have a nice balance: an endorser from a publishing association and one from a successful author.
You have probably never heard of Dr. Robert Muller but most people have heard of the UN. Here is an example of an unknown author that has a recognizable title.
You must identify the endorser and your potential buyer must be able to identify with the endorser.
Normally, back cover testimonials are gathered using copies of the manuscript or galleys. But they can even be obtained by telephone.
'Is There a Book Inside You?' was written and typeset in record time to meet a book club deadline. When it came time to design the back cover, it was decided to make note that this was a Writer's Digest Book Club main selection. Then it was felt that quotations from someone in publishing and someone in authoring would be appropriate. Names may not always be recognizable but organizations lend a note of legitimacy. Calls were made to Jan Nathan at the Publishers Marketing Association and Don Bower at the Nation Writer's Club. They edited slightly and OK's the copy written for them – over the telephone."
Shoot high. Solicit testimonials from the highest-placed, most influential opinion molders in your field. Always explain what you want and how you will use the testimonial. Mention that the testimonial may also be used in future advertising and promotional campaigns. If you get turned down, come down a notch. Use the peer review technique, have faith in your work, and give them a shot. It is easier than you think. Nothing ventured, nothing gained. (See the list of celebrity directories that follow.)
Sharon Woodhouse describes her first experience asking for testimonials for the back cover of her new books. She writes: 'For my first few books, I was reluctant to ask media people if they would provide testimonials for the back cover… I was reluctant to ask radio and television personalities who had interviewed me or other authors if I could assemble some of their comments into usable quotes. I thought that it would inconvenience them or that they had changed their minds about the books…

But I'm happy to report that my first experience in asking for this kind of support to spiff up our back covers has changed my mind forever. Less than two weeks ago, I mailed out a batch of letters to the people whose words we wanted to use… The letters were brief, contained the quotation we wished to use, a mention of the context in which the words were spoken, and some blank line son the bottom of the page in case they wanted to alter or add to their quotation.

They were sent along with a stamped return envelope. Within four days of mailing, one-half of them were returned to us with permission. And within nine days 100% of them had been returned with affirmative responses. About one-half of the letters were returned with very positive remarks. We also received phone calls of encouragement and requests for copies of the new books."
What to send. Send the testimonial prospect one chapter of the manuscript, the table of contents, and the ad copy that will appear on the back cover. Give him or her a good idea of what the book is about.
Reinforcement. The blurb should punctuate and reinforce the claims you make about your book in your sales copy. Place testimonials that corroborate your claims about what the book will do for the reader.
Use blurbs everywhere. Gather a bunch and use the best ones for a particular purpose. You will need three for the back cover of your book. A hot one could go on the front cover. Extra blurbs are often put on the first page of the book, in front of the title page. Many news releases start with a blurb above the headline. The purpose is to get the attention of the editor so they will read the rest of the news release rather than toss it. A testimonial can be used as a teaser on an envelope of a direct mail piece. Save up your blurbs and use them were the endorser and/or title of the person matches the potential reader. Consult your bank of blurbs whenever you are writing promotional copy for your book.
Make your testimonials stand out by setting them in a different typeface and/or indent the paragraph. Make them easy to locate and make sure they are easy to identify as testimonials.
Forewords are gathered in the same manner. Soften up the prospect with a chapter and then draft the text for him or her. Many will personalize the draft with some extra sentences.
Use of quotations. Never edit a quotation in such a way that the meaning is changed. Do not use ellipses (…) – readers will suspect you are deleting something negative. Never make up a blurb.
Keep your paperwork on file. If you are ever questioned about a blurb, you will want to be able to find it.
RESOURCES
Google
Make a Google search of the potential endorser's name. Go to his or her website to make contact.
Celebrity Address Directories
Here are the directories we have been able to locate. Contact their publishers and look for them at the reference desk of your public library.
Many celebrities have agents. Call the agent and ask for the number of the publicist. The agent wants money, the publicist wants exposure. Speak to someone who can help you.
'The Celebrity Black Book' by Jordan McAuley. More than 60,000 celebrity contacts. Mega Niche Media.
'VIP Address Book' by James Wiggins. More than 30,000 names and addresses. Associated Media Companies.
'The Investigator's Little Black Book' by Robert Scott contains more than 2,500 sources for information. Full of fascinating facts.
Online Resources
Contact Any Celebrity. More than 59,000+ celebrity addresses.
Star Archive. People actually test celebrity addresses on this site to determine if they are valid.
Better Blurbs by Marcia Yudkin
Other Sources
'Encyclopedia of Associations', 'Who's Who', etc. See the Reference Desk at your public library.
Celebrity Information
Celebrity Service, a daily publication
The Celebrity Bulletin is a daily guide distributed to our clients informing them of the whereabouts and vital information of the famous. The Bulletin includes celebrity contacts including agents, business managers, publicists, record companies, etc. The Bulletin will give you advanced notice of who's coming to town, what projects they're working on when they're coming in, where they'll be, why they're here, and how to get in touch with them.
To get an address for any film or TV actor, contact the Screen Actors Guild (SAG) in Hollywood and ask for contact information. SAG will tell you the name of the person's manager and agent. Call (213) 954-1600. (323) 549-6737.
Also See: