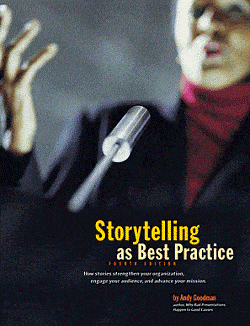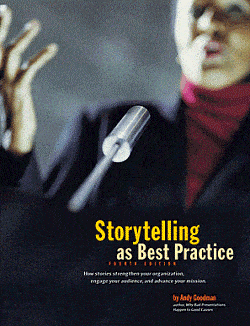 Andy Goodman is the co-founder of The Goodman Center that trains nonprofit foundations, government agencies, and educational institutions worldwide how to tell better stories about their causes.
A former screenwriter, Andy is best known for his speeches and workshops on storytelling, presenting, design and strategic communications. He is the author of Storytelling as Best Practice, Why Bad Ads Happen to Good Causes and Why Bad Presentations Happen to Good Causes. He also publishes a monthly journal, Free Range Thinking, to share best practices in the field.
We spoke with Andy about how you can tell better stories about your nonprofits, and of course using celebrities is a great way to do that.
How did you get started working with nonprofits?
I work out of Los Angeles. I came to L.A. in 1991 to be a TV writer. That was always my dream growing up. I got a job on a couple of sitcoms which your readers may know. One was called Dinosaurs, and it was on ABC for four seasons. Another one is The Nanny with Fran Drescher. I worked inside the Hollywood community with a lot of celebrities that you know about, and I did that for three or four years. Over those years, I became disenchanted with the TV business because surprise, surprise, I found out that it wasn't the most fulfilling work in the world. Then I had a chance to go run a nonprofit.
I did that for five years and that experience got me into this world I'm in now, where I've met many nice, interesting, passionate people who work on various causes – the environment, health, education, the arts, etc. One thing I kept seeing was that while they were passionate about their cause, they weren't very good at talking about it, at communicating what they did. No one had ever trained them to be professional marketers or communicators for their cause. I started my own business in 1998 to help good causes tell their stories better in various forms, and that's what I've been doing for the last 11 years.
So you're showing nonprofits that like television, they should use stories also.
Yes. Before television, I worked in radio, and before that, advertising. My whole background is in media and communications. What I'm doing is helping nonprofits, whether they're trying to raise attention for their cause, raise money through fundraising, or get more people involved as members, staff or board members. Any way that an organization wants to talk about itself to attract attention, people or support, that's where I come in.
Let's quickly clarify that when we say "storytelling," we're not talking about making up stories, lies and exaggerations. Why don't you talk about what storytelling is, especially in regards to nonprofits.
That's a good question because when I first work with organizations often they'll say, "Well, we are telling our stories." They'll say, "Look at this story we put in our brochure, in our annual report, or on our website. And it will be a story in the sense of a journalistic story or an article about what they're doing, a nonfiction article explaining their work. That's just not interesting because it's dry storytelling, where in the first paragraph you'll find everything you need to know.
Basically it followed this pattern: there was a problem, people were hurting, we came in, we fixed the problem, and people are all better now. So after the first paragraph, you don't need to read any more. What I try to teach them is the art of true narrative storytelling. This approach tells a story that people have to follow from beginning to middle to end. It's the kind of story you would see in a movie, watch on TV, or read in a book. It pulls you in, that makes you care, that makes you want to know what happens next.
It's still true, it's still non-fiction. However, it's told more like a fictional tale, like a novel or a short story. That way, you generate more interest in people you're trying to reach. I teach that there is a distinction between pure journalistic storytelling and true narrative storytelling
Do you add drama and excitement to make it more interesting?
I try to keep the drama and the excitement in. It's usually there. There's often plenty of drama. There's conflict, there's real emotional content. Yet when nonprofits tell their stories, they often drain all that stuff out. I like to joke with the nonprofits that they're like vampires; they just suck the life out of their stories.
What are some tips nonprofits can use to incorporate what you do?
One thing I teach nonprofits is that good storytelling doesn't give it all away in the first paragraph. It's a story that builds slowly. You introduce a character, you identify what that person wants, you show them running up against obstacles along the way. When they encounter obstacles, that's where it gets interesting, and then you show them overcoming those obstacles to finally get to their goal. That's the basic structure of storytelling. It's been handed down to us from the earliest myths and fables over thousands of years.
I also ask nonprofits to look at their work and figure out who the hero is. Who is the protagonist in your story? Is it the person you're trying to serve? Is it someone working at your nonprofit? Figure out through whose eyes you're going to tell the story. Follow the structure I just described and you'll be on sound footing. There's a lot more to add to that, but if you can get to this point that's a good start.
Should nonprofits mostly use these stories in direct mail or on their website? People are so busy these days. Are they really going to read a long story? How do you handle the short attention span of people today?

They use their stories everywhere. What I tell them is that the stories are gold. This stuff is valuable in terms of capturing who you are, what you do, why you make a difference. So first, capture the story. Find out what happened and get it down on paper. Then you'll tell it in different places. You may take the same story and tell it in a speech. You might put it on your Website in a shorter form because, like you said, people don't keep reading. Or you might have a video version that people can watch. It may show up in longer form in an annual report or brochure that people would sit down and read. I try to encourage them to capture the stories first, to mine the gold. Then  pound it into various shapes, length and sizes, depending on where you put it.
What is an example of a nonprofit that had a dry story that you helped make more interesting?
There's a nonprofit called Experience Corps. What they do is match up older adults, retirees who have time on their hands, with kids in elementary schools who are falling behind in reading. It's a tutoring program. The kids and the older adults are paired up and work together in available classrooms. This is a win-win-win. For the older adults, it's a chance to do something constructive with their time and work with these enthusiastic young kids. For the kids, it's a chance to get the specialized attention that they wouldn't get otherwise. And for the teachers, it's a chance for them to teach their class at the right pace and reintegrate these kids as they're ready to be reintegrated. The teachers don't have to slow down everything for the kids who aren't getting it.
They wanted to tell stories about some of the older adults, some of the tutors who were coming into the classroom. One of their classic stories was about a guy named Frank Johnson who's in his 70s. It's a wonderful story to tell. Every day, Frank's wife would drive him to school, and the kids would meet him at the school door. They would gather around him – he was a very tall gentleman so they'd look quite small in comparison. The kids would escort him into an empty classroom, and then one by one, they'd sit down next to him for their tutoring throughout the day.
If you were to look in while Frank was tutoring, you would see the kid reading away there, bent over a little school book, and it would look like Frank was looking around as if he wasn't paying attention. But if that kid missed a word or mispronounced a word, Frank would be all over him. "I'm sorry, what was that? I think you left out a word there. Let's go back and get that again now." And at the end of the day, the kids would gather around him again and escort him to the front door. His wife would pick him up and drive him home. This volunteer, Frank, does this three or four days a week. He's a much beloved man in this Minneapolis school.
What makes the story so extraordinary, and this is the part that you might have guessed already, is that Frank is blind. That's why his wife drives him to school, and that's why the kids guide him to the classroom. The way he's able to know if a child has missed a word or not is that each night before he tutors, Frank finds out what the kids will be reading the next day. He has his wife read the books to him, and he memorizes them.
Wow.
It's a remarkable story. Here's the problem: When Experience Corps was first telling the story, it would read like this… Frank Johnson is a tutor at the Lucy Craft Laney School. He's 70 years old and blind. So right there, in the second line, they've given away the big reveal of the story, the most interesting thing. Everything else that happens, the wife driving and dropping him off, the kids meeting him, the fact that he's memorized the stuff is all just playing off what you already know.
This is an example where they were telling the story a certain way, and I had to say to them, "Look, you've got a great story here, but you're revealing the most interesting piece right away. Hold that back, and you'll have a much more powerful story." Do you see the difference?
Oh, definitely. Before, they were giving the story away right at the start.
Right.
Whereas in your story, you have to wait til the end.
And it has some punch, it has some impact. If you didn't guess, then you'd be thinking, "Oh, I see. That's why this happened, etc. There's a more emotional reaction to the story.
That's one example; I could give many others. But in so many cases, the nonprofits will tell a story, and they'll give it all away or they'll give you the payoff in the first paragraph. Then the rest of the story is just a playing out of the events. It's just not as interesting.
I'm a film major, and in screenwriting they teach you to "show, don't tell. Most people tend to just say this happened, then that. But you need to show it and explain it. A marketing expert once taught me the saying, "facts tell, stories sell." What kinds of stories should nonprofits be telling?

When I work with nonprofits, I tell them that there are six kinds of stories that I want them to collect. Most people default to success stories. In fact, when I'm coming in to do a storytelling workshop, they'll say, "You're here to teach us how to tell success stories, right?" And I say, "Yes, in part, but that's not the full scope of what you do if you're going to tell stories.
Number 1, tell stories about the nature of your challenge. What is it that you're up against? What are you trying to fix in the world? Why are you here? Is it that there are too many homeless people? Is it that there are no arts in this community? Is it that people don't have access to healthcare? Don't give me statistics. Tell me the story about somebody who's in pain, who's lacking something, or who needs help so that I can feel what the problem is. I'll be able to understand the nature of the challenge and have a feeling for why you do what you do. Start there.
Second, what is your nonprofit's creation story? How did it begin? Was it one person's idea that a group of people come together? Who was there at the beginning, and why did they start your organization? When you tell that creation story, often in this story is something about the people or the spirit or the vision that still informs the work today that you want to preserve in story form. That way, people today can know what was happening 40 years ago.
Third are success stories, but not just regular success stories. These are what I call "emblematic success stories." Often, nonprofits will be working in a field where there are also several other nonprofits operating. Let's say trying to help the homeless or prevent global warming. How do you stand out? In what ways do you achieve success that is unique to your way of doing things, that shows your approach or your particular style? What success story could be told only about this organization, not anybody else? What are your emblematic successes?
Fourth are performance stories. These are stories about your people. You have wonderful people working in your organization − bright people, persistent people, innovative people, etc. It's okay to have stories where they are the hero, where they are showing wonderful traits. You let people know these are the quality people who work here. Those stories are particularly useful when you're recruiting and you want to say, "Let me give you a sense of who works here."
Fifth is the striving-to-succeed story. This is a story where you actually capture some of your failures, where you screwed up, fell short, just outright failed. But each of those stories should have, as the last chapter or the epilogue, something along the lines of here's what we learned from it, and here's how we did better the next time. You want to hold on to those stories to let people know that "we're human, we make mistakes. but when we do, we learn from them, and we do better the next time. That's part of how we work here and here's a story that shows this."
Lastly, the sixth story is the "where we are going" story. If we do our job right, five years from now, ten years from now, 15 years from now, what will the world look like? Also, take me into that world. Show me a person living in this world, how their life is better, so I can feel the satisfaction or the thrill of victory. Don't say to me, "Well, we did our job right. There is 17 thousand more of this, 27 percent less of that." That is just not going to move me.
These are the stories and the categories that I suggest nonprofits collect. If they can collect stories in each of these categories, and if they can make sure that all their key people know those stories and can tell those stories, then you have an organization that truly understands its own lore. They'll be ready to tell the right story at the right time to the right person.
Even on television shows like American Idol, they don't just show the contestants singing and performing. They always go back and tell their story because it makes you care more about the person.
American Idol is a very good example. The whole season is a narrative, going from the auditions, to Hollywood, to the Final 12.. You have the individual stories of the people, and then you have the continuing narrative of Ryan Seacrest versus Simon Cowell, of Paula Abdul being wacky when she was there, of Randy Jackson saying, "Dog." You've got these characters and their stories. There's plenty of narrative in American Idol.
That's probably why it's one of the most-watched shows, because there are so many different stories going on.
Absolutely.
Are nonprofits  using storytelling in different mediums?

I see them using it more and more on the Web. They're moving to video storytelling. As you said, people don't want to sit and read a lot off a screen. I am seeing it used in their newsletters. In direct mail, they will tell stories  to create an emotional link with the reader, and hopefully that turns into writing a check.
I mentioned your books in the introduction. Can you tell us a more about them? Which one would be best to start with for nonprofits that are interested in storytelling?
AG: I have one book on storytelling. It's called Storytelling as Best Practice, and it's a collection of different essays that I've written. It's available on my website, agoodmanonline.com. The two other books you mentioned, Why Bad Ads Happen to Good Causes and Why Bad Presentations Happen to Good Causes are no longer available in hardcopy, but they are available as PDFs. They can both be downloaded for free. If you go to my website, to agoodmanonline.com or thegoodmancenter.com, you can get those two books as free downloads.
Are there any other resources, books or movies that you'd recommend? Everybody I know points to Star Wars as having one of the story structures that works really well.
The best book on story structure that I can recommend comes out of Hollywood, and it's by Robert McKee. The book is called Story. McKee is considered the Guru of Story Structure. He teaches a regular class, and has consulted on movies. His book, which is a thick one, takes you through the basics of story structure, and I think it's the definitive book on story structure. There is also Syd Field's Screenplay. His book is legendary about writing a screenplay. But if you want to go deeper and understand story structure, read McKee.
There's also Joseph Campbell.

Oh, yes, Joseph Campbell. When he was alive, Campbell wrote about the role of mythology in human life. He talked a lot about the hero's journey. The basic structure of storytelling I talked about earlier is essentially the hero's journey. That's what was used in Star Wars. It's the same structure that was used in The Odyssey. If you read anything by Joseph Campbell, it will talk about that. He was interviewed in a series by Bill Moyers, which you can rent on DVD or read as a book called The Power of Myth. There's great stuff in there about the role of story in human life.
Is there anything else that you want to add?

If you want to give yourself a little gift, there's a book called Listening Is an Act of Love. It captures some of the best stories from the NPR StoryCorps project. These stories came from just two people going into a booth, telling a story together, or telling it to each other. NPR recorded and transcribed them, and the book has 50 or 60 of the best stories. They're short; they're like three or four pages each. They're beautiful. They'll make you laugh, they'll make you cry, they'll make you think. It's just a wonderful collection. Rather than reading how to tell a good story, just read people telling good stories, and I think you'll absorb a lot from that as well.
– To learn more about Andy Goodman, visit AGoodmanOnline.com, TheGoodmanCenter.com, or follow him on Twitter @GoodmanCenter.