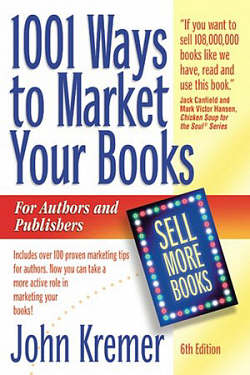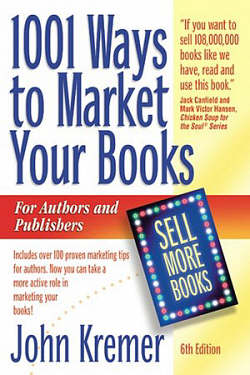 In this article, book marketing expert John Kremer, author of '1001 Ways to Market Your Books,' explains how to get celebrity book endorsements…
How would you like browsers to pick up a copy of your book and see recommendations from top names in show business, respected authorities and writers, trusted TV commentators or top sports figures?
Think praise like that would sway an undecided browser, perhaps pushing them to buy your book? It will. Especially if you're not a household name, celebrity testimonials, or 'blubs,' can be one of the best tools to help you sell your books.
Most authors don't go after more than one or two testimonials, if they go after any at all. But if the experience of other writers is any indication, if you've written a good book, endorsements can be had. All it takes is a little legwork and a lot of patience.
One author who proves it can be done is Jacqueline Marcell. A first-time author, Marcell worked for eight months lining up celebrity quotes for her book, 'Elder Rage, or Take My Father… Please!: How to Survive Caring for Aging Parents.'
Want Big-Time Publicity?
Meet 75 TV Producers & Print/Online Editors Who Want To Feature You & Your Work. Apply To The National Publicity Summit 2021 (VIRTUAL EDITION!)

Just A Few Spots Left - Apply Now!
As a result, she secured more than 44 testimonials, and credits those recommendations with helping her sell more than 30,000 copies of her book.
Here's how to get, and use, celebrity blurbs for your own books:
1. Match your book with the proper celebrity.
You'll have much better luck if you can find celebrities who have a vested interest in what you're writing about. Many celebrities are active in social causes, and others have had personal experiences that may make them more open to the possibility of mentioning your book to others.
It's a good idea to watch shows like Entertainment Tonight and Access Hollywood to keep up with what celebrities are doing, the causes they're supporting and the issues that matter to them. These shows often do profiles on celebrity fundraising events. Also read magazines like Us Weekly, People and Entertainment Weekly.
2. Research, research, research.
There are simply no shortcuts here. Finding contact information for big-name celebrities can, as you might imagine, be difficult. Thankfully, there are a number of resources like Contact Any Celebrity you can turn to that will make your search much easier.
3. Be persistent and bypass gatekeepers if you can.
Once you have the celebrity's contact information, your work has really just begun. Like Jacqueline Marcell, Peggy Sansevieri has sometimes worked for eight months before securing an endorsement. Sansevieri not only finds endorsements for herself, but she's also a consultant who helps other authors find blurbs as well.
One difficulty she often encounters is that the initial contact – perhaps an agent or manager – never delivers your request to the celebrity. When she went after Jerry Lewis for an endorsement, she found herself sifting through layer upon layer of support people before finally finding the right contact.
Be prepared to wait several months for the biggest names to get back to you – even if it's just to say 'no.'
4. Make it as easy as possible for your targets.
When you do finally break through and the celebrity asks to take a look at your work, be sure to send everything that might be helpful – a copy of your book plus a complete press kit.
Most importantly, include some sample quotes that they can simply choose from and fax back to you. 'Do as much of the work for them as possible,' says Sansevieri.
5. Recommend blurbs that will have the greatest impact.
Including samples that celebrities can choose from gives you another advantage: it allows you to draft exactly those works that will work best.
In his special report, 'Blurbs for Your Books,' Dan Poynter gives some tips on what makes a good endorsement. Here are two of the most important things to keep in mind:
The first is length – your blurbs shouldn't be longer than three sentences, since most people wont' read more than that. Second, they need to be specific. Avoid general quotes like, 'I loved this book.' Instead, focus on results. For example, 'This is the best book to read if you want to save money when buying a new car' is much better.