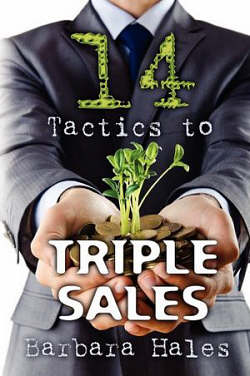 In her book, '14 Tactics to Triple Sales,' Barbara Hales explains how to put a celebrity or expert to work for you in your marketing and publicity efforts…
"You don't need to spend millions of dollars for Elle McPherson to say she uses and loves your product in an advertisement. Or be Coca-Cola to get your products featured on hit TV shows and in blockbuster movies. The truth is, there are many low-cost and even free ways to get your products in the hands of celebrities and endorsed by them.
The most powerful recommendations are actually NON-paid celebrity endorsements.
Estee Lauder would send products to celebrities she didn't know in the mail and even give them to stars she spotted on the street and later at parties as she grew more successful. Princess Grace of Monaco once said this about Estee Lauder: 'I don't know her very well, but she keeps sending me all these things…'
The result? The constant practice of gifting celebrities with her homemade cosmetics is what many say caused Estee Lauder's small business to explode into a $5 billion dollar cosmetics company.
Want Big-Time Publicity?
Meet 75 TV Producers & Print/Online Editors Who Want To Feature You & Your Work. Apply To The National Publicity Summit 2021 (VIRTUAL EDITION!)

Just A Few Spots Left - Apply Now!
We're obsessed with celebrities. We want to know all about them, and we buy products and services they promote. That's why many of us would love to have a celebrity promoting our products and services.
Don't assume that it's out of the question. There are several ways to get celebrity endorsements inexpensively or even free.
Different Kinds of Endorsements
Endorsements run the gamut from celebrity testimonials to a niche 'expert' who is a professional in a specific field. In fact, endorsements and testimonials can be broken down into four primary types:
Celebrity Endorsements – These campaigns feature individuals who have achieved a certain level of public recognition because of their achievements in the world of sport, entertainment, or some other aspect of media. This type of endorsement is most often employed by major companies engaged in multi-million dollar marketing campaigns. But it can also be utilized by similar companies engaged in local or regional business activities.
Celebrities that are typically utilized by these companies are recognizable in the community in which the firm does business, but they do not have as high a profile as celebrities utilized in national advertising campaigns.
The services of local athletes, media personalities, and people in the news can be secured at a much lower expense than individuals that enjoy widespread national recognition. That works for you!
Experts Endorsements – This form of advertising highlights the opinions of acknowledged experts. An expert endorser must have evaluated the process using appropriate techniques, and he/she must be qualified in a relevant area.
This type of endorsement should also provide supporting evidence in the form of tests, evaluations, and/or product comparisons.
Consumer Endorsements
These endorsements feature actual users of the product or service being sold. Advertising utilizing customer testimonials must reflect the typical experiences of customers and the genuine feelings and findings of the consumer being highlighted.
Corporate Endorsements
These platinum endorsements are not easy to achieve. An endorsement from a company or organization must reflect or support the general mission of the organization, and must often comply with strict legal standards of formal endorsement.
Different kinds of endorsements resonate with different types of consumers. What would sound good to YOUR customer?
Plan of Attack – Action Steps
Once you've identified the celebrity or celebrities you'd like to work with, contact them. Celebrity databases contain contact information for celebrities, agents, managers and publicists. The most thorough one I've found is Contact Any Celebrity.
Here are several ways to get your endorsements:
Send a Freebie – Do this only if you think the celebrity would enjoy your product. Include a personal letter stating how much you admire him or her and why you think your product is something the celebrity would enjoy.
For example, you might have read an article indicating that the celebrity loves funky silver jewelry, and that's what you make.
Carpe Diem (Seize the Day) – When Courteney Cox's daughter Coco was crawling, Tammany Atkinson of Bee's Knees saw an interview on the Late Show with David Letterman in which Cox's husband said the couple had to carry Coco throughout their home because of their hardwood floors. Atkinson sent her some pants and two weeks later received a thank-you note. Atkinson then asked Cox if she would agree to endorse the product, and Cox agreed.
Ask Your Celebrity Clients to Help – If am continually astounded by people who tell me they have celebrity clients but are afraid to ask them for endorsements. This applies to people who have bought products from you online, as well. Contact them, appeal to their graciousness by asking them to help you grow your business.
Offer to Barter – Celebrity clients interested in your products or services are often willing to barter for their endorsements. I know of a food delivery service that barters with celebrities.
Be Charitable – Most celebrities have causes they support. You can often get an endorsement by offering to make a donation in the celebrity's name in a lump sum or as a percent of sales.
Pearls & Nuggets – Include your address, in case the celebrity decides to send a thank-you card. You can also call the publicist and ask for feedback on the product. If the publicist says the celebrity liked it, ask whether you can use that information in your marketing materials. You can also use the thank-you card in your marketing materials. And you can use the publicist's feedback or the celebrity's thank you note in a publicity pitch to the media touting the fact that a celebrity uses your product."