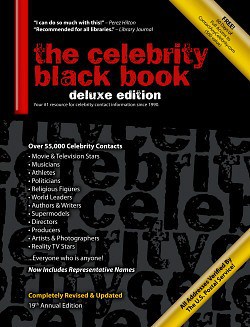 "We plan to use your Celebrity Black Book as a way of providing a new avenue for seeking  items and adding excitement to the silent auctions and other charity events that we plan throughout the year.
The end result will provide a fun way of raising money for families who need it the most.  Thank you!
Our Greene Community Health Foundation was established (1991)  as a way to address client needs that could not be covered by grant money or funds from the Greene County Combined Health District budget.
Get On National TV!
Get Big-Time Publicity - Meet National TV Producers & Print/Online Editors One-On-One, Face-To-Face.
Apply Now To The National Publicity Summit 2020, Coming Up October 21-24th, 2020 In New York City.
Only 100 Spots Available -
Apply Now!
The mission of the Foundation is to improve the health and wellness of Greene County families who are most in need.  Those needs have increased greatly in the last 2 years due to the failing economy leaving us searching for new ways to fundraise to continue the work of the Foundation."
Sincerely,
Basic Membership
🆓 FREE 7-Day Trial then $39/month
✅ Low Monthly Rate
🕶 Search 59,000+ Celebrities, Influencers & Public Figures In Our Private Online Database
📬 Verified Mailing Addresses
🔎 Unlimited Online Searches
😎 14,000+ Agents, Managers, Attorneys, Production Companies, Publicists & More
📞 Rep Emails & Phone Numbers
🏢 7,000+ Entertainment Companies
🖥 Lightning-Fast Online Database
💫 Dynamic Lookup Technology
⏱ Daily Database Updates
🤩 Member Concierge
📩 Postage Refund Guarantee
🔎 Free Research Requests
👍 How-To Articles & Pro Tips
📘 Celebrity Leverage: How To Get Celebrity Endorsements E-Book
📗 Help From Hollywood: How To Hold An Autograph Auction E-Book
📕 Secrets To Contacting Celebrities: 101 Ways To Reach The Rich & Famous E-Book
💯 Cross-Linked Search Results
🎗 Celebrity Causes Database
💻 Monthly Insider Expert Webinars
😍 100% Satisfaction Guarantee
❌ Cancel Anytime Online
VIP Annual Membership
🆓 FREE 7-Day Trial then $197/year
✅ Best Value for Professionals
🕶 Search 59,000+ Celebrities, Influencers & Public Figures In Our Private Online Database
📬 Verified Mailing Addresses
🔎 Unlimited Online Searches
😎 14,000+ Agents, Managers, Attorneys, Production Companies, Publicists & More
📞 Rep Emails & Phone Numbers
🏢 7,000+ Entertainment Companies
🖥 Lightning-Fast Online Database
💫 Dynamic Lookup Technology
⏱ Daily Database Updates
🤩 VIP Member Concierge
📩 Postage Refund Guarantee
🔎 Priority Research Requests
👍 How-To Articles & Pro Tips
📘 Celebrity Leverage: How To Get Celebrity Endorsements E-Book
📗 Help From Hollywood: How To Hold An Autograph Auction E-Book
📕 Secrets To Contacting Celebrities: 101 Ways To Reach The Rich & Famous E-Book
💯 Cross-Linked Search Results
🎗 Celebrity Causes Database
💻 Insider Expert Webinars
😍 100% Satisfaction Guarantee
❌ Cancel Anytime Online
Laurie Fox
Development Coordinator
Greene County Combined Health District