Patti LuPone has a reputation for being strong-willed and opinionated. Some may even say difficult. (She's a Broadway diva, after all).
During my interview, Patti LuPone was polite and gracious. She called right on time while out to lunch in New York City, and even asked me how much to tip the waiter.
Now starring in Ryan Murphy's "Hollywood" on Netflix, Patti LuPone talks Broadway, "Will & Grace" and dressing room rituals.
Do you perform dressing room rituals at a new theater?
I warm up and warm up some more. I can't leave my dressing room without everything being in order. My life is so chaotic that everything has to be neat and organized. Sometimes I won't even let other people hang up my costumes — I have to hang them up myself. I know it sounds crazy, but it's all part of being mentally focused.
How have your relationships influenced your performances?
The theater is such a personal experience. I always start to recall past loves during the show along with the audience. Of course, I also have my family.
You're best known for Broadway, but you've sung everyone from Cyndi Lauper to Steven Sondheim in the past.
I never really listened to Broadway growing up, I always loved rock and roll. Now I feel like I'm bonding with my son since I love to listen to Dave Matthews. A well-rounded performer will listen to all kinds of music. I like classical, Middle Eastern, and rock a lot.
Since you loved rock music, why did you decide to get into classical theater?
It was an instinct. I knew I could act and I knew I had a Broadway voice.
When you won the Tony Award, did you feel you had accomplished everything you set out to do?
Oh God no, I felt relieved! To be nominated was enough, but when I won I felt relief!
You've done a lot of fundraising work for AIDS and HIV.
I do what I can, but it's not enough. I make my son completely aware of it. I did a concert for the Gay Men's Health Crisis at Carnegie Hall in New York City a few years ago because my musical director died of AIDS. It's sad. I do what I can. But like I said it's never enough.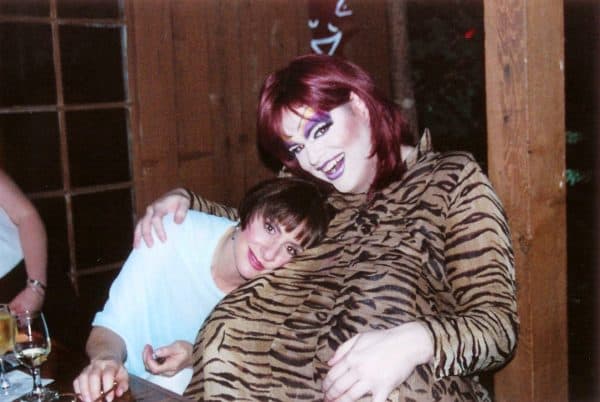 You played a TV mom in 'Life Goes On.' What drew you to that role?
Not much! It was a job. I saw the script and thought, "Oh wow, I haven't done that before."
The family sang a lot on the show. Did you get to pick the songs?
I was thinking about that the other day. I was furious with the producers. They wouldn't give me any input at all. I thought "You idiots — you're television people! You don't know!" And they didn't. Thank God I didn't have to sing that much.
You guest-starred on "Will & Grace." Were you a fan of the show?
Oh yes! They wrote a joke about me early on, and I was flattered. So I sent a bouquet of flowers to the producers and said: "I'm honored — thanks for keeping me alive." The next thing I knew, they called and asked if I'd come on.
Was it fun to work with Sean Hayes?
Oh my God, he's fabulous! He was definitely the bigger diva (and I mean that in a good way). He's an actor. He comes on the set as a regular person and plays a role, as do Eric McCormack and Debra Messing and Megan Mullally. They're all so great. I don't know how to act the way they do.
The one who impressed me most was Eric. He really analyzed and improved on what the writers wrote. I thought it was incredible how he would help make every scene better, even Sean's.
Do fans ask you to sing when they meet you in person like Jack did on "Will & Grace"?
No! What? Is that not the answer you were looking for?
The gay community loves you. Has their admiration influenced any of the roles you've chosen or the music you've performed?
No. Because if I did that then I'd have to do the same thing for blind people and fat people and everyone else. I just create, that's what I do.
Who is your favorite diva?
Definitely Bette Davis.
You write a "Ramblings on the Road" column on PattiLuPone.net. Do you like to travel?
Oh, I love to travel. I write about different restaurants and places I've been to. I'll put some things up about Atlanta after I'm there.
Where does the rooster logo on your Web site come from?
It's a chicken. I grew up in a small fishing village in Long Island where we had a farm. I'd have to collect the chickens. My friend Barbara's family used to have chickens and ducks. I'd pass them on my way to visit her and I'd always say hello to the chickens.
These are childhood memories I'll never forget. In St. Barth's on my honeymoon, my husband and I would get eggs at the market. Not a supermarket, but a market. You know those golden yolk eggs that are so delicious? You can't find them at the grocery store. I just love chickens I guess.
You've had so many film and television roles. Which do you like best?
I like them all. But I'll tell you, situation comedy is so easy and was my favorite job in the world. It's from 9 to 5, and then you go back to your family.
One of the TV series you appeared in was HBO's "Oz." That's a heavy show — what made you decide to take that role?
My cousin Tom Fontana created the show and asked me to do it. He offered me the role so I took it. And you're right, it was difficult to watch.
You also played a part in "Driving Miss Daisy" that was filmed in Atlanta.
Yes, we shot it in Buckhead. I loved every minute of it and can't wait to get back!
Madonna took vocal lessons from your voice coach to prepare for the movie version of "Evita." What did you think of her performance?
I didn't see it. I think she's a wonderful performer, but I don't see anything that I'm no longer in. It brings back too many memories. I didn't watch "Evita" and I didn't watch "Les Miserables" and I didn't watch "Anything Goes." Maybe it's a strange way of protecting myself, I don't know.
Madonna will be disappointed. In an interview, she said she hoped you'd like her performance.
She did not! Did she really? I find it hard to believe Madonna would say that. Oh well, as I said – I don't see anything after I leave.
Also See:
Summary