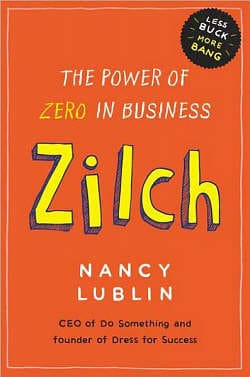 Also See:
Founded in 1993 by actor Andrew Shue (best known as Billy on the hit TV show 'Melrose Place'), Do Something's mission is to encourage the importance of community activism among youth and make it as popular as athletics and leisure activities.
Do Something is one of the largest nonprofit organizations in the U.S. that helps young people act to help the causes of their choice.
They even have an annual televised awards show, the Do Something Awards, to honor teens making valuable contributions to their communities.
Along with acting as Do Something's CEO, Nancy Lublin is also the founder of Dress for Success and Crisis Text Line, contributes a monthly column to Fast Company magazine, and is the author of 'Zilch: The Power of Zero in Business.'
We spoke with Nancy Lublin about how Do Something utilizes celebrities in its mission…
What does your role as CEO encompass at Do Something?
My position as CEO actually stands for "chief old person." It's on my business card, the web site, everywhere.
What I personally do as the CEO and chief old person is act like the office mom, I provide some direction and support, and inspiration and hopefully enable all of the awesome kids in this office to do their jobs as well as possible.
What is Do Something's mission?
Do Something is the organization that helps young people rock causes they care about. So if you're a 17-year old boy living in the United States or Canada, we're here to help you change whatever it is you care about.

It was founded by a celebrity, right?
Yes, it was founded by Andrew Shue back when he was on 'Melrose Place.'
He convinced Aaron Spelling to give Do Something a minute of air time at the end of the show, and Do Something was born.
Nonprofits often wonder how to get a celebrity involved. What are your tips?
Nonprofits always like to reach for the shiniest star. I think that's a mistake because everybody's going after the shiniest star.
The shiny stars are all really busy and over-committed and may not even have a passion for your cause.
It's far more important to have someone who genuinely cares about your cause and is really going to work.
There are people way more famous than David Arquette, but not many more passionate about food and hunger issues.
So he's turned out to be the perfect celebrity for Feeding America.
I happened to go to the bookstore one day in New York City when he was living above the Madison Square Garden sign in a glass room to raise awareness for hunger.
I would much rather have David Arquette for three days in a glass box raising awareness for a cause than Angelina Jolie for 30 seconds on my red carpet.
A lot of celebrities will come to an event and smile for the cameras and be photographed, but David took three days of his life in that glass box working his Blackberry like a 12-year old girl trying to get Miley Cyrus tickets.
I wondered what he was doing up there. I figured a lot of interviews.
I'm sure he was doing interviews.
He was constantly reaching out to other celebrities.
He's the one who convinced Sheryl Crow to create a song for Feeding America.
That's the thing about him.
You don't just want a celebrity who's passionate – you also want a celebrity who has a posse like David has a posse.
A lot of people like him.
He and his wife Courteney Cox have a lot of friends and he's not shy about calling them or his cause.
How is it important to have your agreement with a celebrity in writing?
You want to know exactly what you're going to be doing together, so you want a formal agreement.
If you're going to have someone like Lady Gaga as a spokesperson for Viva Glam, or David Arquette as the key quarterback to your Feeding America campaign for a year, you want to put all of that in writing.
It protects both sides.
It protects the charity because you know how much time you have from that person, and how many days they're available to work with you.
It protects the celebrity because they have a clear understanding of what's expected of them and then everybody's happy.
It's kind of like a prenup!
Sometimes even if a celebrity is interested in a cause, it's hard to get the people who handle them interested. Do you have any tips for that?
Cupcakes!
I'm half kidding – we've sent a lot of cupcakes to various managers and publicists in Los Angeles over the years.
I definitely think that's one. The second is to be nice.
These people are sometimes crapped on by the celebrity, and oftentimes by other agents or managers or lawyers.
So it always pays to be nice.
The third thing is to make their job easy.
If your nonprofit has a relationship with People Magazine, tell the celebrity's publicist, "I've got People Magazine who would love to do a photo with your celebrity."
You're doing the publicist's job for her, so she'll be so thrilled to be able to call up her celebrity client and say, "Hey, I've got People Magazine queued up for this."
Those are the three pieces of advice for getting the celebrity's team excited.
Your team also does a lot of research on the celebrities you have at your events.
We do.
What potential trade magazines or publications might be interested?
What hobbies do they have?
Did any of the talent you have coming appear in a pilot together ten years ago or did they once have a romance and no one knew.
You want to find all of the potential story angles, which really requires you to get to know as much as possible.
It's really about finding the story, isn't it? Hollywood is a small word, so there's probably some kind of drama or story between at least two of the celebrities at an event.
Absolutely.
You want to connect the dots in a way that's going to be interesting to journalists, and there's always a way to.
Maybe there's a journalist at Variety who is a huge fan of Fran Drescher that's going to be at you event.
So you need to do that research.
That's a great point. You want to research the journalists to find out what celebrities they're most interested in covering. For instance reality stars are on the cover of every magazine right now, not A-list movie stars.
Yes.
would say that the only thing better than cupcakes is knowledge.
What about offering exclusives to the media?
Exclusives can be especially good if you parse them out.
So you can offer exclusives to advance information.
You can offer an exclusive on one particular celebrity.
In other words, offer a journalist the ability to follow around one particular celebrity all night and interview them.
You can offer an exclusive to the green room, or behind-the-scenes coverage of how this event was put together.
You can offer an exclusive on a particular story angle
Sometimes we think of exclusives as one magazine, one blog, one television show, one radio station, and that's fine.
But there are so many different wants to parse out exclusives.
What about the Internet? Have you worked with any YouTube stars?
You know, we'd like to.
What makes a celebrity has really changed.
It used to be that shining star, but you said before some reality TV stars are bigger guests these days than A-list, Oscar-nominated film stars.
Right now when we look at celebrities we might work with we look to see if they have a Twitter following and how big it is.
For example, we're going to be working with Demi Lovato this summer and we're super excited because she has a really active Twitter following.
With all of these tween celebrities like Demi and Justin Bieber and Nick Jonas, their followings are evangelical.
Someone like Ashton Kutcher may have more followers than Justin Bieber, but Justin Bieber's followers are more active.
Right, there are some celebrities who use Twitter a lot and some who just have an account.
It's not even about whether they use it or not.
It's how active their following is.
So like I said, Ashton Kutcher uses Twitter and he has more followers than Justin Bieber.
But I would take Justin over Ashton any day because Justin's followers are more active re-Twitterers.
It's no longer about how famous you are or how big your following is, it's how loyal your followers are.
I love Demi Lovato. I love Nick Jonas.
I love Justin Bieber because those celebrities have evangelical followers; crazy, fantastic followers and friends and fans.
Some of the older celebrities like Angelina Jolie will have more name recognition, but Angelina's fans are not as loyal.
When I was growing up you were never allowed to take your camera into concerts and take pictures. Then it seemed like they didn't care and now they even seem to encourage it because artists realized they want their fans posting photos on blogs and Facebook. It only helps spread the word about them.
Absolutely.
At the beginning of the event, we now say, "Everyone please turn on your cell phones and Twitter and Facebook and text like crazy."
It would be great if people would turn off their ringers, but we want them to have their cell phones on.
What tips to you have for right after the event? A lot of nonprofits have an event and then it's over, but in the PR world there's so much to do after the event to get the word out about what happened.
It starts the second the event is over.
You should sit down with your team and talk about all of the stories, all of the items from the event.
So and so was talking to such and such.
There was a surprise celebrity who showed up, a really heartfelt moment, the great photos you got.
Because now with Twitter and Facebook, if you don't control the story immediately after the event, someone else who attended your event will.
So if the event ends at 10:30, at 10:31 you want to start stringing together your photos and stories and getting those out there.
It used to be that everybody would go home, sleep and the next morning around 11 AM you'd get together and say, "OK, what do we have?
Let's start calling and placing items."
Now, it starts at 10:31 PM.
During the events we actually have our tech team in a room at the event on laptops blogging, monitoring message boards, and Tweeting the entire time.
So, we're actually doing it during the event.
How do you feel about gossipy stories?
We try to stay away from smutty stories.
We really do.
We partnered with a retailer once, and they sent out a bunch of stories about one of our celebrities that was totally false.
They had their PR firm sent out the stories just so their name could get out there.
We were so mortified and the celebrity was so upset with us that I swore up and down to the celebrity that we had nothing to do with it and that attention in the National Enquirer was not something we ever aimed for because frankly, teenagers don't read the National Enquirer.
Those kinds of stories don't help us reach our end goal.
We will never work with that retailer again, and I called that retailer and told them so.
We could have done so much good work together, but we will never work with them again because of the way they treated the talent and the story.
Any tips for making sure the celebrities you invite really show up at your event?
There's really no way.
I mean you can send a car service – that helps.
They're usually more apt to show up if they have an actual speaking role, like if they're going to be presenting something.
We love to send them the bio and maybe a video or a photo of the kid they're going to be presenting to because the really gets them excited.
In fact, we did an event in Los Angeles with Lauren Conrad.
She was on MTV's 'The Hills' which is like the number one TV show with teenagers.
She fell in love so much with this one kid.
His name was Pat Pedraja.
When he was 12 he had leukemia and because he's half Cuban, he almost didn't find a bone marrow match because there aren't a lot of Hispanics in the bone marrow registry.
So when he did get a match afterward he said to his mom, "We've got to do something about this."
He started an organization called Driving for Donors.
Pedro and his mom went around the country that summer to Hispanic markets and they increased the number of donors on the bone marrow registry by a third.
He's just an amazing kid.
Well, Lauren Conrad fell so in love with this kid and his story that not only did she show up to give him his award, she showed up with an iPod and song list on it that she made especially for him.
Then she bonded with him so much that she invited him to be her Emmy date that year to the Emmy Awards!
Awesome! Any other cool celebrity stories?
Yeah. Olivia Wilde was also really great.
She met one of our kids who was putting solar panels on a hospital in Gambia and she was like, "Wow, I'd really like to see that."
Our kid was smart enough to say, "Great, let's arrange a trip!"
The next thing we knew, Olivia Wilde was off to Gambia and visited the hospital in Africa, and it's become her big cause and her big passion which makes a lot of sense because she's on House, a medical drama.
I think it really depends on the charity or the entrepreneur really seizing the moment.
What do you say to nonprofits who say using celebrities is not important?
I don't think it's about how big the nonprofit is.
It's about your target market.
We don't use celebrities because everyone is our office loves celebrities.
We use celebrities because our target market is teenagers, and teenagers love celebrities.
That's just the reality of our target market.
We've been offered celebrities before who our teens just don't know.
For example, I love Susan Sarandon.
You have no idea how many times I've seen her movies!
But teenagers don't really know who she is. So we would never put her in one of our public service announcements.
Don't use celebrities just for celebrity sake.
It's got to meet your organization's purpose and make your target market happy.
Also See: