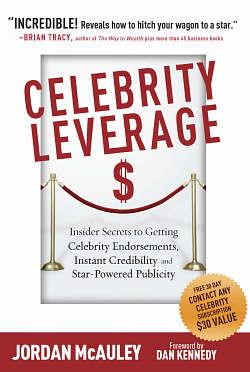 Mike Esterman of Esterman Entertainment is a Contact Any Celebrity Member and celebrity personal appearance agent who has books celebrities for private parties and events.
He's already been featured on The Today Show, E! Entertainment Television and CNN's Showbiz Tonight as a guest expert, but we sat down to talk with Esterman about how small businesses can hire celebrities to help supercharge their marketing and publicity efforts.
What does a celebrity personal appearance agent do exactly?
While celebrities may have more than one agent (theatrical, speaking, voice over, etc.), I'm a non-exclusive conduit who gets them booked at private parties, special events, club appearances, store and restaurant openings, etc. The only events I myself do not book celebrities for are fundraisers or charity events.
Why should a small business go through a personal appearance agent like yourself as opposed to the celebrity's theatrical agent?
One reason is because I actually answer the phone and will give you a quick answer. Sometimes you can't get the celebrity's theatrical agent on the phone. And if you do get them on the phone, in order to book the celebrity for an event they want to know all about your personal business: what your books look like, how your business operates, your background, etc. You can actually speak to me with one phone call and I don't ask as many questions.
How far ahead should a business begin planning to book a celebrity?
I have people calling me today needing a celebrity for tonight up until a few weeks or a few months from now.
What is the expense range a small business should expect to pay to book a celebrity?
The price can range anywhere from $500 for a Playboy model or a reality TV star to $1.7 million for a private Justin Timberlake concert I was just asked about. It's a pretty wide range.
For small businesses that may not have a big budget, what kinds of celebrities can they get?
Playboy models and reality TV stars are very affordable. Now there's a difference between a Playboy model and a Playboy Playmate. You can get a model for about $500. A Playmate is about $1000. You can get reality stars, kids from MTV shows like The Real World and The Hills for about $1000.
What are some tips for saving money when booking a celebrity?
One tip is if the celebrity is already going to be in your area, that's a good way to save money on travel because you don't have to pay it. For example, many of the MTV Real World kids go around the country speaking at different colleges and like to pick up a nightclub appearance as well. So you can save money that way.
Or a musician who is already performing a concert on Thursday may want to pick up a nightclub appearance on Friday. Then you don't have to pay for airfare, just an extra hotel room night. Now I don't always know who is going to be on tour. People call me and ask if so and so is going to be in their area. I don't know that, although I list the ones I do know about on my Web site at Esterman.com. If you know someone is going to be in your area, tell me. It's up to you to let me know so I can help save you money on travel.
What are the steps someone would need to take to book a celebrity?
My Web site is basically a McDonald's menu of who's available. I can go after pretty much any celebrity and make them an offer, but the ones who are listed on my Web site are actively looking to book these types of engagements. It's basically a three-step system: you choose a celebrity from my Web site, tell me how much you're willing to spend, and email me some names. I make the offer to the celebrity, and if they're available I draw up a contract and you put down a deposit. It's that easy.
What does the business owner have to worry about at the time of the appearance?
Everything is laid out in the contract so there are no surprises. It's a basic contract with a rider that spells out everything you need to know in advance.
What kinds of events for businesses will a celebrity do?
I booked Carmen Electra to work an electronic company's trade show booth. Cindy Margolis hosted a Tupperware-like party where women came to buy purses. Jenna Jameson hosts nightclub parties for lingerie companies. The corporate market is huge, and everybody wants to get a celebrity. You can hire them for store openings and restaurant openings as well.
Can you also hire them for private parties, weddings, Bar Mitzvahs, etc.?
Sure. We do those all the time. I recently booked Mario Lopez to host a graduation party at someone's home. They'll do pretty much anything as long as you're willing to pay for it.
– To learn more about Mike Esterman, visit Esterman Entertainment at Esterman.com