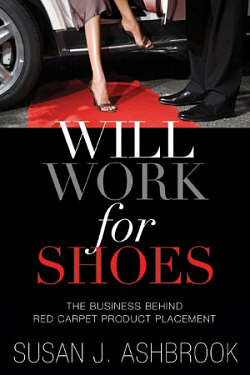 In her new book, 'Will Work for Shoes,' red carpet product placement expert Susan Ashbrook shares many tips for getting products into the hands of celebrities.
I highly recommend this book to use in conjunction with our online database of celebrity contact information.
In 'Will Work for Shoes,' Susan Ashbrook reveals how to:
Get On National TV!
Get Big-Time Publicity - Meet National TV Producers & Print/Online Editors One-On-One, Face-To-Face.
Apply Now To The National Publicity Summit 2020, Coming Up October 21-24th, 2020 In New York City.
Only 100 Spots Available -
Apply Now!
Get huge, powerful, affordable exposure for your band by harnessing the star power of celebrities
Get your product on the body or in the hands of a celebrity
Connect with stylists, publicists and other handlers who have access to the star
Avoid awkward product-celebrity match-ups and find the perfect person for your brand
Execute a celebrity marketing campaign for next to nothing
Get valuable loaned product back from sticky-fingered stars
Prepare for the attention and increased demand when you have a celebrity hit
Susan also shared tips in a Bloomberg BusinessWeek's article, 'How to Get A Star to Use Your Product'…
'Put together a target list of 50 to 100 celebrities who might like your product. Cast your net wide. Find those celebrities' handlers – their managers, publicists, stylists – using websites like Who Represents and IMDb [and Contact Any Celebrity!]. Call and pitch your product in a succinct manner. Most often they'll ask you to e-mail photographs and a paragraph about what it is you're asking.

These people are bombarded with products, sometimes thousands each week, so, depending on the cost of your item, it may be worth sending a sample. Package it nicely, so opening it reminds them of Christmas. Your message should include a bit about yourself and your company and why you think the product would be great for that particular celebrity.

[…]

Once you've sent out the product, it's all about persistence. Follow up and ask if the product has arrived and whether you can touch base in a couple weeks to see if they like it.

A yes doesn't mean you're done. If your product isn't what the celebrity's wearing to the Oscars, you'll have to wait for them to be photographed wearing or using it. You should have a list of editors and bloggers ready for when it happens, so you can say,

'Hey, these celebrities are using our product.'