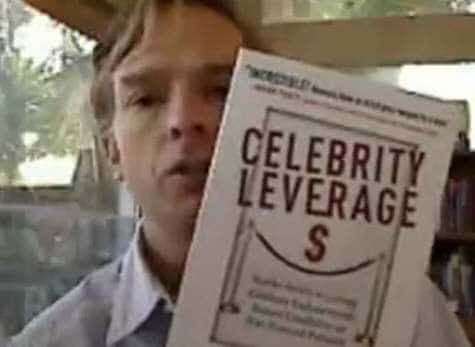 Transcript:
OK, recently in my inbox were two new books that I really appreciate receiving from some friends of mine. And these books are ones that I think will be useful to you if you're interested in the sort of things we talk about here at the Scott Fox Show.
First of all was this one, Seth Godin's new book, 'Linchpin.' Seth Godin is a genius in online marketing. This man has more good thoughts on online marketing in weeks than most people have in years. His blog is a must-read in the online marketing space, and I'd encourage you to buy his new book, Linchpin as well.
Now I haven't read it yet, because I just got it. This is an advance copy. I worked with Seth on a charity venture last month and I made a donation to his charity, so he sent me this early. I'm excited to read it. I wanted to show it to you to help him build some suspense and anticipation for it, it will be out next week. Linchpin, from my brief scan of it, sounds like what we talk a lot about in my Click Millionaires Personal Success Forum.
Linchpin is about as you can see here on the cover, are you indispensable? The new economy is more about making yourself valuable and making your indispensable and having the confidence to base your career on that. Rather than taking orders from other people, you step out on your own a bit or at least take charge of your career in a way that can help you grow with this new economy.
So I'm really looking forward to reading this and I think you should probably check it out too. It's available at Amazon and at bookstores nationwide. Seth is a smart guy. His last book, Tribes, was a major inspiration to me. And I'm even in that book. In the inside cover there's a picture of me. This one I'm really excited about thanks again Seth for sending it to me I look forward to reading this and will get back to you with more information.
In fact if you have comments about this one, leave a comment below and let me now what you think about it. I'd love to get a dialogue going because I think the themes Seth addresses here, well he's gone a long way from being a pure marketing guy to being more and more of leadership and personal development guru. That's a lot of what we talk about at Click Millionaires so I'd like to hear what you think about this book.
Now the other one I want to alert you to just came out yesterday, another advance copy a friend of mine wrote, Jordan McAuley. Jordan McAuley has a new book called 'Celebrity Leverage.' Jordan's a guy that's a very smart marketer, I actually did a podcast with him last year. You can find that at ScottFoxRadio.com. Jordan is the guy that runs the Celebrity Black Book and the Contact Any Celebrity Web site.
He's an expert at getting celebrities' attention, and then convincing them to endorse your products. That' basically what this book is about. Contact Any Celebrity is his Web site and Celebrity Leverage is his new book. Jordan's an expert at this. And again I haven't had time to read it, but I look forward to it and I know he's a sharp guy. I look forward to pursuing this.
So that's Celebrity Leverage and it's available at CelebrityLeverage.com as well as Amazon.com and places like that. So thanks Jordan, I look forward to checking that one out. I'll see you on Twitter real soon my friend. So that's our book segment for today, I look forward to reading these books as well. If you have comments on any of these books, feel free to leave us a comment and let us know what books you're reading.
I think there are a lot of great books coming out these days and they get overshadowed, frankly, because so many people are obsessed with short-form content like blogs and Twitter, that the long-form stuff sometimes gets neglected. But sometimes it takes more than 140 characters to really develop a thought. So here's to the authors of the world. That's the Scott Fox Show book segment for today, and we'll be back doing more books soon. If you have a book you'd like me to review, send us an email.
– Scott Fox, Author of 'e-Riches 2.0′
– You can download our book 'Celebrity Leverage' as a free PDF file from inside the Contact Any Celebrity Member Lounge – join now!