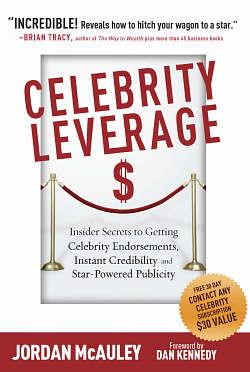 Have you ever wished you could get your jewelry designs in the hands of today's hottest celebrities so they could be worn on the red carpet, on major television shows, or in hit movies?
Below, I'll show you some of the strategies jewelry designers like yourself are successfully using to get celebrities to "endorse" their jewelry lines and how you can, too!
One low-cost way to get your designs to celebrities is to do what major fashion companies call "gifting." This means basically sending or donating samples to celebrities hoping they will be photographed wearing them either on the red carpet or in paparazzi shots that show up in celebrity weeklies (think Us Weekly, OK!, Life & Style, People, etc.).
In order to gift a celebrity, you need to find out their correct contact information, then send a couple of your best samples along with a note stating you are offering your designs as a gift. It's best to send samples to the celebrity's publicist, because that is who is in charge of making the star look good. To find this information, you can call the Screen Actors Guild (SAG) Actors to Locate line at 323-549-6737, but they will only give you agent's name and phone number.
A better way is to use a constantly-updated online service like Contact Any Celebrity that not only provides the best mailing address, but also the name, address, phone, and fax number of the celebrity's agent, manager, and publicist. If the celebrity does not have a publicist (some stars like Angelina Jolie act as their own publicist), send your sample to the manager or the best mailing address listed for the star. Once you start sending out samples, be sure to check photo syndicates like Wire Image and Photorazzi to see if the celebrity is wearing your design! If they are, you can then license the photo (or photos) for your own use.
Want Big-Time Publicity?
Meet 75 TV Producers & Print/Online Editors Who Want To Feature You & Your Work. Apply To The National Publicity Summit 2021 (VIRTUAL EDITION!)

Just A Few Spots Left - Apply Now!
Some jewelry designers have had success sending their designs to wardrobe departments on hit TV shows. On a whim, Contact Any Celebrity Member Amy Peters of Amy Peters Studio sent some of her samples to the wardrobe department on the set of Fox's "The O.C." The department liked her designs so much, they outfitted several cast members with them. But that's not all. the show got so many requests from viewers wondering who designed the jewelry that Amazon.com put up a special Amy Peters Studio "As Seen on the O.C." section!
Keep in mind TV shows and movie production companies are often looking to save money on wardrobe. Amy Stumpf, who runs a database of production designers looking for donations at Gift List Media, says many production designers will accept donations of clothing and fashion accessories because they give the production a more unique look.
When was the last time you saw a character on your favorite television show wearing a GAP t-shirt? Probably never. That's because they want the actor's clothes to look unique, but paying for original clothing designs on every episode would cost way too much. Yes, some well-known designers donate clothes and jewelry, but not for every character on every show. Usually this is reserved for hit fashion-centric productions like "Sex and the City" and "Ugly Betty," but there are hundreds of programs out there–even "Ugly Betty" looked for donations from time to time!
Another way to gift celebrities is to get your jewelry in gift bags given to celebrities at award shows and charity events, or in celebrity gift suites at the same types of events. Getting accepted into celebrity gift bags usually requires a small fee plus a donation of about 50-75 samples. Sometimes there is no fee attached, you just have to donate designs for the bags.
To get in celebrity gift suite lounges, you have to pay a fee of about $2,000 to $5,000, but the rewards can be great. These lounges often have anywhere from 50-75 top-name celebrities who come by your booth to take home some designs they like for free. Besides getting to meet the celebrities, one of the benefits of being in a gift suite lounge is that the lounge organizer usually has both a publicist and a professional photographer on hand to get photos of the celebrities holding up–or even trying on your jewelry!
The publicist then pitches these photos to top celebrity magazines to try and get them included in the next issue. You also get copies of all the photographs so you can use them on your Web site, in your brochures, etc. Gavin Keilly at GBK Productions organizes gift suite lounges for small jewelry designers at big-name award shows like the MTV Awards and the Primetime Emmy Awards (coming up in September).
Of course, getting a celebrity to wear your jewelry doesn't do much unless you let people know about it. Be sure to put "As Worn on Desperate Housewives" or "As Seen in Us Weekly" on your Web site and in your marketing materials (assuming that they were, of course!). Send out an email blast (you do have an email list of your customers, don't you?) letting them know to watch the episode it will be on, or that your designs will be featured in the American Music Awards Gift Suite.
Put up a photo gallery of all the stars trying on your designs on your Web site. The possibilities are endless. By sending out a sample or two every day, you're bound to get worn by a celebrity sooner than later. Remember, it only takes one celebrity wearing your jewelry to make your business famous!