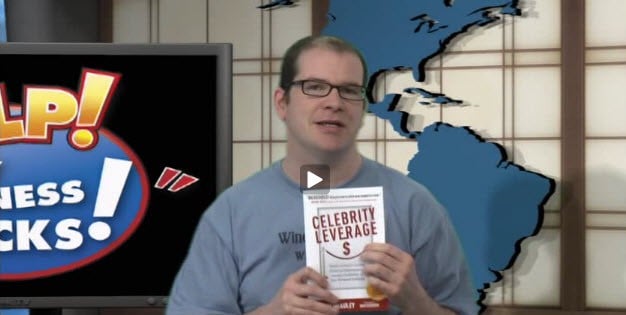 By Jordan McAuley, Founder, Contact Any Celebrity
Foreword by Dan Kennedy
Available At: Amazon | Barnes & Noble | Bookshop.org | Books-A-Million | IndieBound | Powell's | 800-CEO-READ
Insider secrets to getting celebrity endorsements, instant credibility & star-powered publicity!
Make more money, become a celebrity in your field, and get tons of free publicity. Here is your complete guide to profiting from the power of celebrity in your business.
You'll discover how to do all this and more:
Get your products & services in celebrities' hands
Profit from the power of celebrity and celebrities
Be featured in magazines and newspapers
Appear on local and national TV and radio
Use the Internet to skyrocket yourself to stardom
Become a best-selling celebrity author
Make your business – & yourself – rich & famous!
Plus much more!
Now you can make your business – and yourself – rich and famous!
Look What People Are Saying…
"Your credibility is the key to your success; this incredible book shows you how to 'hitch your wagon to a star' in your upward climb."
– Brian Tracy, President
Brian Tracy International
"Now, this is a great book. It gives insider secrets to getting celebrity endorsements. It really is a great book."
– Andrew Lock, 'Help! My Business Sucks' Show
"Great book!"
– James Malinchak, ABC's 'Secret Millionaire' & Big Money Speaking
"Celebrity Leverage is your easiest, smartest, most cost-effective way to explode sales and set new records!"
– Joe Vitale, Author
The Attractor Factor & Contributor to The Secret
"This book could lead to doubling or multiplying your income by a number of different means when you 'celebrity-ize' your business. Jordan is a very important voice to listen to on this subject."
– Dan S. Kennedy, Author
No B.S. Marketing to the Affluent
"Our society has become incredibly celebrity-centric and the media is giving more coverage to anything celebrity related. Jordan has put together a terrific book."
– Yanik Silver, Founder
Maverick Business Adventures
"I was blown away at the many valuable tips in Celebrity Leverage that will dramatically enhance any marketing program, give you instant credibility, and drive sales. I strongly recommend this book – it should be a college course."
– Joe Sugarman, Chairman
BluBlocker Corporation
"I tell my readers that the best way to improve marketing response rates is with endorsements. And the best way to use celebrity endorsements to improve your marketing results is by reading Jordan McAuley's excellent book, Celebrity Leverage."
– Bob Bly, Copywriter
Bly.com
"I've made millions of dollars leveraging and linking myself, my company, and my clients to famous people. Not only is this smart marketing – it's fun! Once you read this book, you'll have a step-by-step process for yourself. I call this ELF Marketing. That's easy, lucrative, and fun!"
– Joe Polish, President
Piranha Marketing, Inc.
"This book ROCKS! I've long been aware of the power of marketing with celebrities, but had no idea how many easy ways there are to not only contact them but use them to make yourself a lot more money! I'm going to buy copies for all my clients."
– Ali Brown, CEO
Ali International, LLC
"With celebrity news and gossip hotter than ever, many authors, speakers, consultants, experts – even businesses and nonprofits – are leaving money on the table if they aren't tying their product, service, cause, or issue to celebrities. Celebrity Leverage shows you how with clever, creative ideas as well as helpful tips for getting past the gatekeepers."
– Joan Stewart, President
The Publicity Hound
"Jordan's unique insight and information can do for your business what it has done for countless autograph enthusiasts' collections – namely, increase its value, worth, and 'fun factor.' A must-have for anyone serious about competing in today's celebrity-driven markets."
– Anthony D. Record, Contributing Editor
Autograph Magazine
Available At: Amazon | Barnes & Noble | Bookshop.org | Books-A-Million | IndieBound | Powell's | 800-CEO-READ