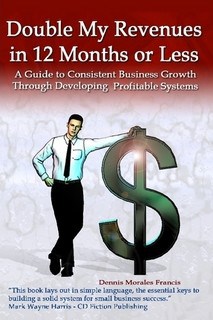 In his book, 'Double My Revenue in 12 Months or Less,' Dennis Morales Frances explains how to find a celebrity to endorse your product…
"Finding the right celebrity to endorse your product can often increase response to your marketing by 100% or more. Most cost-effective is to have a well-respected celebrity who is semi-retired. For example, we were able to get a member of 'The Partridge Family' to endorse a product of a client of mind for a few thousand dollars, and it's made the difference between stunning success and failure for the campaign.
Very often you can sign for an entire year celebrities (movie stars, Hall-of-Fame athletes, etc.) who are not current box office superstars, but were at one time and are still very known and respected, for $20,000. Good celebrity brokers include Celeb Brokers and Celebrity Endorsement Network.
And often you can just do-it-yourself by using a directory called Contact Any Celebrity.
If just 2% of the 1,000 celebrities you write send back the authorization form giving you permission to list the celebrity as a 'Friend of [Org Name]' on the letterhead and website, you then have a list of 20 celebrities you can list as friends (with photos) in direct mail solicitations, on the website and other promotional material. This will usually increase response to your mailing 50%-100% or even more.
Want Big-Time Publicity?
Meet 75 TV Producers & Print/Online Editors Who Want To Feature You & Your Work. Apply To The National Publicity Summit 2021 (VIRTUAL EDITION!)

Just A Few Spots Left - Apply Now!
The key to success here is to pick celebrities (usually older celebrities) who people respect and admire. Michael Jackson, Mike Tyson and Michael Vick (the three 'Michaels') are well-known, but would not be good choices. But baseball great Cal Ripken would be good for many products because of his wholesome all-American image.
You also want the celebrity endorser to fit the product – i.e. Kirstie Alley's endorsement of Jenny Craig's weight-loss program (assuming she does not balloon out again). The endorsement needs to make sense.