Want to contact Andrew Yang directly? Here's how:
Start Your FREE 7-Day Trial to get Andrew Yang's email, mailing address, agent, manager & publicity contacts.
Plus Get Instant Access to our Private Online Database of 59,000+ celebrities, influencers & public figures with full contact information.
Get On National TV!
Get Big-Time Publicity - Meet National TV Producers & Print/Online Editors One-On-One, Face-To-Face.
Apply Now To The National Publicity Summit 2020, Coming Up October 21-24th, 2020 In New York City.
Only 100 Spots Available -
Apply Now!
Andrew Yang's Social Media
Contact Andrew Yang on his Official Site (Campaign), Facebook (Campaign), Instagram (Campaign), LinkedIn, Snapchat (andrewyang2020), Twitter (Cause) & YouTube (Campaign).
How can I meet or contact Andrew Yang directly?
The best way to meet or contact Andrew Yang directly is at one of his events.
Basic Membership
🆓 FREE 7-Day Trial then $39/month
✅ Low Monthly Rate
🕶 Search 59,000+ Celebrities, Influencers & Public Figures In Our Private Online Database
📬 Verified Mailing Addresses
🔎 Unlimited Online Searches
😎 14,000+ Agents, Managers, Attorneys, Production Companies, Publicists & More
📞 Rep Emails & Phone Numbers
🏢 7,000+ Entertainment Companies
🖥 Lightning-Fast Online Database
💫 Dynamic Lookup Technology
⏱ Daily Database Updates
🤩 Member Concierge
📩 Postage Refund Guarantee
🔎 Free Research Requests
👍 How-To Articles & Pro Tips
📘 Celebrity Leverage: How To Get Celebrity Endorsements E-Book
📗 Help From Hollywood: How To Hold An Autograph Auction E-Book
📕 Secrets To Contacting Celebrities: 101 Ways To Reach The Rich & Famous E-Book
💯 Cross-Linked Search Results
🎗 Celebrity Causes Database
💻 Monthly Insider Expert Webinars
😍 100% Satisfaction Guarantee
❌ Cancel Anytime Online
VIP Annual Membership
🆓 FREE 7-Day Trial then $197/year
✅ Best Value for Professionals
🕶 Search 59,000+ Celebrities, Influencers & Public Figures In Our Private Online Database
📬 Verified Mailing Addresses
🔎 Unlimited Online Searches
😎 14,000+ Agents, Managers, Attorneys, Production Companies, Publicists & More
📞 Rep Emails & Phone Numbers
🏢 7,000+ Entertainment Companies
🖥 Lightning-Fast Online Database
💫 Dynamic Lookup Technology
⏱ Daily Database Updates
🤩 VIP Member Concierge
📩 Postage Refund Guarantee
🔎 Priority Research Requests
👍 How-To Articles & Pro Tips
📘 Celebrity Leverage: How To Get Celebrity Endorsements E-Book
📗 Help From Hollywood: How To Hold An Autograph Auction E-Book
📕 Secrets To Contacting Celebrities: 101 Ways To Reach The Rich & Famous E-Book
💯 Cross-Linked Search Results
🎗 Celebrity Causes Database
💻 Insider Expert Webinars
😍 100% Satisfaction Guarantee
❌ Cancel Anytime Online
What is Andrew Yang's phone number?
Andrew Yang's personal phone number is unknown, but you can call his company Venture for America at 646-736-6460. Call his agent, manager & publicist using our online database.
What is Andrew Yang's mailing address?
Write Andrew Yang at his campaign & company mailing addresses:

Andrew Yang
c/o Friends of Andrew Yang
P.O. Box 214
Midtown Station
New York, NY 10018

Andrew Yang
c/o Venture for America
307 7th Ave. #1201
New York, NY 10001
What is Andrew Yang's Snapchat?
Andrew Yang's Snapchat is andrewyang2020.
Andrew Yang's Email Addresses
Andrew Yang's Mailing Addresses
Andrew Yang
c/o Dream Factory Group
1680 Vine St.
#1212
Los Angeles, CA 90028
Andrew Yang
c/o Friends of Andrew Yang
P.O. Box 214
Midtown Station
New York, NY 10018
Andrew Yang
c/o Venture for America
307 7th Ave. #1201
New York, NY 10001
Andrew Yang's Phone Number
646-736-6460 (Venture for America)
Also See:
We Cannot Stay Silent About George Floyd | Patriot Act Digital Exclusive | Netflix ... See MoreSee Less
Comment on Facebook National bail Fund ...
He may not be perfect, but I'll bet you can talk with this man who clearly loves our country and is working hard to 'make it greater'.
We cant stay silent over the police officers deaths either...enough is enough
Of course I love this man's ideas a lot of the time. I think that he has looked at our not united state and understands how we got into a lot of this predicament. I wish that we had more political minds like his. He can see the past and the future, the economy and the humans and think outside and around the ideas and things that people 'know' are true that are not true.
We need to do more than speak up... i began protesting in 1964... speaking up has been done without results!
On June 2, 2020, David Dorn, a 77-year-old African-American retired police captain, was fatally shot by looters during the George Floyd protests in St. Louis. Where is the OUTRAGE For him??
Load more
Illusions are dying. The question is what takes their place, and whether the truth is bearable. ... See MoreSee Less
Comment on Facebook Illusions are dying....
There is NO reason for ANY man to hold his knee on another man's neck for nearly nine minutes after he's already been subdued. And there are two, and ONLY two, reasons an officer should ever use excessive force ... to protect their lives or to protect someone else's. Having a badge is not an automatic right to hurt, or even kill, someone.
Chicago stats. I'd ask to not get killed also.
You are truly an inspiration for this nation! I trust you which is something I've never felt from a high level politician. I hope your platform continues to rise! #YangGang!! 🇺🇸❤️🤍💙
How about asking not to commit any form of crimes, isn't too much. We can all agree on that.
Andrew, you have been doing a fair job of doing the math. I would hope you would review the data before being divicine and manipulative. I am more than a bit disappointed in you
I wish this statement meant something I'm afraid it does not mean. I know you can find the data. I know even more, you know the msm is compromised. A small handful of us who stopped our lives for your campaign, have waited patiently for you to expose the truth.
Keep up the great work. President or not you are making a huge impact and creating a movement!
I hope to see you leading our country in any way you can! You really speak to my heart on many subjects and I truly believe you care more about people feeling good then your popularity or "agendas"! As a leader you need to be open to new ideas as well as trying and being willing to fail and start again. Most people won't risk that but I know you would!!
Agree, AY, but being the strong supporter of "MATH" that you are ...you already know the stats that reveal the truth. #ripDavidDorn
we have normalized behaving like assholes to the point, when someone demands decency and common sense people look at you like you are asking for too much, we need to change, Andrew Yang i hope you can help normalize being decent again...
It's true. People are slowly learning the struggle of minorities. Not all of our country know this, but life is hard and dangerous in the cities. Systematic Discrimination for Decades. My American Family, Please Understand the Plight of Minorities. Be safe out there ✊🏿😎 😷💦👏 ✌🇺🇸
The truth is unbearable but we must learn to face the truth and bear it. And dramatically change the structures of our society.
please run third party for the love of God. lol don't make me choose between Trump and Biden
Nobody is protesting about the 250,000 medical error deaths every year, but 250,000 people are still being killed every year
I thought we were asking that the police stop getting away with murder. I mean, I would also like to not be killed too.
Mr Andrew Yang, I am a big fan of yours. You're a data and math guy. Can you point me to the correct statistics on cases that involves murders/death in response to your tweet. Obviously, you are correct in asking to not get killed is not asking for much but I never can seem to get an answer from either side on just what the data says. Thanks!
What happened to MATHs, Mr Yang? Hanging out with all those CNN and DNC people is clouding your critical faculties.
Last known words of #DJHemphill "please dont kill me" April 3, 2012
This illusion is one that needs the bleaching of sunlight.
We can bear the truth 🙂 We've weathered so much together already. What more can we not handle at this point? 🙂
Me being an American trucker I liked your polices
Just vote for Biden and then we can hopefully move in from this nightmare to andrew
I do not understand the disregard for life and basic rights. I cannot wrap my mind around it.
Are you one of them guys that's like ya they are peacefully protesting I mean a couple people died and shits on fire but you what everything's A OK... news flash none of this is ok... imagine how weak we look to our enemies right now... maybe I should run... oh ya I'm not in the loop and I'm broke and I'm way to real to ever be a president... to be a president you have to lie and fuck shit up... I'm not for it because I love my country sad that not even our presidents do
My conversation with Bakari Sellers on Yangspeaks.com about race, police brutality and what we can do to move forward. ... See MoreSee Less
Comment on Facebook Full Episode with ...
I assume this vague title refers to deaths at the hands of police. Do they die disproportionate to crimes committed or disproportionate to racial population?
It's more than that. It's not just numbers, it's the fact that the war on drugs, policing in general, specifically TARGETS minority communities. Also poor white communities, but disproportionately black and Hispanic. It's not just the "bad apple" cops, the entire system is rotten even when it's working as intended.
We remain in a deep dark hole with millions of jobs gone for good. Emergency cash relief is vital. ... See MoreSee Less
Comment on Facebook No one is sure ...
UBI is a great way to address income inequality in a world that's becoming more automated. I'd like to see Biden pick Yang for VP. Not gonna happen, but I'd be happy to see it.
UBI is a great idea, I don't believe Biden will implement it though. He's said in debates that he cannot get behind universal health care because he doesn't know how to pay for it. That tells you right there that he's not for taxing the wealthy, he's just another puppet for the 1%.
Before the quarantine, the Stop and Shop supermarket in my town did not have any self-checkout register. Now, every register is a self-checkout register - a couple of dozen jobs are now gone! CVS did not have any self-checkout registers, now has three - more jobs gone for good.
The unemployment number comes from a randomized survey via phone. Ie, it is a statistical sample that is then extrapolated from. It is not from a total count of who is out of work, because you would have to get data from more than 150 million people. It is also not clear, because of caller blocking and other aspects of modern phone technology, that it is truly random. The problem with the stated unemployment rate is that it doesn't square with 42 million who have applied for unemployment since March. If only 2.5 million new jobs were created, then unemployment should still be north of 20 percent. Government needs to explain why the numbers are contradictory and needs to find a process that produces non contradictory measurements.
I do not want to be a contrarian or sniping. Consider that the concept of 'earning a living' may be changed so radically as to be unrecoverable. This is not solely a function of Covid or Trump or any other single factor. The equation of labor has changed, permanently. Funding people, feeding people sounds laudable. Now its tomorrow and the day after that and no one is hiring, no one is manufacturing and no one in America is going to. We have all the leisure we can stand. We are experiencing the new normal and the impulse is to deny it or try to restore the imaginary past.
they will rise again when the PPP money dries up. It is critical to understand that the PPP money was given when they thought this would be a few week lock down. It has been much longer. The reality is another infusion of PPP money is needed to or the companies will have mass lay offs. Some will close and the unemployment system will buckle. Then when unemployment runs out the businesses will not be around to rehire them. And while I am not a guy person typically wants government bailouts, I do believe that when the government closed the country they damaged everyone including healthy businesses.
yeah. my job waited until yesterday to do lay offs, they have just been doing furloughs the last few months. I got lucky and was able to keep my job, but i am afraid. I feel like a lot of employers are still trying to put it off. this really is far from over.
UBI is vital now. Stimulus relief to businesses isn't going to do any good if no one can afford to consume the goods and services. You can't operate a business with a customer base that can't afford your offering. This is bass ackwards, folks!
No wait a minute! I just seen a very stable genius, who also happens to be the president of the US I'll have you know, assure me that everything will be achieving greatness in a month or two.
I agree with everything you say, but I guess my concern is globally. The more we give to people here , the more we might be supporting unregulated child labor in other countries etc and supporting our superiority .. but in the long run the outcome hopefully would be positive globally...
Good to know: "Live like an optimist. Legislate like a pessimist." I am also concerned about complacency. 😞 😦
Remember that peoples mental health is suffering from the deluge of negative headlines. I wish that we could be positive while still understanding the need to help people.
Considering here a lot of people got mad here when the business owners were able to open where they worked because they wanted to stay home and collect checks, no more money. If you have time to burn down peoples businesses you have time to work.
I wouldn't call it "emergency" anymore. It's a birthright.
The numbers reported were wrong, almost 4% higher than what was reported, wish they would do the right thing and report the real numbers but not holding my breath, and willing to bet it goes higher next month
It means we are heading at pace into the worst depression the planet will ever see. The fed can't pump the free money quick enough, and that can only lead to further crippling debt.. like trying to put a band aid on a severed artery... or inflating a tyre with a hole in it. A whole new monetary system is what I believe is coming to the west.. China has excelled with their cashless society, face recognition too. Currency always fails in the end, not backed by anything , the currency is doomed, either a gold based currency or digital will fix it, I'd go for gold if I could choose.
I've still not received any unemployment for over 2 months, it's crazy
I think it would be great if people could manage on one income again, or 1.5. Both parents working and trying to raise kids and pay all the bills is so hard. But.... prices of everything would have to come down for that.
What a load of crap. No new jobs were added. 2.5 million people went back to work. These were not new jobs. They were existing jobs where people were laid off, and have now been called back. At the same time something like 1.2 million new unemployment claims were filed. This in addition to the people still trying to file for unemployment from weeks previous. So we actually "added" what? A million jobs? With 40 million still out of work. A real unemployment percentage of over 20%. I am a supporter of UBI. This article is feel good bullshit.
My emergency cash relief of 1200.00 has still not come, after 3 months!!! Not much of an emergency to the government.
How about new social security: roof, food, utilities including cell phone. Then start checks for food and other such stuff. A cell phone covers the computer + internet that is synonymous with needing an address for getting a job these days.
Once he knows a way to pay for it he'll be on board,because Joe Biden Is a GOOD MAN. That's all we need to know right now.
Construction increases make sense, since they are tied to already funded projects, so they don't rely on consumer spending. Hospitality increases are probably directly tied to PPP loans that allow hotels to maintain a minimal staffing to keep properties running. Retail will never fully recover. Nor will restaurants. Manufacturing was already in a recession. Brace for the second wave in the Fall and Winter.
Working should be a fucking choice, not a necessity in order to eat and have clothes and shelter... like fuck this earth and this fucking construct we set up for ourselves. I hate this paradigm that allows for a disparity like no other. No wonder everyone wants to kill each other and themselves and has anger enough to burn the shit down. I feel so angry
On the latest #YangSpeaks, Bakari Sellers talks about why cops keep getting away with murder. youtu.be/HfiMfPo0u6U ... See MoreSee Less
Comment on Facebook 1193502150989080
Lol only way to be accountable is that if any people die under the officer's watch, then they are automatically discharged. It will make them think few times as hard as to why they are doing their job in the first place.
🇺🇸 I agree. A Police Misconduct Division of the Department of Justice is needed.
Investigate....then do what? What authority would they have?
"We die because we are overrepresented where it hurts and underrepresented where it helps." ... See MoreSee Less
Comment on Facebook Whether it's ...
I humbly suggest you have a conversation with Larry Elder. It feels like you're just championing the latest trend without employing your critical and analytical mind. As you spoke about math and statistics so much during your campaign, I humbly submit you revisit those enterprises as we, together, traverse this very murky and trying time in our history.
In my town of Mcdonough, Ga , about 40 miles outside of Atlanta , in our town square there is a confederate soldier statue, it was built in 1901 but the United Daughters of the Confederacy I'm trying to shine a light on this and have it removed . chng.it/6D4j7ZwjS9 Thank you for your time
Don't care what you say you bend the knee for the party
With respect mr. Yang you need to jump back in you were one of five people in the country that can contain this problem as a leader... you're also one of the ones that isn't hopelessly biased against a factor that could very well be part of the solution even if they need put up for an audit of finances and morality...
First, the only best case scenario is zero deaths of any persons regardless of race. I want to know exactly how many deaths of each race involving law enforcement. This article makes it sound like the number is astronomical. Then I want comparison to how many minorities die from violent acts in any given city on any given weekend. I'll bet more minorities are shot in Chicago during a year than are by law enforcement in the whole USA. Again acts like what happened in Minneapolis are totally unacceptable, but the reaction is also unacceptable.
Vote for what? Vote for whom? _How_ can voting fix the problem? Obama had eight years and didn't fix the problem! Trying to vote for local representatives seems to be like picking lottery numbers. We just don't see enough of what happens to figure out if elected representatives are actually doing what's needed or if they're spewing empty rhetoric at voters and doing something else entirely behind closed doors. Even if representatives are doing a good job, the system doesn't seem to let any useful changes pass.
The system is functioning exactly as it is was designed to. Time for a total reformation.
Yes. Large states like California and Texas do not have enough representatives. We should make fixed proportional representation a constitutional amendment
Andrew Yang who is we? I have mad respect for you because you seem like an extremely intelligent man. Show me the numbers on Asians being murdered for the color of their skin. I thought you might be one to rise above all this, but I guess I was wrong. Back to voting for Trump for me.
Proudly voted for you in the NY primary absentee ballot!
Then get rid of all the politicians that have been in dc for years. They helped build this system
It's called poverty and it all starts there.
Campaigning time: I can do this and that for you all Elected: ...
You really need to hop back in. After seeing what our president just said, i have never been more disgusted with this country in my whole life. It needs an entire turnaround. We have officially concluded that money can be used as a shield for the ugliness of the world. Even if that means lives being taken.
Why can't we have Yang for president?
"I can't breathe"... to the lady in the pic um take that silly diaper looking face mask off and you will probably get 70 percent more oxygen lol
For people who can do math: For every 100.000 arrests 4 white suspects are killed compared to 3 black suspects. The numbers of black on white homicide are significantly higher than the numbers of white on black homicide. Facts don't care about your feelings.
Please register to vote. Vote.gov
Yes white people, suffer more. Everything is your fault. When the sun burns out in five billion years it will be white people's fault.
WHY DIDNT YOU STAY IN?! WHY
Unfortunately that democracy.
House Democrats to unveil legislation to combat police brutality and racial injustice next week cnn.it/2Y1OKar ... See MoreSee Less
Comment on Facebook The Congressional ...
Everyone upset that Democrats are trying to do something meanwhile Republicans give their rich friends more tax cuts and leave you with the scraps. Vote against your own interests some more.
The Dems are corrupt too. We need an independent party. We need a reform. Get rid of the current system and make a new one!
With Nancy Pelosi at the helm I'm sure it will be crumbs for minorities and she'll crowbar in billions of dollars to her wealthy friends.
You want Big Changes in Washington ? How about Term Limits in the House and Senate ? Two Terms, just like the president. The problem isn't who is President, that person only gets 4 / 8 years. The problem is people like Pelosi that have been in office 30 years and done nothing, but blame everything on the sitting president.
Andrew I'm starting to get the sense you're being hijacked by the Democratic Party
Term limits are needed in this country. New faces and fresh perspectives. The fat old men don't represent the American people, they're in it for themselves.
End red flag laws, end the war on drugs, end qualified immunity, and stricter requirements for joining a police force
The left wing will pretend to care as the right wing stalls so that neither wing can be held fully to blame for not actually wanting to change. They are both equal parts of the same evil bird.
And Republicans will fight it and McConnell won't give it a vote in the Senate or if he does, Republicans will kill it, and if it does pass, by some odd stroke of luck, Donald Trump will veto it.
I think we need legislation to combat congressional injustice and brutality against the American people
One practice in the military I always thought held merit was that pretty much all officers that are commissioned must have a four year college degree. It seems to make a huge difference in professional conduct.
Look it most large cities that have reoccurring issue with police and violence are historically run by democrats, Chicago hasn't had a republican mayor since 1931 that is almost 100 years, Minneapolis in over 40 years. Make real change elect new officials.
It should be called abuse of power, it's more than police brutality.
It doesn't need to be combated, it needs to be abolished
The Democratic presumptive candidate personally wrote the bad criminal justice law that led directly to the uprisings we are seeing all over the country
Make chemical weapons illegal to use on US citizens.
There should be accountability on the police excessive force actions. and it should start where it hurts, with their pensions ...👌
Neither Democrat or Republican leaders care that people are being killed and brutalize They're only doing something because it's national news
Hope it's actually something we can get behind and not another corporate/prison industrial complex bailout in disguise
I'm pretty sure Justin Amash's bill should be the priority right now. Or are you ignoring it because you are a partisan Democrat now? If the establishment democrats support a bill, you know it's bad and/or underwhelming.
If it inculdes additional money for police "training" it is a failure.
For what ... it'll sit on Mitch McConnell desk
Is it reparations? Because if it isn't they're wasting time.
But why not talk about how Justin Amash and other Democrats and Republicans already introduced legislation to address qualified immunity! Andrew Yang, don't play the party game!
This song felt right. Stay safe out there. ... See MoreSee Less
Comment on Facebook 1193286597677302
It makes me so sad everytime I see you do something amazing. We could have had you instead of Joe... :(! Come back pleeeeassseee
You made his day. He just started 3months ago. He wrote this bit. He looks up to you.
What I love about this video is how you can hear the kids in the background - it shows that even our leaders and potential leaders are in the same situation as us all. It also shows he's a human being with a normal family - he's not just a robotic politician
When one of your biggest heros plays your favorite song of all time... chills down my spine
Tulsi and Yang need to get together for a little jam session, him on piano and her on guitar. Would lift many of our spirits and be a great idea for a fund raiser!
I'm relatively sure that Trump can't even spell piano.
Billion comments. Mine won't be seen. Keep doing what you're doing. Anything else would be obscene. best I could come up with right now. Be well, friend who doesn't know me. 😉
Keep running for office.. eventually, I hope, everyone will see what true leadership looks like. It certainly doesn't require an iron fist, rather a delicate touch! #math #yangang
Beautiful men like you rarely step up. Please know that you are loved and appreciated
This rendition makes me sad. I want the upbeat song, with #AndrewYang jumping on stage for straight talk on present issues. Return of the MATH! PLEASE!
You are a truly talented man. We the people look forward to seeing great things from you in the not-so-distant future.
Yang is literally one of my most admired people alive. I truly believe Yang has a near genius level IQ, but doesn't discuss it. To me, this is evident without him having to say a word about it.
Aw, of course Andrew plays piano... What an all around great dude!
Not only are you brilliant you are also artistic. Listening to you play and watching your expression reminds me we're in solemn times....
I've never heard this song on piano before! Great job!!
No wonder you look happy all the time you have music in your peaceful heart best therapy ever besides fishing hehe
When you walked out to this song at the summit in Philadelphia it cracked me up after the bleak songs the other candidates came out to. I had no idea who you were but after hearing you speak I was very impressed. Just wish you were able to gain more traction
To think we could have had this talented class act as our president. I look forward to seeing all that Mr. Yang can contribute to moving this country forward. And hopefully his runs again and wins#YANG2024
I knew I supported this man for a reason. May not have the musical background of Buttigieg but the feeling is all you need!
Yang, it makes me happy to see you sharing little things like this. I think it's awesome to see a leader also show artistic expression, and showing some of our human side. You keep doing you!
Awesome work representing the Andrew community! Thank you for not being an Andy.
I would have been so proud to call you President and hope that one day we will be lucky enough to be able to call you that. How much better our world would be with someone like you leading the way into a new century!
Thank you Andrew!! You stay safe and healthy
Would be nice to hear it with Andrew Yang following you behind it, walking into the stage, out from the curtains, etc. Keep doing what you're doing with Humanity Forward! Your message is needed to be heard now more than ever! #YangGang
"The Democrats are holding their convention this week and say they have set records on fundraising, totaling $241,000 by Wednesday night. Most of that, $163,000, came on Wednesday when celebrities such as Star Wars actor Mark Hamill, comic Sarah Silverman and high-profile Democrats, including Andrew Yang, urged their followers to donate after a poll showed the presidential race essentially tied in Texas." ... See MoreSee Less
Comment on Facebook Poll showing Joe ...
The party that claims to care about the plight of the working man should not be bragging about getting large sums of money from rich, smug, out of touch celebrities. Also, Texas is still ruby red, you're better off spending that money in the rust belt.
This is a distraction. Focus on the states that we can actually win. HC made this mistake in 2016. Turn the rust belt back to blue and it's game over.
sorry. i am not voting biden. i will not donate. i felt my donation was wasted when you dropped out andrew. i won't ever donate again.
We've had decades of rhetoric. If the convention isn't full of substantive, even unprecedented policy proposals and a calling out of bad faith actors within the party, law enforcement, and criminal justice system, it's a status quo farce.
Man dude ,I was a big supporter of Yang .It's been slowly dying since he hoped on with Joe Biden and now he's trying to support buying elections in my home state where it's been economically sounds for years without democratic government .I get it,he's trying to get in the group cause it's the only way to make it as president but this shit is much. Keep TF out my state .
The Trump presidency has done one thing for certain and that's help the Democrats rake in MASSIVE amounts of money! Too bad the Democrats insist on putting forth candidates that refuse to do even the most basic and obvious things to improve American lives; they only care about the survival of their corporate overlords and the status quo. Nothing ever changes for the better in this country because politicians on neither side want it to. There's no political will to serve Americans only to subjugate them as debt slaves.
I was at your Iowa City rally last fall. Texans will take to your outside interference in their election like Iowans took to you having a kid from California brag about how he was in Iowa to tell people who to vote for. I love your movement, you've got the right ideas, but Joe isn't the answer.
Some of the best news we've heard all week.
"Star Wars actor Mark Hamill" Thanks, I had no idea he appeared in that film.
Andrew please don't run as a democrat next time! Really I think you can do better as a republican.
If we put different names on the ballot the votes wont go to Biden they will go to dump. I know its hard but try to vote for Biden. It can't get any worse except if dump is re-elected
Great to get donations and try and spread the mesaage of together as ever as one. It is more than just the election. We need a leader who will not divide us.
Bernie would have brought a lot more money in. I am going to vote, I think Biden is losing it though, he is not sharp. I refuse to let RBG's spot on the supreme court go to a Trump appointee. I can see a lot of people who are tired choosing not vote and letting it crash with another 4 years of Trump, maybe that is the only way to make change happen but I hope not.
I'd rather write in Andrew Yang for President than vote for Biden.
Democrats won't change anything. Trump and Pelosi are in lock-step on everything behind the scenes. Why was Bernie forced to fold his campaign so damn early?? This corrupt duopoly over our political system needs to end.
Clearly the right person for the job does not matter, whoever can throw more money out matters.
Thats great. I was supporting yang not "the democrats". We're better off with 4 more years under the same president.
Both parties are self serving , when democrats and republicans take turns and no change happens , I never re-elect with my vote
As a minority, i would have thought you'd be good with celebrities support of Dems.
What are the slogans this year? "Biden! The candidate nobody voted for except other candidates!" "Vote Joe! He's not as awful as Donald!" "Biden2020! Gonna beat Joe Biden!"
Nobody should diss my idol growing up, Luke Skywalker. 🙂
It's going to take education not money to change Texas
Joe is gonna get crushed in the debates.
I'm sorry mr. Yang but unless they're constitutionalist Democrats they're not going to win in Texas no amount of money is going to change that... even in spite of everything. as of now the only Democrat I know that has a chance of winning Texas is you and that's because you have not targeted our constitutional rights with your campaign promises
It's not just president you vote for in November..it is mayors, governors senators, school board. If you don't vote you dont deserve to be loved.
Another 1.9 million workers filed for initial unemployment aid last week, according to the US Department of Labor. More than a quarter of the labor force -- 42.6 million people -- has now claimed benefits since the pandemic began ravaging the US labor market. ... See MoreSee Less
Comment on Facebook Millions of ...
I'm currently working in unemployment. I am furious with the state and federal government for being callous, inept, and unrepentant. half my clients are practically in tears by the time I finally get to them.
I haven't seen a penny of unemployment. Absolute joke, and the talks of a second stimulus are taking forever. So even if we do see it, won't be until late summer or fall. By then too many people would have lost everything.
We've been getting unemployment pretty uneventfully since last month. Got a letter yesterday saying they want it all back. We think my husband clicked a wrong box somewhere but we can't get through on the phone to talk with anyone.
I would like to be the first to suggest someone build a smart contract token built on ethereum that is used to pay for all tech. A slight fee for every transaction is baked in and goes to the VAT tax fund that pays for UBI. No senator or lawman would have the ability to shut it down. It would be a contract between us and the companies we support. This would be TRUE capitalism. VAT TOKEN. Now if I can Bezos AND Elon to take it.
They are filing unemployment in record numbers because, they now getting more money than they were originally working.... now they stopped working using excuses not to work soo they can almost double what they were making while they were actually working. I know this because I have many friends that are doing it. They are happy as hell now double what they were making while working . Now they Don't even have to work and they get paid extra just for sitting around doing nothing Laughing all the way to the bank. LITERALLY!
THIS IS MY OPINION: There will be another stimulus check with more money in late September, early October that will come just in time for the election. Trump will buy votes this way because people will be so scared of not having money and they'll see this as a lifeline and think the Trump can save them. Hopefully, those same people remember what their lives were like for the previous 9 months.
The entire stimulus package was done wrong. They should have just subsidized workers salaries and had them stay home. Collecting unemployment wouldn't be necessary. That's what other countries did.
Need to hire good programmers to rebuild the ancient COBOL / mainframe systems a lot of the states UIA systems are built on. That would be where I would first start.
But I'm working 40 hours a week right now and people with unemployment are making twice as much as me.
I am in Florida, got laid off the 3rd week of March and my unemployment is STILL pending... I am starting to get back to work now but it was a really tough 2 and a half months with no income but the stimulus. It would be nice to get that back pay so I can get caught up on bills.
It also doesn't help they keep wanting to delay on voting on another stimulus. People can't work, or do work and then get sick and are forced to stay home. My wife had to miss a month of work because it was suspected she had the virus. Her job only paid for 2 weeks at part time pay when she works full time and it's put us behind. We need another stimulus or UBI.
My husband has cancer and his DR took him off work in March due to being immunocompromised. Then his job closed three days later. We have exhausted all avenues, but his Unemployment is still not coming through. Even contacted our state rep. He definitely qualifies, but no payments have been made. Very frustrating...
The rich will not pay attention until the stock market collapses under the power of the derivatives. Jay Powell is, in this moment, trying to save us from drowning by throwing us a net. And then another net. And then another. Until we get tangled in the net and eventually drown.
So Unsuspend your campaign, you're really losing me here man. Neither of these presidents are going to do anything for anyone. And you're just sitting they're commenting on it.
I apparently didn't make enough this quarter to qualify for it. I don't even understand how that works. I still lost my job to COVID. I didn't even let a letter in the mail that I was denied until this week and I applied or it April 23. I was told by my employer that we'd qualify for unemployment because of how we lost our job but that apparently isn't the case. On a somewhat unrelated topic I mailed out my federal tax return in February and the IRS allegedly never received it. All my W2s and forms with my social on it are somehow lost in the mail, so the $1166 I was supposed to get this year won't end up in my wallet. That's what I call double penetration right there.
We need true reform. A complete overhaul of the system. 1. Fair Compensation Act (Better than UBI) 2. Full Employment (Better than UBI) via Job Share 3. True Democratic Rule via popular vote 4. Thrive Based Education that helps people find their way, rather than blank slate education that provide no real purpose.
Or also how about helping everyone who is unemployed, not just those that 'qualify' for unemployment. There are tens of millions of people who are unemployed, can't get any assistance, and do not count as being unemployed to qualify for unemployment.
UBI now! Why do people have to apply for unemployment at all! There are literally billions for weapons and space programs yet the American people are nickel-and-dimed during this crisis. Shameful.
As a part-time assistant teacher, I work the mornings under a salary. But the other HALF of my income was from hourly after school programs, babysitting, and summer camps. So because I am still employed as a part-time assistant I was unable to get unemployment for those hours and jobs lost. It is just "hours lost" to the school and to lawmakers, but like I said, it was HALF my income. I'm grateful to still have a job next year but I feel for anyone else in a similar situation where a part-time job hindered you from getting the help you need. At this point, it will be six months, March-August at half pay and now they're talking about virtual learning again for next year? I have to consider quitting my job and leaving my students so I can afford to live. I would have been making 3x more a month on unemployment. Actually, even at my normal income, unemployment would have been more than I make as a teacher. Can we please PAY TEACHERS?
The ENTIRE system of the U.S. is broken...e-v-e-r-y system in the U.S. has glitches or is simply broken. People have to quit bitching and work on solutions to change it constructively & legally. Get out of denial because everyone is in it. THERE IS NO GOING BACK.......it is broken!!! No living in the past. Move FORWARD!.......FIX Forward!. I lived thru the Civil Rights Movement of the 1950'-60's we started it ... pick up where we left off........MAKE THE CHANGE YOU WANT TO SEE!!! ~ BE THE CHANGE.....Andrew Yang is doing it, so are others .....you...be the next one.!
I know this stinks but Walgreens,Cvs,Kroger, and other pharmacy/ grocery stores are always hiring
Imagine if we had UBI. It might not have solved all of financial issues, but it.would ease people's mind knowing they have money for essential items. Just saying 🤷
Makes me so upset. Before the pandemic unemployment was at an all time low.
43 million american should be out in the streets every day to demand a fair system. Everything wrong with this country is race/class related. Healthcare, environment, the opportunities that exist. Alll of it... Our constitution was written by slave owners for slave owners, We need to disrupt life as usual for the politicians as our lives have been disrupted by their carelessness...#Occupy2020
Wouldn't be as nearly as many people in the streets protesting if they felt their government was working for them instead of giving trillions to big business and a pittance to the common man.
Today on yangspeaks.com Bakari Sellers and I talk about George Floyd, police brutality and how to move forward. ... See MoreSee Less
Comment on Facebook 1192464751092820
I think it's important to note that part of the oath of honor every cop takes is to hold themselves and others accountable for their actions, which is not happening. Breaking your oath is cause for immediate dismissal and taking away your pension. So why are we not enforcing this?
Ending the Civil War on Drugs will go a long way to reducing the militarisation of our community police and make policing safer.
Let's have a convo with Robert Kiyosaki sometime soon
Andrew yang help .929 141 6161.
Load more
siapa suka talk abt nabi nabi dengan theory ni come meet andrew pakwe kakja yang bertattoo hshahahha
#RichMitch? More like #DitchMitch

Meet @MikeForKY, the man who is going to replace Mitch McConnell.
https://www.rollingstone.com/politics/politics-features/andrew-yang-endorses-mike-broihier-vs-amy-mcgrath-in-kentucky-primary-1004399/amp/?__twitter_impression=true
Andrew Yang would be the most effective candidate to run for 2024. He won't meet all the criteria certain leftists expect, but he's effectively gotten ideas popular. We have to play our cards by the nature of events around us. UBI and M4A are our strongest proposals.
Four years ago, I got to go to the White House for a Cinco de Mayo celebration where I got to meet @Castro4Congress. In a way that is Andrew Yang before Andrew Yang's candidacy, I said "NO TIES."
Absolutely delighted by the surprise @AndrewYang cameo in my Zoom trivia meetup tonight
Yang playing "Return of the Mack" on the piano? Cryptic much @AndrewYang?
I love @AndrewYang 2024🤞🏻
every day I love @AndrewYang more
I really wish @AndrewYang was president right now
Thanks for the $230 @HumanityForward this helps alot.
Just got $250 from @HumanityForward!!

Once again, @AndrewYang is a man of ACTION!! Thank you for everything that you do!!!!! #YangGang
We raised $262 for @HumanityForward in a day on a whim! Stay tuned, my beautiful and talented wife is working on raw gemstone malas for the next one! Thanks for joining http://positivevibesravenna.com to help!

@PagetKagy @Zach_Graumann @AndrewYang @revwendy3
#MATH #HumanityForward @HumanityForward thank you for always being an inspiration to me @AndrewYang 🙌🏼the type of leader we need 💕
Summary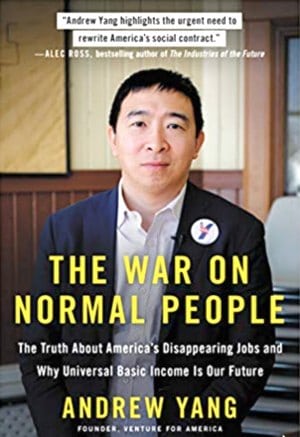 Name
Website
Job Title
Business Person/Politician
Address
1680 Vine St #1212

,


Los Angeles

,

CA

,

90028