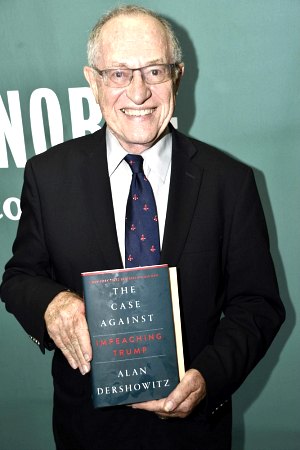 Want to get in touch with Alan Dershowitz?
Here's how to contact him:
Alan Dershowitz is a law professor at Harvard University in Cambridge, Massachusetts.
Get in touch with him here:
Alan Dershowitz
c/o Harvard University Law School
1575 Massachusetts Ave.
Cambridge, MA 02138
Or, contact Alan Dershowitz at SkyHorse Publishing, publisher of his new book, 'The Case Against Impeaching Trump.'
His publisher's address is:
Alan Dershowitz
c/o SkyHorse Publishing
307 W. 36th St.
Floor 11
New York, NY 10018
He also published several books with Simon & Schuster:
Alan Dershowitz
c/o Simon & Schuster
1230 Ave. of the Americas
New York, NY 10020
Alan Dershowitz is a frequent commentator on CNN, so you can try:
Alan Dershowitz
c/o CNN
637 Washington St.
Suite 208
Boston, MA 02446
You can also contact Alan Dershowitz on Facebook & Twitter.
Join Contact Any Celebrity now for instant access to 59,000+ celebrity contacts. You get their best mailing address, agent, manager & publicist plus phone numbers and email addresses. Activate your free 7-day trial to start contacting celebrities today!
Come participate in my live book signing for "The Case Against Impeaching Trump." July 10th, 10pm ET on Facebook. pic.twitter.com/Kshp6yS7me

— Alan Dershowitz (@AlanDersh) July 8, 2018
Annual VIP Membership
$197/year
Best Rate!
Free 7-Day Trial (All Access)
Unlimited Celebrity Searches
Full Database Access:
59,000+ Celebrities & Public Figures
14,000+ Representatives
(Agent, Manager, Publicist & Attorney)
7,000+ Entertainment Companies
Phone, Fax & Email
Verified Mailing Addresses
Dynamic Lookup Technology
Lightning-Fast Online Database
Cross-Referenced Results
Daily Database Updates
VIP Member Concierge
Free Research Requests
Fast Postage Refunds
Celebrity Causes Database
100% Satisfaction Guarantee
Monthly Insider Expert Webinars
Cancel Anytime
Monthly Membership
$29.97/month
Most Popular
Free 7-Day Trial (All Access)
Unlimited Celebrity Searches
Full Database Access:
59,000+ Celebrities & Public Figures
14,000+ Representatives
(Agent, Manager, Publicist & Attorney)
7,000+ Entertainment Companies
Phone, Fax & Email
Verified Mailing Addresses
Dynamic Lookup Technology
Lightning-Fast Online Database
Cross-Referenced Results
Daily Database Updates
Member Concierge
Free Research Requests
Fast Postage Refunds
Celebrity Causes Database
100% Satisfaction Guarantee
Monthly Insider Expert Webinars
Cancel Anytime
5-Minute Database Demo: