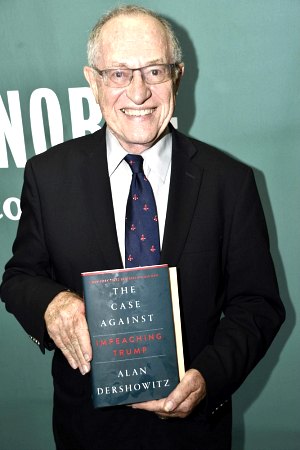 Want to get in touch with Alan Dershowitz?
Here's how to contact him:
Alan Dershowitz is a law professor at Harvard University in Cambridge, Massachusetts.
Get in touch with him here:
Alan Dershowitz
c/o Harvard University Law School
1575 Massachusetts Ave.
Cambridge, MA 02138
Want Big-Time Publicity?
Meet 75 TV Producers & Print/Online Editors Who Want To Feature You & Your Work. Apply To The National Publicity Summit 2021 (VIRTUAL EDITION!)

Just A Few Spots Left - Apply Now!
Or, contact Alan Dershowitz at SkyHorse Publishing, publisher of his new book, 'The Case Against Impeaching Trump.'
His publisher's address is:
Alan Dershowitz
c/o SkyHorse Publishing
307 W. 36th St.
Floor 11
New York, NY 10018
He also published several books with Simon & Schuster:
Alan Dershowitz
c/o Simon & Schuster
1230 Ave. of the Americas
New York, NY 10020
Alan Dershowitz is a frequent commentator on CNN, so you can try:
Alan Dershowitz
c/o CNN
637 Washington St.
Suite 208
Boston, MA 02446
You can also contact Alan Dershowitz on Facebook & Twitter.
Join Contact Any Celebrity now for instant access to 59,000+ celebrity contacts. You get their best mailing address, agent, manager & publicist plus phone numbers and email addresses. Activate your free 7-day trial to start contacting celebrities today!
Come participate in my live book signing for "The Case Against Impeaching Trump." July 10th, 10pm ET on Facebook. pic.twitter.com/Kshp6yS7me

— Alan Dershowitz (@AlanDersh) July 8, 2018
[custom-twitter-feeds showheader="false" search="meet alan dershowitz"]
[custom-twitter-feeds showheader="false" search="met alan dershowitz"]