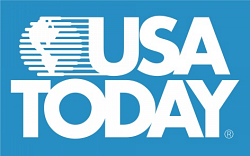 Today's tips come from a recent USA Today article that our founder Jordan McAuley contributed to, titled 'Small Companies Seek Publicity from Celebrities'…
Here is an excerpt from the article…
"Big-name partnerships aren't just for big-name brands such as Coca-Cola, Pepsi and Nike.
'The definition of celebrity has changed in the last five years,' says David Schwab, managing director at celebrity acquisition firm Octagon First Call. 'There are reality stars, TV stars, chefs, fitness trainers… so there are more celebrities that brands get to chose from.'
A celebrity pairing can help a company stand out in a cluttered marketplace, Schwab says. Consumers, as well as the buyers who stock retail store shelves, often take note when they see a well-known person connected with a product.
Many companies want to shine up their brands with some star power.
Here are some tips for those looking to do it on a budget:
* Think beyond the A-list. 'Do not limit yourself to only traditional celebrities, Schwab says. 'Influencers like nutritionists, fitness pros, doctors (and) chefs have a built-in level of trust and credibility in their particular industries.'
* Send celebrities free goods. It worked for scarf designer Kiran Rai. Recipients such as Jessica Alba and Rihanna have been photographed wearing Rai's Sir Alistair Rai brand scarves.
Children's clothing company Olive Juice sent actress Sarah Jessica Parker clothing for her twins, and was compensated in publicity after People mentioned the brand when it  ran a picture of Parker and her Olive Juice-garbed kids.
* Stock swag suites. Participating in awards show gift suites – basically a room filled with freebies – often brings big returns' says 'Celebrity Leverage' author Jordan McAuley. Gift suite vendors are often allowed to snap pictures of celebrities holding their goods, as well as get quotes to use in their publicity material.
* Play up celebrity pictures. Many companies are reticent to post photos of famous clients on their websites. That's a big mistake, says McAuley. 'It's a publicity game,' he says. (Note: only post photos you took on your website, as using others' photos without permission could be a copyright infringement).
Esthetician Renee Rouleau has pictures of actress clients such as Lisa Rinna (with approval), as well as candid snaps of herself with stars such as Brooke Shields. Jill Cartwright, founder of tote and diaper-bag maker Go GaGa, uses celebrity photos to impress boutique employees.
'Some of the store owners thought that our bags were too sporty and that a fashion-forward mom wouldn't carry them,' she says. 'Now, all I have to do is show them an image of Tori Spelling or Tiffani-Amber Thiessen wearing the bag, and they're sold.'
* Provide unique customer service (and deep discounts don't hurt, either.) For years, Manhattan's Mohan's Custom Tailers has dressed hard-to-fit folks such as National Basketball Association players. In turn, some athletes have talked up the brand in press interviews.
Want more tips on how to use celebrities in your marketing?
Download my book 'Celebrity Leverage' in the Member Lounge, or you can purchase the print or Kindle edition from Amazon.
Not yet a Contact Any Celebrity Member?
When you join Contact Any Celebrity today,  you'll get instant access to our exclusive online rolodex of over 60,000 celebrity contacts, free research requests, postage refunds, insider interviews, and more.
Memberships run just $29.97 or less per month, and you can easily cancel at any time. Why not try us today?
Click here now to get a 7-day test-drive for just $1.