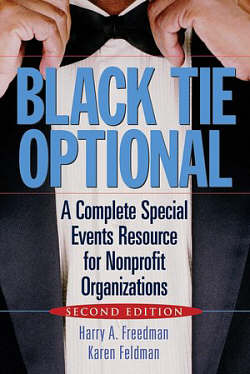 In their book, 'Black Tie Optional,' Harry A. Freedman and Karen Feldman explain how to use celebrities to help raise money for your charity…
"Lining up celebrities requires energy, persistence, and creativity. Groups most likely to convince them to appear are those in which they have a personal interest if they are going to be in the area at the time of the event, and the organization can afford their fee (possibly through corporate underwriting).
So how to go about this? Start by watching television. Study the talk shows, entertainment news shows, and televised benefits. Stars frequently discuss their interests and upcoming schedules on 'The Tonight Show,' 'Entertainment Tonight,' and similar programs.
Read newspapers. Even the tabloids contain some news about celebrities and the causes they care about, although they may be hiding beneath the 'Space aliens take over remote Texas town, balance budget' stories. Many newspapers have devoted substantial space to stories about Dionne Warwick, Elton John, Stevie Wonder, Gladys Knight, Elizabeth Taylor, and Sharon Stone, all of whom have taken active roles in AIDS-related fundraising because of the disease's devastating impact on the entertainment industry. Katie Couric, whose husband died of colon cancer, crusades for cancer screening and awareness. Doris Day is a passionate advocate for animal welfare. Sting has spent years promoting Amnesty International's mission. And, of course, Jerry Lewis is synonymous with the Muscular Dystrophy Association, whose telethon he hosts every year.
Don't forget to check out the website of specific stars as well. Just about everybody who's anybody has an official site and it's likely to include a section about the star's favorite causes. Pamela Anderson's, for instance, has extensive information about the works she's done with People for the Ethical Treatment of Animals (including a photo of her wearing nothing but a sprinkling of snow – no naughty bits showing) and a caption that reads: 'Give fur the cold shoulder.' Oprah Winfrey's site includes pages on how to help capture child predators and another on the plight of women in Afghanistan. With the proliferation of Web sites, it's easier than ever to find out what causes stars care about.
Want Big-Time Publicity?
Meet 75 TV Producers & Print/Online Editors Who Want To Feature You & Your Work. Apply To The National Publicity Summit 2021 (VIRTUAL EDITION!)

Just A Few Spots Left - Apply Now!
The Greater Delaware Valley Chapter of the National Multiple Sclerosis Society held a highly-successful and cost-effective celebrity event in Philadelphia when it put on 'An Evening with Richard Cohen and Meredith Vieira: Living with MS – Impact on Families and Careers.' Vieira, from television's hit shows 'The View' and 'Today,' and her Emmy-Award winning author/director husband attracted a crowd of more than 1,000. Cohen was diagnosed with multiple sclerosis when he was 25 years old and wrote the book, 'Blindsided: Lifting a Life Above Illness,' chronicling his 30-year battle with the disease and how it's affected his wife and three children.
The MS Society was able to offer free admission because Serono/Pfizer sponsored the program. This was a friend-raiser, rather than a fundraiser, but it's likely that many who attended will go on to contribute time, money, or both to the organization as a result.
Bringing in a big-name speaker can help charities raise money, too, as long as the person and the topic appeal to the target audience. And, although some speakers command six-figure fees to appear, there are many well-known personalities whose speaking fees may be affordable.
One place to start would be a speakers' bureau, such as the Greater Talent Network in New York City. The agency represents a wide range of speakers – athletes and politicians, entrepreneurs and astronauts, actors, comedians, and authors. The network's senior vice president, Kenny Rahtz, serves as a matchmaker between the speakers and the charities.
'It's really about getting the appropriate celebrity and working very closely with the group to make sure the person they bring in is a magnetic draw, someone who has some connection, either personally or through family and friends, to the event,' he said.
A speaker might help spark renewed interest in an event that's been held annually for several years and may have lost some of its appeal. Speakers can cost anywhere from $5,000 to $300,000 plus so it's helpful to have someone who can narrow down the possibilities. Once the charity picks a speaker, the network staff will help set up advance interviews with the media so the fundraising group's staff can attend to the many other tasks involved. If the group opts to have a series of speakers, the network can arrange that, too, saving the charity's staff and volunteers countless hours trying to round up likely candidates on their own.
The Internet can provide still more information about celebrities. Ticketmaster's site offers hundreds of listings detailing which stars are touring and where they will be. Local performing art centers and arenas have Web sites that list who will be coming and when. Check the Web sites of venues within a 500–mile radius of town. See who will be appearing at these facilities, and make a season or year-long schedule of celebrities who will be in the vicinity. The costs are far smaller to bring in someone from a nearby city than from a distant coast. And make sure to check the celebrity's Web site. It generally offers information about the star and where the person will perform over the next few months or year.
An expensive but highly useful resource is Celebrity Service, which publishes a newsletter that details the projects and appearances of countless stars. The service runs several thousand dollars per year but might be worth the investment for groups planning several events that might include celebrities.
Another route is to consider having a speaker rather than a star-studded performance. Countless stars, athletes, news personalities, actors, and others are available through speakers' bureaus. This strategy route is far more straightforward and less involved than bringing in celebrities to perform."