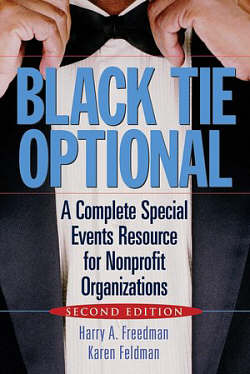 In their book, 'Black Tie Optional,' Harry A. Freedman and Karen Feldman explain how to use celebrities at fundraising events…
"When dealing with a celebrity, make sure all exchanges are professional. Bend over backwards to establish a good rapport. That improves the changes of getting him or her to return in future years. Celebrities who are treated very well may even lend their names to future mail campaigns and public service announcements. (Groups that want them to do this should discuss this in advance with their publicists.)
Remember that celebrities have lives of their own, too. Don't assume that someone who has agreed to appear in a show will also attend a cocktail party or go to someone's house for dinner with a charity representative and friends. Ask beforehand and include it in the contract. Some celebrities charge a fee for this. If the celebrity is unable to attend an additional function, ask if the star will autograph some items that can be auctioned off or used as raffle prizes.
Even if you have taken every precaution and spelled out everything in the contract, something may go amiss. The University of Miami's Community Alliance Against AIDS discovered this when it stated 'An Extraordinary Evening with Sophia Loren.' This event, held on posh Williams Island, was a dinner under a tent for 600 people, and featured about 30 celebrities, including Julio Iglesias, Donna Summer, Petula Clark, and Donald O'Connor. Loren was the honoree.
In selling major donor tables (at $100,000 each), contributors were to have their photos taken with some of the celebrities. One couple wanted pictures taken with every stay, especially Loren. After dinner, the event manager waded through Loren's fleet of bodyguards and explained that there was one couple with whom she needed to pose. She refused, saying she was still eating dinner. Later the couple was brought over to pose behind her while she remained seated, and she turned so her face wasn't visible. While the donors nevertheless made their sizable contribution to help the charity, part of their motivation had been the picture they had been promised, to which Loren had agreed. Fortunately, these particular donors were good sports. In general, it's wise to notify celebrities in writing that they will be expected to pose with donors.
Want Big-Time Publicity?
Meet 75 TV Producers & Print/Online Editors Who Want To Feature You & Your Work. Apply To The National Publicity Summit 2021 (VIRTUAL EDITION!)

Just A Few Spots Left - Apply Now!
And then there's the issue of jewelry, which some celebrities insist upon. In many cases, local jewelers interested in the exposure will lend a particularly showy piece for the star to wear to the event. Some of the larger watchmakers, such as Tourneau and Piaget, and some jewelers might agree to donate a watch or piece of jewelry for an upscale charity event. Offer that as an in-kind honorarium for the celebrity's appearance.
But be very careful that everyone understands the terms.
Every last detail should be in writing, as this case reported by New York Magazine illustrates: Former 'Dynasty' star Joan Collins was to appear at a Christian Dior party for a new men's fragrance. Event planners had promised her some free designer items. But a few hours before the event, Collins' assistant called the Dior people to say the star would not be attending because she'd been disappointed with the $350 saddle bag that contained beauty products valued at about $600. When the magazine contacted Collins' assistant, she said the star had been expected to be able to pick out the items herself and that she couldn't spare the time to attend.
Catastrophe nearly struck The Association of Fundraising Professionals' 2006 conference at which Colin Powell was billed as one of its keynote speakers. At the last minute, he was unable to attend because he had to go to Supreme Court Justice Thurgood Marshall's funeral. Because it was a four-day event, the group was able to reschedule Powell for the following day.
Keep in mind that some stars don't mean to be difficult, and their refusal to do something may stem from previous bad experiences. People routinely mob stars, grabbing them and touching them. Understandably, some celebrities prefer to avoid this. Comedienne Joan Rivers, who stands a mere five feet tall, is always mobbed by her fans. When she appeared on stage in Miami after attending a crowded fundraising reception, she joked, 'For those of you who haven't touched me yet, I'll be back down there in a few minutes."