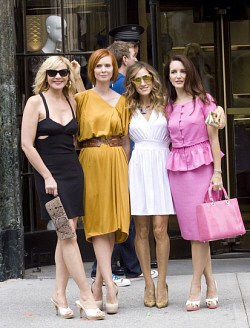 This week, On Location Tours in New York City announced it has dropped hotspot Magnolia Bakery from its Sex and the City tour. It seems the little bakery had simply become too famous, its celebrity-inspired cupcake demand finally outweighing its supply.
In our new book Celebrity Leverage, we reveal how Magnolia Bakery began, along with the 5 main 'celebrity leverage' tactics its owners used to make their business famous:
"One small business that's been extremely successful "celebrity-izing" itself is Magnolia Bakery on Bleecker Street in New York City. Magnolia is known for its Depression-era inspired icebox cakes, but is most famous for its cupcakes.

Alyssa Tory and Jennifer Appel opened Magnolia Bakery in 1996. The two are credited with starting a "cupcake craze" in the '90s that has recently resurfaced. How? By incorporating five main "Celebrity Leverage" tactics anyone can use to make their own business famous:

1) They created a quality product. Without that, nothing else mattered.

2) They created a "velvet rope." There's usually a line to get into Magnolia Bakery, and a "cupcake bouncer" actually guards the door to let in only a few people at a time! Cupcake purchases are limited to 12 per customer because of their popularity.

3) They wrote a book. In 1999, the two published The Magnolia Bakery Cookbook: Old-Fashioned Recipes from New York's Sweetest Bakery. This opened the door for media coverage, positioned Alyssa and Jennifer as cupcake experts, along with owning one of New York's best bakeries. (They have now written and published SIX books!)

4) They went after media coverage. Magnolia has been featured in almost all of New York's local media like New York Magazine, plus national media like USA Today, the Food Network, and more.

5) They appeared on TV and in movies. In 2005, Magnolia Bakery and its cupcakes were featured in a Saturday Night Live digital short. But they secured their celebrity status with appearances on Sex and the City and The Devil Wears Prada. In fact, the bakery was one of the 40 featured stops on On Location Tour's Sex and the City tour, dropping off buses of new customers every day at the famous bakery.

As Magnolia manager Margaret Hathaway told USA Today after the bakery appeared on Sex and the City, "Fans come in all the time asking for whatever it is that Sarah Jessica Parker was eating."
Even though Magnolia Bakery is no longer on the Sex and the City tour (it's been replaced with Billy's Bakery in the Meatpacking District), cupcake fans needn't worry – they've opened a second location near Times Square, with one in West Hollywood to follow. We even hear they're opening a location in Dubai – now that's the sweet smell of celebrity leverage success!
P.S. Discover even more ways to "celebrity-ize" your business in our new book Celebrity Leverage – available as a free PDF download in the Private Member Lounge. If you're not already a Contact Any Celebrity Member, join now!