On a recent episode of The View, the Thompson family joined Whoopi Goldberg and Sara Haines to tell their story of raising money for son Bryson's epilepsy.
The Thompson family worked with a local organization, Jack's Helping Hand, to request autographed helmets and signed memorabilia from sports stars to auction off for charity.
Also See:
Son Robert says, "Jack's Helping Hand bought Robert's helmet. We decided to give back by asking NFL players to sign a helmet and send it to us. We'll give it to Jack's Helping Hand to be kind and give back."
Co-host Sara Haines clarified: "You reached out to the NFL and NBA in the hopes of receiving autographed memorabilia. You received items from Tom Brady, Odell Beckham Jr., Russell Wilson, and Joe Namath, just to name a few."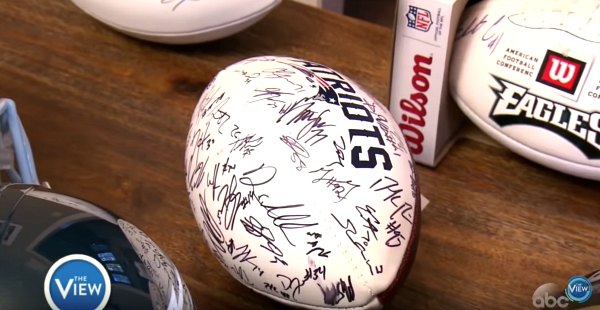 Haines continued, "We wanted to help you guys out a little, so we called a couple of our friends. You now have items from some of the biggest athletes in the world: Drew Brees, Peyton Manning, Aaron Rodgers, Rob Gronkowski, Damian Lillard, J.J. Watt, Houston Rockets, James Harden and the entire Golden State Warriors basketball team."
Whoopi Goldberg pulled a special surprise. "Wait a minute, I'm looking over here and I think you're missing an item from one of my good friends. Hold on, let me give him a call."
Goldberg continued, "Is this you K? I have a request for you. You think if I sent you something you could maybe sign it for me?"
"I can do something better than that, I can come out there and sign it right now."
Then, Kobe Bryant surprised the Thompson family from backstage!
So what can you learn from this?
If you're a charity or nonprofit, try writing to sports stars and requesting signed memorabilia.
But don't just request an autographed photo.
Ask for a signed helmet, jersey, hat, football, basketball, etc.
These will undoubtedly go for much more at your next fundraising auction!
Also See: