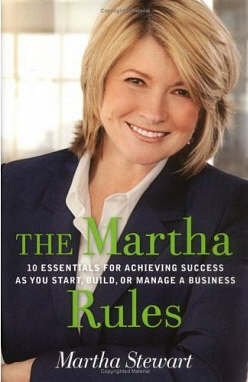 How would you like to receive autographs, photos, and personal letters from your favorite celebrities? How would you also like to make money doing it? The good news is: you can!
I've been collecting celebrity autographs for years. I started out doing it just as a hobby, but quickly realized that my hobby could turn a profit as well. Celebrities like to receive mail from their fans. After all, they need you to make them and keep them famous.
Just look what Martha Stewart wrote in her new book, 'The Martha Rules: 10 Essentials for Achieving Success As You Start, Build, or Manage A Business' right after she was released from prison:
"All through the grueling months of my trial and later, during my stay at the Alderson Federal Prison Camp, I received hundreds of thousands of touching letters and e-mails full of support, encouragement, and goodwill. These messages warmed my heart. Just knowing that the many customers of my magazines, books, products, and television shows cared about me and had faith in me gave me strength and fortitude. These customers were not overly influenced by the negative press coverage I had received. I can't even begin to express how uplifting all that fabulous support was for me and the hundreds of people who work at Martha Stewart Living."
If her fans stopped believing in her, Martha Stewart would have probably been over. Instead, she came back more popular than ever. I have no doubt she kept all the letters she received in prison to show her various business partners as soon as she was released!
The amount of fan mail a celebrity receives is one way their agent or manager knows how successful they are at a given time. I know this because I worked at a couple of talent agencies. One time the head of the agency I worked at came into the agent's office and said: "[name withheld] hasn't received any mail for a long time — drop her."
Want Big-Time Publicity?
Meet 75 TV Producers & Print/Online Editors Who Want To Feature You & Your Work. Apply To The National Publicity Summit 2021 (VIRTUAL EDITION!)

Just A Few Spots Left - Apply Now!
To show their gratitude for writing, most celebrities will reply with an autograph, which is usually a signed headshot or still photo.
When the movie 'Misery' came out, I loved it so much that I wrote the film's star Kathy Bates. She sent back an autographed photo from the movie, along with a note written on her personal stationary. The letter was even shaped like a pig, which must have been inspired by the potbellied pig her character owned in the movie!
Later, when 'Fried Green Tomatoes' came out, I received an autographed poster of the movie in the mail — and I hadn't even asked for it! Stars like Kathy Bates understand that importance of keeping in touch with their fans, who will in-turn talk positively about them and their work to friends, family, and co-workers.
So, how exactly can you make money writing celebrities? I probably don't even have to mention that you can put the autographed photos and other memorabilia you receive (posters, CDs, etc.) up for auction on eBay. But if you hold on to an autograph and the celebrity later passes away, that autograph's value will go up immediately.
Take the sudden deaths of people like Princess Diana, Gianni Versace, Heath Ledger, Amy Winehouse, Michael Jackson, and Whitney Houston. People who own their autographs are very lucky.
Autograph values also vary depending on who you receive them from. Those from celebrities who sign for everyone aren't as valuable as those signed only for charity or in very rare circumstances.
Rosie O'Donnell only signs for children. Oprah Winfrey said in an interview that she used to sign for audience members after the taping of her show, but it became draining and she would sometimes find her autographed photos left on the floor after the audience had left (at least that's what she says!). So now she Oprah signs when she feels like it. Madonna only signs for charity.
It's easiest to get autographs like these before the star becomes hugely famous. Imagine if you had written Ashton Kutcher when he was just starting out on 'That 70s Show' or Justin Timberlake, Britney Spears and Christina Aguilera when they were in the 'Mickey Mouse Club' — it was probably a lot easier to get their autograph then than it is now.
If you happen to get autographs like these, they can be worth hundreds of dollars, and many more once the star passes away.