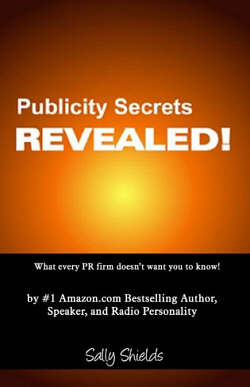 In her book, 'Publicity Secrets Revealed!, author Sally Shields recommends how to get celebrity testimonials for your book…
"Testimonials (sometimes called 'blurbs') are statements by people attesting to the quality of writing and the value of the content in your book. They offer objective support of the prospect's buying decisions, that his or her money will be well spent. If you can get celebrities to endorse your book, the positive impact on the prospective buyers will be greater, and consumers will be more likely to buy it.
Obtaining endorsements from friends, authors, and celebrities is not difficult! The key is to make it as easy as possible for them to reply. Your request should include:
a cover letter
a copy of your book
a self-addressed stamped envelope
sample testimonials that they can use as a template
Table of Contents, chapter titles, and a sample chapter
Getting a good endorsement or testimonial can take time, but if you do not hear back from them in two to three weeks send a follow-up letter or email. Celebrities are busy people, and often their mail is screened by an assistant, delaying your request from getting to them.
Where do you find the names & contact information for VIPs?
The Screen Actor's Guild– SAG represents nearly 120,000 actors in film, television, industrials, commercials and music videos. Contact SAG at 5757 Wilshire Blvd., Los Angeles, CA 90036-3600; (323) 954-1600. You can ask for a list of agents at 323-549-6733. If you are on the East Coast contact SAG at 360 Madison Avenue, 12th Floor, New York, NY 10017; 212-944-1030.
You can purchase a celebrity address directory at Axiom Information Resources, P.O. Box 8015, Ann Arbor, MI 48107; 734-761-1842. [Editor's note: Out of business. Try our Celebrity Black Book instead!]
For $9.95 you can join Celeb Fan Mail. They maintain a database of over 15,000 reliable celebrity addresses. Once you are registered, you will be given full access to their members' area where you can search the database of celebrity addresses. [Editor's note: Contact Any Celebrity has acquired Celeb Fan Mail.]
There is a huge collection of celebrity addresses, as well as celebrity desktop themes and screensavers that you can access at no charge by going to www.celebrityweb.com/address.htm. [Editor's note: This site no longer exists].
Another free list of addresses, contact information and important tips on how to reach celebrities may be found at ReelClassics. [Editor's note: Free sites are usually outdated].
A free site with addresses for movie and television stars, and music groups is at Fanzine.co.uk. [Editors' note: It looks like this site no longer exists].
A site with free background information about celebrities is Who2.com. [Editor's Note: For celebrity charitable causes, see LookToTheStars.org].
To find contact information for many celebrities' representatives, visit ContactAnyCelebrity.com.
How to Use Your Celebrity Book Blurbs
1. Place blurbs on the rear cover of your book. Also use them in your sales literature, in your press releases and press kits, on your website, on bookmarks, in your advertising, and on sales promotional items. If you have a powerful endorsement from a top celebrity or a recognized in industry expert, place it on the front cover of your book.
Want Big-Time Publicity?
Meet 75 TV Producers & Print/Online Editors Who Want To Feature You & Your Work. Apply To The National Publicity Summit 2021 (VIRTUAL EDITION!)

Just A Few Spots Left - Apply Now!
2. Resist any temptation to rephrase your customers' words. That will generally lower the believability factor. But if a testimonial goes over two or three short sentences, it may be too long for people to read and grasp its meaning quickly. In this case, extract a short phrase that characterizes the essence of the blurb and use only that. Never try to misrepresent the intention of the endorser. According to the Federal Trade Commission (FTC) 'The endorsement message need not be phrased in the exact words of the endorser unless the advertisement affirmatively so represents. However, the endorsement may neither be presented out of context or reworded so as to distort in any way the endorser's opinion or experience with the product. Endorsements must always reflect the honest opinions, findings, beliefs, or experience of the endorser.'
3. Always seek and record positive comments about your book. Get permission from the providers and use their blurbs generously in your marketing material. You will gain credibility through your association with these people, and your sales should improve as a result."