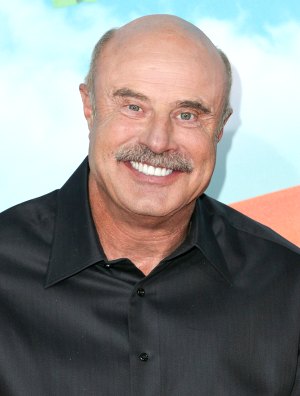 Is there something you want to do, but don't feel ready yet?
Then I hope you'll enjoy this true story.
In 1996, Dr. Phil McGraw was working in Amarillo, Texas as a trial consultant for lawyers. He was largely unknown to the general public.
When the beef industry sued Oprah Winfrey, she hired him to advise her and help in her defense.
She liked his straight-talking, tell-it-like-it-is style, and soon invited him to be a guest on her show.
Want Big-Time Publicity?
Meet 75 TV Producers & Print/Online Editors Who Want To Feature You & Your Work. Apply To The National Publicity Summit 2021 (VIRTUAL EDITION!)

Just A Few Spots Left - Apply Now!
Also see: How to Contact Oprah Winfrey
He quickly became a regular guest on Oprah and today he's one of the most visible, well-known self-help gurus out there.
He's written three New York Times bestsellers and now, thanks to Oprah, has his own nationally syndicated TV show.
(I got to attend the very first Dr. Phil Show taping in 2002, thanks to a friend who was a producer there!)
So what was the secret to his success?
You might think it was meeting Oprah, and there's no question Oprah's show launched him to fame and fortune.
However, there's another secret to his success most people don't notice, but which is even more significant, and that's this:
He didn't wait till he was completely ready before he said "yes" to the opportunity.
When Oprah invited him to appear on her show, he didn't say, "Let me first finish my book so I have something to offer to the millions of viewers who will see me."
He didn't say, "I haven't done much TV before. Let me do some smaller shows first."
He didn't say, "Let me get some media coaching so I can make sure I'm ready to perform at my best."
He did the interview — even though he wasn't "ready."
That's one of the things I've noticed that separates successful authors and entrepreneurs from most everybody else.
While others procrastinate, constantly waiting for ideal circumstances, achievers take the plunge long before they feel fully prepared.
Jack Canfield, co-creator of the Chicken Soup for the Soul series, once commented that when he faces these kinds of great but somewhat scary opportunities, he's trained himself to think, "Oh, what the heck, I'll do it anyway!"
Same thing with the National Publicity Summit coming up soon in New York City.
There's no doubt one of the big secrets of why so many of my past attendees have landed appearances on top national TV shows is they get the unprecedented opportunity to have face-to-face, one-on-one appointments with producers and journalists — just like Dr. Phil had the advantage of meeting Oprah in person.
But the more subtle secret — which I've never revealed before — of why so many people get coverage on major TV shows and print publications is they often weren't "ready" to attend when they did.
Little or no publicity experience? Book not out yet? Or no plans to write one?
Here's why you should still consider attending the Summit:
* Lauri Loewenberg appeared on both The View and Good Morning America.
* Meredith Iler got her charity featured on the Today Show.
* Harrison Forbes got booked on national TV but also landed a major book deal.
* Mark Amtower and Rory Cohen each landed a full-page story in Entrepreneur Magazine (Rory also scored The View!).
* Linda Franklin and Dave Farrow appeared on The Today Show. So did Ron & Lisa Beres.
* Barry Spilchuk was interviewed on Fox News Channel within just five hours of meeting the producer at the Summit!
* Mary Reilly was quoted in the New York Times.
* Gaby Cora became a regular on Fox News Channel.
* Jim Vonmier got on 'CBS Evening News' and The Early Show.
* Connie Bennett got coverage in Time Magazine.
* Steve Shapiro didn't have his book out when he attended the Summit.
But he came anyway and got a major feature in O: The Oprah Magazine as a result.
If you're an author and your book isn't out, you should attend the Summit because you'll get invaluable feedback from the media about how to shape your book to maximize your chances of getting publicity when it is published.
In fact, attendees went home with a far better title based on the producers' and journalists' input!
Harrison Forbes didn't have a book out either, but he got booked on Live with Regis and Kelly (now Live with Kelly & Ryan) and met an agent at the Summit. This agent later got him a six-figure advance from a major publisher for his first book — all because he showed up in New York without feeling "ready."
Ron and Lisa Beres didn't know anything about getting publicity, but they landed appearances on The Today Show and Fox & Friends, and those bookings wouldn't have happened if they hadn't overcome their fears and signed up.
I could give you many other examples, but the bottom line is success comes to those who operate on what Michael Masterson calls the "Ready, Fire, Aim" approach to life. It's not taught in schools, but it IS one of the key secrets to success.
So what are YOU waiting for?
If you're thinking you're going to wait until your book is finished, or until the economy gets better, or until you can find the time to attend my National Publicity Summit, you may be letting "good reasons" keep you from doing what is best for your career and your legacy in the long run.
Whatever you may think of him, the fact is Dr. Phil wouldn't be a household name today if he had waited till he was "ready." He dove right in. And that's a success secret you can start using today.
Go here now to apply to attend the upcoming National Publicity Summit.
As you've read above, if you don't feel fully "ready" you're not alone.
Many — if not most — of the previous Summit attendees felt the same way initially, but like them, you'll be glad you took an action today that could greatly enhance your tomorrow.
We look forward to seeing you in New York and helping you get the national media exposure you deserve!
In the interest of full disclosure, I'm a partner for this program.
P.S. To ensure enough one-on-one time with the media, only 100 attendees will be accepted. Don't miss out – apply now!
Also See: