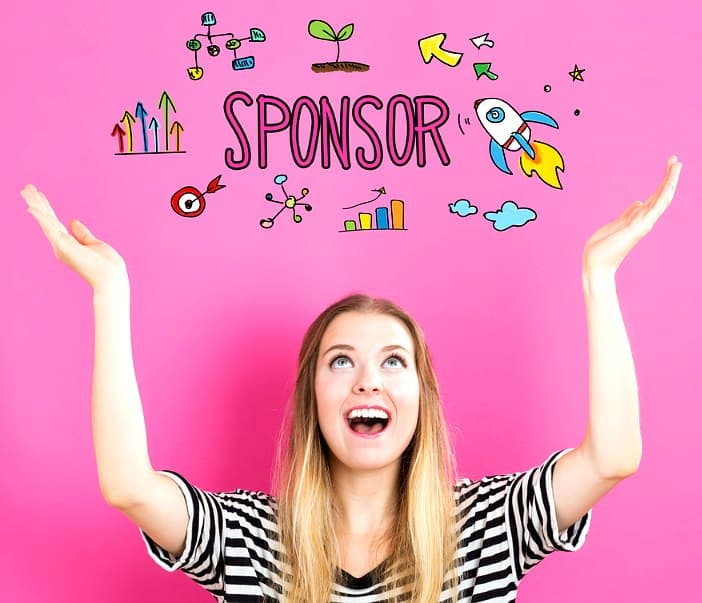 Want a corporate sponsor to fund your work?
If so, you're invited to a free web class where you'll discover how to…
Reach a much bigger audience for your work almost overnight.
Hitch your wagon to organizations with instant name recognition and huge infrastructures that already know how to market to their audience.
Grow your following and business by 100-250% without spending your own money.
Go on a national product launch, book or speaking tour and have most (if not all) expenses paid for by someone else.
See your work promoted on a major corporation's website, Facebook page and to millions of people on their email list for free.
Get a Fortune 500 company buy your book by the caseload so they can give it to their employees and customers.
The above are not fairy tales!
This happens all the time because many companies and organizations sponsor authors, entrepreneurs, experts, and speakers just like you.
You'll learn from an author/speaker who landed sponsorships with FedEx, Bank of America, Microsoft, Wal-Mart, Dun & Bradstreet, Wells Fargo and many other companies and organizations.
Here's some of what you'll discover:
Sure-fire ways to find the companies most likely to sponsor you.
5 things corporate sponsors will fund for you. (During the webinar, you'll discover how to get your biggest dreams funded, including publishing a book.)
The true reasons why big corporate sponsors provide funds you never have to pay back (once you know this it opens up a whole new world for you!).
Want to turn your painful past into a powerful book or live event that
sponsors will support? You'll discover how a woman with a breast cancer memoir secured sponsorships from several different companies. Plus, how another woman emerged from a painful divorce with the desire to inspire other women just like her. She got a major company to pay for her entire event!
How corporate sponsorships can help you get your life back in order.
Why would a sponsor ever give money to a complete "nobody"? (On the free webinar you'll discover 12 reasons corporate sponsors give money to unknowns — and if you tap into just one of these, you too can get corporate sponsorships for your idea.
The secret to persuading a company to give you big money especially if you are not good at selling yourself. HINT: write a killer proposal that does the selling for you! We'll show you how.
Avoid this HUGE mistake! Most people ask for too little money, so companies don't take them seriously. With sponsors, the bigger your dream, the better. We'll show you how much money to ask for.
No book? No problem. While many on our free web class will be authors, you don't need a book to get big companies to take you seriously and fund what you're doing. On the web training, we'll show you how a woman got Verizon to pay her to go around the country to speak.
Some of the many fatal mistakes people make when approaching a sponsor, and how to avoid potential deal killers.
How to use a corporate sponsorship to get massive amounts of media publicity and attention. (Corporate sponsors want you to get media attention, and will pay you to go on TV.) Hear how others have used the corporate sponsorship strategy you'll discover on the webinar to be featured by The Wall Street Journal, The Washington Post, CBS, BusinessWeek, CNBC, Redbook, Parenting, U.S. News & World Report, Wine Enthusiast and more.
In addition to money to fund your program or platform, you'll discover 4 additional benefits and advantages of getting a corporate sponsorship. (Some of will turn out to be more valuable than the money they give you, and will open up new opportunities for you).
The top 14 categories companies sponsor authors, entrepreneurs, experts and speakers in. (You'll be surprised at all the opportunities available, regardless of what your concept is).
The 'Tarnished Brand' strategy you can use to find corporate sponsors who desperately need what you have to go on the road for them. (Our expert got one of the biggest companies on earth to give her 5 figures by using this strategy… it's something anyone can do throughout the year)!
The 5 most important elements of a sponsorship proposal. The sponsorship proposal is the most important but least understood part of the sponsorship process. You'll discover how to create the perfect sponsorship proposal that will impress corporate sponsors so they take you seriously).
5 specific low-cost and no-cost strategies you can offer corporate sponsors that will make you stand out from all others trying to get corporate sponsorships (almost nobody thinks about simple things that can be the difference between collecting a big or small check from your sponsor).
The exact amounts of money you should ask corporate sponsors for. Most people don't ask for the proper amount of money! (There are 4 key price points you must target, and odds are, they're much more than you think you'd ever get).
2 things many people do wrong when approaching a sponsor for the first time that automatically get them rejected for sponsorship. (The good news is, they're easy to fix!).
Plus many more tips, strategies and insight that can only come from an expert who is sponsored by some of the biggest corporations in the country.
In the interest of full disclosure, I'm an affiliate for this program.