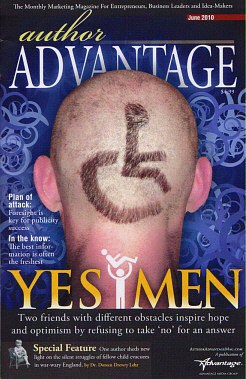 Our latest book, Celebrity Leverage, was featured in the June 2010 issue of Advantage Media's Author Advantage Magazine.
Author Advantage Magazine Writes:
"Celebrity Leverage: Insider Secrets to Getting Celebrity Endorsements, Instant Credibility and Star-Powered Publicity can teach you how to make more money, become a celebrity in your field, and get tons of free publicity.
Get On National TV!
Get Big-Time Publicity - Meet National TV Producers & Print/Online Editors One-On-One, Face-To-Face.
Apply Now To The National Publicity Summit 2020, Coming Up October 21-24th, 2020 In New York City.
Only 100 Spots Available -
Apply Now!
It is your complete guide to profiting from the power of celebrity in your business. Throughout its pages, you'll discover creative strategies for getting your products in celebrities' hands, getting low-cost and free celebrity endorsements, linking your business, product or service to celebrities in other ways, and even making yourself into a celebrity. All of these strategies are what author Jordan McAuley collectively calls "Celebrity Leverage."
Jordan McAuley, the founder of Contact Any Celebrity has been featured by CNN, USA Today, Investor's Business Daily, Sirius/XM Satellite Radio, Entrepreneur Magazine and more. The "King of Celebrity Contacts," Jordan is also the founder of ContactAnyCelebrity.com and the editor of the best-selling Celebrity Black Book.
Basic Membership
🆓 FREE 7-Day Trial then $39/month
✅ Low Monthly Rate
🕶 Search 59,000+ Celebrities, Influencers & Public Figures In Our Private Online Database
📬 Verified Mailing Addresses
🔎 Unlimited Online Searches
😎 14,000+ Agents, Managers, Attorneys, Production Companies, Publicists & More
📞 Rep Emails & Phone Numbers
🏢 7,000+ Entertainment Companies
🖥 Lightning-Fast Online Database
💫 Dynamic Lookup Technology
⏱ Daily Database Updates
🤩 Member Concierge
📩 Postage Refund Guarantee
🔎 Free Research Requests
👍 How-To Articles & Pro Tips
📘 Celebrity Leverage: How To Get Celebrity Endorsements E-Book
📗 Help From Hollywood: How To Hold An Autograph Auction E-Book
📕 Secrets To Contacting Celebrities: 101 Ways To Reach The Rich & Famous E-Book
💯 Cross-Linked Search Results
🎗 Celebrity Causes Database
💻 Monthly Insider Expert Webinars
😍 100% Satisfaction Guarantee
❌ Cancel Anytime Online
VIP Annual Membership
🆓 FREE 7-Day Trial then $197/year
✅ Best Value for Professionals
🕶 Search 59,000+ Celebrities, Influencers & Public Figures In Our Private Online Database
📬 Verified Mailing Addresses
🔎 Unlimited Online Searches
😎 14,000+ Agents, Managers, Attorneys, Production Companies, Publicists & More
📞 Rep Emails & Phone Numbers
🏢 7,000+ Entertainment Companies
🖥 Lightning-Fast Online Database
💫 Dynamic Lookup Technology
⏱ Daily Database Updates
🤩 VIP Member Concierge
📩 Postage Refund Guarantee
🔎 Priority Research Requests
👍 How-To Articles & Pro Tips
📘 Celebrity Leverage: How To Get Celebrity Endorsements E-Book
📗 Help From Hollywood: How To Hold An Autograph Auction E-Book
📕 Secrets To Contacting Celebrities: 101 Ways To Reach The Rich & Famous E-Book
💯 Cross-Linked Search Results
🎗 Celebrity Causes Database
💻 Insider Expert Webinars
😍 100% Satisfaction Guarantee
❌ Cancel Anytime Online