Contact Michael Moore Now…
Get His Email, Address, Agent, Manager & Publicist
Contact Michael Moore at his Official Site, Facebook, Instagram & Twitter.
Join Contact Any Celebrity now for Instant Access to Michael Moore's verified contact information including email, address, agent, manager, publicist & company. You'll also get unlimited access to 59,000+ celebrities & public figures in our Private Database:
Your Membership Includes
Michael Moore's Contact Info Plus:
59,000+ Celebrities & Public Figures
Agent, Manager, Publicist & Company
USPS-Verified Mailing Addresses
Email, Phone & Fax Numbers
Free Research Requests
Postage Refund Guarantee
100% Satisfaction Guarantee
Annual VIP Membership
$197/year
(most popular - best rate)
Free 7-Day Full Trial
Celebrity Contacts Database Access:
59,200+ Celebrities & Public Figures
14,000+ Representatives
(Agent, Manager, Publicist & Attorney)
7,300+ Entertainment Companies
USPS-Verified Mailing Addresses
Representation Email Addresses
Unlimited Celebrity Searches
Private Online Database
Dynamic Lookup Technology
Lightning-Fast Hosted by Amazon
Cross-Referenced Results
Daily Database Updates
VIP Member Concierge
Free Research Requests
Postage Refunds
Celebrity Causes Database
Free E-Books:
Celebrity Leverage
Help From Hollywood
Secrets to Contacting Celebrities
100% Satisfaction Guarantee
Monthly Insider Expert Teleseminars
Cancel Anytime
Priority VIP Service
Best Rate - No Monthly Charges
Monthly (Basic) Membership
$47/month
Free 7-Day Full Trial
Celebrity Contacts Database Access:
59,200+ Celebrities & Public Figures
14,000+ Representatives
(Agent, Manager, Publicist & Attorney)
7,300+ Entertainment Companies
USPS-Verified Mailing Addresses
Representation Email Addresses
Unlimited Celebrity Searches
Private Online Database
Dynamic Lookup Technology
Lightning-Fast Hosted by Amazon
Cross-Referenced Results
Daily Database Updates
Member Concierge
Free Research Requests
Postage Refunds
Celebrity Causes Database
Free E-Books:
Celebrity Leverage
Help From Hollywood
Secrets to Contacting Celebrities
100% Satisfaction Guarantee
Monthly Insider Expert Teleseminars
Basic Support
Cancel Anytime
He said he could stand in the middle of 5th Ave & shoot someone & nothing would happen to him. He finally shot someone - himself. And not one Republican call for impeachment. He was so right. ... See MoreSee Less
1 week ago
This is not mine, I copied it ... but it says everything I want to say: Sandy Piña California Delegate May 3 at 7:28pm · Let me see if I can clear something up here. To all the #45 fundamentalists, apologists, worshipers, and staunch supporters. Those of us who loathe, detest, and otherwise don't trust #45, it isn't because we are sore losers, as you tend to like to label us as, nor are we snowflakes, or any of a thousand other juvenile names you call us. Our opposition to #45 is because he isn't an honorable human being, he isn't qualified to hold the office that he was able to con you into voting him into, and he's a serial liar, and he is a constant embarrassment to our nation. I know, I know, but president Obama, but crooked Hillary and her emails, and Benghazi! yeah yeah, we get it! You hated both of them. But, let's just be real here for a moment, as much as you may deny it, as much as you try to hang some legitimacy on your hatred of President Obama, we know the real reason you hated him, and so do you, and it had nothing whatsoever to do with his policies! He was an honorable man, who loved this country, and governed with a steady hand, and compassion. There wasn't a major 9/11 attack during his watch, and he gave the order to send to Hell the mastermind of the 9/11 attack! You've been taught to hate Hillary Clinton over the last 25 years, by the Republicans, because they knew that they were going to eventually have to face her, so they fed you all sorts of reasons to hate her, as a matter of fact, the Republicans can always tap into your hate to get their way, they know that your hatred is always accessible, and easy to provoke, just tell you "the democrats want to take your guns away", and they gotcha! You've been groomed to hate Hillary, it's been a 25 year plan by the republicans, because they have no new ideas, so they go with the old favorites, feed you hate and fear, and it still works like a charm, after all these years. Trump even attacked Pope Francis during the campaign, calling Pope Francis "disgraceful" over the pontiff's suggestion the Republican presidential frontrunner was "not a Christian" for his plan to build a wall at the Mexican border. In less than 100 days #45 has insulted our allies, gotten a navy seal killed after ordering a military operation from his dinner table, sent the nation into chaos, after signing a convoluted Muslim ban. He's insulted the media, insulted our intelligence agencies, insulted the judicial system, called the media the enemy of the people because they fact check him. He hasn't kept any of his lofty promises, and he still tweets like some prepubescent 11 year old, with a vocabulary about the same. So, please get this through your heads, we are not sore losers, we just don't want to lose the country simply because you hate so much that you've given power to a geriatric senile sexual predator and Russian puppet! #Impeach4Peace #NotMyPresident
Every horrific event, I keep telling myself that this will finally be it.. the impeachment day..and then the day ends, and a new one begins with this dangerous psychopath in charge of so many life changing decisions. Truly horrifying times.
They are stalling to see how much more they can get away with in Congress and in the states before the 2018 elections. They're looting the stores BEFORE the riots start.
It's pretty discouraging that the voters can't see their mistake. I think we're becoming a people incapable of learning, and trump is leading the way.
We're already a failed state. The GOP has made it clear they will tolerate any amount of corruption, lying under oath or treason with Russia to ram through their horrible agenda. #LockHimUp
The failure of democracy is when the checks and balances that the Founding Fathers so brilliantly created aren't even used in order to advance partisan agendas. Its very sad. Perhaps Trump thinks he is doing what is best for the country, but there is no-one willing to have the courage to empower him in a way where he can be a force for good for the whole country instead of a narrow wing of the Republican Party. To be a country so divided that people will put party over country and profits over the health of every citizen is how we will lose the great country we were meant to be. I hope the country and our representatives wake up and start to work together instead of against each other.
Power of propaganda. As long as his voters don't drop him in enough numbers (say below 25% approval), neither will fellow Republicans. They'd support Satan if he helps them keep the House and Senate and puts crazy right-wingers on the Supreme court.
I've finally faced it. The real problem is the Republican Party. They decided to support Trump, altho during the election many SAID they despised him. Now they continue to allow him to denigrate the office of the presidency, wreck havoc in foreign affairs, and evade any investigation of his treasonous behavior. I know what Trump is, he showed us his character during the primaries and election. But I would not have believed that virtually EVERY Republican elected to a federal office could watch what Trump is doing to our country and be fine with it. For all the criticism of Barry Goldwater, for being a war monger and extremist, he at least had the courage to walk over to the White House and tell Nixon it was time to go. There's not a single Republican willing to do that to Trump.
How do we know there's no proof of Russian meddling in our election? Investigated Investigate investigate. You know, like they did with Benghjazi.
There's no proof that Russia hacked the US elections. There's no proof that Russian officials or Russian agents colluded with members of the Trump campaign. There's no proof that Russia provided material support of any kind for the Trump campaign or that Russian agents hacked Hillary Clinton's emails or that Russian officials provided Wikileaks with emails that were intended to sabotage Hillary's chances to win the election. So far, no one in any of the 17 US intelligence agencies has stepped forward and verified the claims of Russian meddling or produced a scintilla of hard evidence that Russia was in anyway involved in the 2016 elections. No proof means no proof. It means that the people and organizations that are making these uncorroborated claims have no basis for legal action, no presumption of wrongdoing, and no grounds for prosecution. They have nothing. Zilch. Their claims, charges and accusations are like the soap bubbles we give to our children and grandchildren. The brightly-colored bubbles wobble across the sky for a minute or two and then, Poof, they vanish into the ether. The claims of Russia hacking are like these bubbles. They are empty, unsubstantiated rumors completely devoid of substance. Poof. It has been eight months since the inception of this unprecedentedly-pathetic and infinitely-irritating propaganda campaign, and in those eight months neither the media nor the politicos nor the Intel agents who claim to be certain that Russia meddled in US elections, have produced anything that even remotely resembles evidence. Instead, they have trotted out the same lie over and over again ad nauseam from every newspaper, every tabloid and every televised news program in the country. Over and over and over again. The media's persistence is nearly as impressive as its cynicism, which is the one quality that they seem to have mastered. The coverage has been relentless, ubiquitous, pernicious and mendacious. The only problem is that there's not a grain of truth to any of it. It is all 100 percent, unalloyed baloney. So it doesn't matter how many Democratic senators and congressmen disgrace themselves by lighting their hair on fire and howling about "evil Putin" or the imaginary "threats to our precious democracy". Nor does it matter how many hyperbolic articles appear in media alleging sinister activities and espionage by diabolical Moscow Central. It doesn't matter because there is have absolutely zero solid evidence to support their ludicrous and entirely politically-based claims. Whether Russia was involved in the US elections or not, is a matter of pure speculation. But speculation is not sufficient grounds for appointing a special prosecutor, nor are the lies and misinformation that appear daily in our leading newspapers, like the dissembling New York Times, the dissemblingWashington Post and the dissembling Wall Street Journal. The call for a special prosecutor is not based on evidence, it is based on politics, the politics of personal destruction. The Democrats and the media want this tool so they can rummage through whatever private information or paperwork anyone in the Trump administration might possess. So while they might not dig up anything relevant to the Russia hacking investigation, they will certainly gather enough sordid or suspicious information to annihilate the people in their crosshairs. And that's precisely what the special prosecutor provision is designed to do; it provides the administration's rivals with the weapons they need to conduct a massive fishing expedition aimed at character assassination and, ultimately, impeachment. But, why? Because Donald Trump had the audacity to win an election that was earmarked for establishment favorite and globalist warmonger-in-chief, Hillary Clinton. That's what this witch hunt is all about, sour grapes. But why has Russia been chosen as the target in this deep state-media scam? What has Russia done to deserve all the negative press and unsupported claims of criminal meddling? That's easy. Just look at a map. For the last 16 years, the US has been rampaging across North Africa, the Middle East and Central Asia. Washington intends to control critical oil and natural gas reserves in the ME, establish military bases across Central Asia, and remain the dominant player in an area of that is set to become the most populous and prosperous region of the world. It's the Great Game all over again, only this time-around, Uncle Sam is in the drivers seat not the Queen of England. But one country has upset that plan, blocked that plan, derailed that plan. Russia. Russia has stopped Washington's murderous marauding and genocidal depredations in Ukraine and Syria, which is why the US foreign policy establishment is so pissed-off. US elites aren't used to obstacles. For the last quarter of a century– since the fall of the Berlin Wall and the dissolution of the Soviet Union– the world had been Washington's oyster. If the president of the United States wanted to invade a country in the Middle East, kill a million people, and leave the place in a smoldering pile of rubble, then who could stop him? Nobody. Because Washington owns this fu**ing planet and everyone else is just a visitor. Capisce? But now all that's changed. Now evil Putin has thrown up a roadblock to US hegemony in Syria and Ukraine. Now Washington's landbridge to Central Asia has been split in two, and its plan to control vital pipeline corridors from Qatar to the EU is no longer viable. Russia has stopped Washington dead-in-its tracks and Washington is furious. The anti-Russia hysteria in the western media is equal to the pain the US foreign policy establishment is currently experiencing. And the reason the foreign policy establishment is in so much pain, is because they are not getting their way. It's that simple. Their global strategy is in a shambles because Russia will not let them topple the Syrian government, install their own puppet regime, redraw the map of the Middle East, run roughshod over international law, and tighten their grip on another battered war-torn part of the world. So now Russia must pay. Putin must be demonized and derided. The American people must be taught to hate Russia and all-things Russian. And, most of all, Russia must be blamed for anything and everything under the sun, including the firing of a completely worthless sack of sh** FBI Director, James Comey, who– at various times in his career– "approved or defended some of the worst abuses of the Bush administration….including torture, warrantless wiretapping, and indefinite detention." (ACLU) This is the low-down, good-for-nothing scalawag that the Democrats are now defending tooth in nail. It's pathetic. Russia has become the all-purpose punching bag because Washington's plans for global domination have gone up in smoke. The truth is, Putin's done us all a big favor. www.counterpunch.org/2017/05/12/the-russian-hacking-fiasco/
Clinton got impeached for lying about a blow job... I guess that's far more egregious than ALL of Trump's lies in the Republican way of thinking, possible collusion with Russia, doesn't matter, violations of emoluments clause, doesn't matter, firing the FBI Director because he wont pledge loyalty and stop investigations, doesn't matter, putting his kids in key positions, doesn't matter...The GOP is full of HYPOCRITAL Traitors to our country.
I finally snuck into an event to go face to face with my NV Senator Dean Heller .. he won't have a town hall, he won't meet with us yet he wants to make laws about what i can do with my vagina, he wants to take away my healthcare and access to planned parenthood, he wants to do any/everything trump asks him to do so .. here is me, tearing dean heller NV (r) a new asshole ..please share wherever you can xoxoxooxxo MOM'S are the power behind the resistance!!!! STAND UP 🙂 www.youtube.com/watch?v=hYUFxqrRNWY
For the American People who supported Trump: 1. He called Hillary Clinton a crook. You bought it. Then he paid $25 million to settle a fraud lawsuit. 2. He said he'd release his tax returns, eventually. You bought it. He hasn't, and says he never will. 3. He said he'd divest himself from his financial empire, to avoid any conflicts of interest. You bought it. He is still heavily involved in his businesses, manipulates the stock market on a daily basis, and has more conflicts of interest than can even be counted. 4. He said Clinton was in the pockets of Goldman Sachs, and would do whatever they said. You bought it. He then proceeded to put half a dozen Goldman Sachs executives in positions of power in his administration. 5. He said he'd surround himself with all the best and smartest people. You bought it. He nominated theocratic loon Mike Pence for Vice President. A white supremacist named Steve Bannon is his most trusted confidant. Dr. Ben Carson, the world's greatest idiot savant brain surgeon, is in charge of HUD. Russian quisling Rex Tillerson is Secretary of State. 6. He said he'd be his own man, beholden to no one. You bought it. He then appointed Betsy DeVos as Secretary of Education, whose only "qualifications" were the massive amounts of cash she donated to his campaign. 7. He said he would "drain the swamp" of Washington insiders. You bought it. He then admitted that was just a corny slogan he said to fire up the rubes during the rallies, and that he didn't mean it. 8. He said he knew more about strategy and terrorism than the Generals did. You bought it. He promptly gave the green light to a disastrous raid in Yemen- even though all his Generals said it would be a terrible idea. This raid resulted in the deaths of a Navy SEAL, an 8-year old American girl, and numerous civilians. The actual target of the raid escaped, and no useful intel was gained. 9. He said Hillary Clinton couldn't be counted on in times of crisis. You bought it. He didn't even bother overseeing that raid in Yemen; and instead spent the time hate-tweeting the New York Times, and sleeping. 10. He called CNN, the Washington Post and the New York Times "fake news" and said they were his enemy. You bought it. He now gets all his information from Breitbart, Gateway Pundit, and InfoWars. 11. He called Barack Obama "the vacationer-in-Chief" and accused him of playing more rounds of golf than Tiger Woods. He promised to never be the kind of president who took cushy vacations on the taxpayer's dime, not when there was so much important work to be done. You bought it. He took his first vacation after 11 days in office. On the taxpayer's dime. And went golfing. And that's just the first month. by Robert Reich To share this post, copy and paste it rather than just sharing it.
It'll be four years of uncontrolled spiraling into the abyss! Meanwhile China rises to take on the leadership of the world... Building infrastructure.... Opening up the old silk road to fast track to Europe and the West.. USA...falling asleep as Ancient Rome
When America wake up, might too late. The Russians are succeeding in undermining our Democracy. The traitor-in-chief and the domestic enemy, GOP believe they will not be affected because, they have money and power. I see the America I loved becoming more and more like Venezuela, my other country. Where are the heroes that did solemnly swear that they will support and defend the Constitution of the United States against all enemies, foreign and domestic? Where are the Americans?
The Justice Dept, FBI, NSA, CIA needs to put their info on a table of a independent prosecutor.Then a respectable Republican Senator (John McCain) needs to present to the Senate a request to Impeach the president for collusion with foreign govt., impeding Justice due process and treason. Impeachment and Imprisonment
But he's just a simple toy. Those who still support him from the GOP seem to be willing to destroy democracy just to stay at the power... and fill their pockets. They show they don't care about any kind of ethics anymore. The problem are all those guys surrounding him and laughing at the camera after every crazy order he signed. Every single one getting a step closer to the collapse. How do you explain that to future generations? What a horrible mess. Make them accountable!
When is this chaos going to end? There has not been one day since he took office that something didn't happen with him or his staff. How long is this mentally unstable, evil, man going to be allowed to be our President?
And they have the NERVE to continue to run for office!! Both Pence and Ryan have sent millions of dollars to stop a Democrat from winning in Georgia. WTF??? How could ANYONE EVER VOTE REPUBLICAN AFTER THIS?
Michael, there are two exceedingly weird things about this remark from Trump about literally getting away with murder: 1. That he said it! Who is so flipping stupid that they think such a statement is a wise move? He is merely confirming his arrogant assumption that he's above the law. Even if he was right he still is dumb for saying it. 2. What's even weirder is that anyone, yes any one person voted for him after he said this! It should have been a deal breaker. Imagine Bill Clinton saying this... he would not have been elected. Imagine Obama saying this? No way he gets elected.
Where they once aligned themselves with this idiot, watch now as they scramble for distance like roaches with the lights turned on . . . the blame game will go far and wide. I don't think #45 will be in the oval come Christmas.
I'm still not close to being over this and forgiving of those selfish, gullible, lackwits and bigots who voted for this repugnant sociopathic buffoon! I'm both angry and heartbroken … and sometimes hopeless. All my life I was taught by those I admired, and I thoroughly believe it for myself, that to support and enable bullies, bigots, and sexual predators, and the like makes you just as culpable. I have acquaintances and family who I still can't speak to because they enabled that tyrannical subhuman POS! Now, each day brings unfolding dramas from a government under despot rule … complete with nepotism, kleptocracy, and the lingering haze of impending dystopia. Before we witness the complete putrid collapse of our democracy something can be done. But republicans are the ones to bring this to an end, and that's one of the reasons I'm feeling utterly hopeless. If this entire governmental clusterfuck hasn't shown that the majority of the GOP are spineless bootlickers I don't know what will prove it to their constituents. Begin to make this right! Vote these creeps out of office! "The evil of our time is the loss of consciousness of evil." – Philosopher, Krishnamurti
Just remember... -On Tuesday the senate Intel committee requested info from the treasury financial crimes unit on DJT and his associates financial records -Comey was fired Tuesday PM -Thurs AM Sen Burr and Warner were pulled out of the intel committee mtg on global threats to have a meeting with the dep AG. Considering this committee meeting had directors of all intel agencies including the new acting director of the FBI, it seems odd to pull the senators out abruptly for something more important than "global threats." I was watching it live and it surprised the other members of the committee when they had to go. An hour or so later on Thursday FBI out of DC (not local VA field office) raided Strategic Campaign Group. The firm has ties to Manafort, Stone and others and has represented GOP campaigns at all levels including presidents senators and congress based on their website. The website has since been adjusted but you can use archive to see it earlier in the week before the raid -at the same time as the raid took place the FBI tweeted out a picture re: asset forfeiture. I can only hope they were trolling DJT on his favorite platform -Friday the request from the committee to examine trump and associates financials was approved by the treasury crime unit There's been a lot of discussion re: the financial side, RICO etc this week and there is a good chance it will affect many high ranking members of the GOP if those discussions to be believed There has even been talk about Sen. Hatch receiving security briefings to prepare him to assume the role of president when the others go down. Lots on Twitter connecting the dots if you want to go deeper. I'm thinking it's only a matter of time although it may be longer than we want to wait. Keep resisting 🇺🇸
Pence is just as dirty as Trump in all this -- as could be Ryan and McConnell. By the time this is done, the White House janitor could be president.
We should learn from the Romanian people, Rachel Meadow had their story a couple of weeks ago. When a corrupt government tried to "make a new law" to make corruption and bribery legal up to a certain amount, the people hit the streets in Bucharest (day and night ), and wouldn't hear any of it till the government dropped it. A couple a weeks ago the same government wanted to "make a new law" to pardon government officials that were accused of corruption and bribery , and people went to the streets, and this time they said they will stay longer (day and night) for the government to get the message that nothing of this kind of action will ever be accepted! Our government is not getting a strong enough message from us that this kind of behavior will not be accepted by the majority of American people. I think it's up to us to fight !!
Load more
1. Mass Citizen Action. 2. Take Him to Court Nonstop. 3. You Run for Office in 2018. 4. An Army of Satire Will Defeat Them All. #ourplan
Yes, he may be gone in 6 months, but the last time people felt smug about what a loser he was he outsmarted everyone. ALL HANDS ON DECK!
Anyone who thinks Trump is going down or will be impeached is doing the same harm as those last summer who were SURE Hillary would win. STOP
Before their time, my grandparents' house was part of the Underground Railroad to Canada. Let's help those in need. https://t.co/qTeKMD0eZs
Still looks like a curtsy to me. #curtsy #TrumpCurtsy
Alexi McCammond
@leximccammond
The slightest bow from Trump as he receives a medal. Conservatives were not happy when Obama did the same in 2009.

#MichaelMoore usa un título polémico para su nuevo documental y dispara contra Trump --- https://t.co/cpZlq8mMYc
Michael Moore: I will end Trump #farenheit119 #michaelmoore via @ReadTheHornNews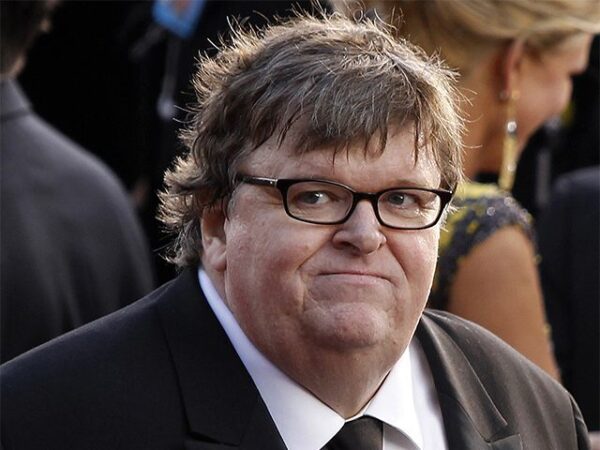 Michael Moore: I will end Trump
Notoriously liberal filmmaker Michael Moore has just announced that he is the man Democrats have been searching for to bring an end to Donald Trump&rs...
thehornnews.com
@CarlosAlmanzarR @bestepan @La913FM Una de mis favoritas de #MichaelMoore
@SallyAlbright @shellytheoracle @TerriPlaysHere @Zebop @MMFlint Sexist, racist, Russia, poor Hillary. Everyone picks on her. Identity politics is Y Dems R now a fringe party, lost everything including ppl
@dragonman71248 @Zebop @MMFlint Every party is corrupt, always have & always will. Bernie attacked HRC after primary along with surrogates. Why was that-if a true dem?
@TerriPlaysHere @shellytheoracle @SallyAlbright @Zebop @MMFlint Hillary Clinton is your god and can do no wrong, Wall St $, selling arms to ME dictators, regime change wars, Iraq,Libya,Syria,Honduran coup
@fabucat @Zebop @MMFlint How R U fighting Trump btw? Carrying signs, claiming UR the resistance? Give me a break. U wouldn't know resistance if it was in front of U.
@RetroGirl65 @KeyshaSmith9 @iLove2sing81 @MMFlint You are supporting a 70 year-old who resorts to childish jabs all the time. You have no right to talk, hypocrite. 😂https://t.co/7D8CQ7wN3e
@scarbro_k @RadFinch @MMFlint Sources familiar with twitter users find you stupid.
Annual VIP Membership
$197/year
(most popular - best rate)
Free 7-Day Full Trial
Celebrity Contacts Database Access:
59,200+ Celebrities & Public Figures
14,000+ Representatives
(Agent, Manager, Publicist & Attorney)
7,300+ Entertainment Companies
USPS-Verified Mailing Addresses
Representation Email Addresses
Unlimited Celebrity Searches
Private Online Database
Dynamic Lookup Technology
Lightning-Fast Hosted by Amazon
Cross-Referenced Results
Daily Database Updates
VIP Member Concierge
Free Research Requests
Postage Refunds
Celebrity Causes Database
Free E-Books:
Celebrity Leverage
Help From Hollywood
Secrets to Contacting Celebrities
100% Satisfaction Guarantee
Monthly Insider Expert Teleseminars
Cancel Anytime
Priority VIP Service
Best Rate - No Monthly Charges
Monthly (Basic) Membership
$47/month
Free 7-Day Full Trial
Celebrity Contacts Database Access:
59,200+ Celebrities & Public Figures
14,000+ Representatives
(Agent, Manager, Publicist & Attorney)
7,300+ Entertainment Companies
USPS-Verified Mailing Addresses
Representation Email Addresses
Unlimited Celebrity Searches
Private Online Database
Dynamic Lookup Technology
Lightning-Fast Hosted by Amazon
Cross-Referenced Results
Daily Database Updates
Member Concierge
Free Research Requests
Postage Refunds
Celebrity Causes Database
Free E-Books:
Celebrity Leverage
Help From Hollywood
Secrets to Contacting Celebrities
100% Satisfaction Guarantee
Monthly Insider Expert Teleseminars
Basic Support
Cancel Anytime
5-Minute Database Demo: