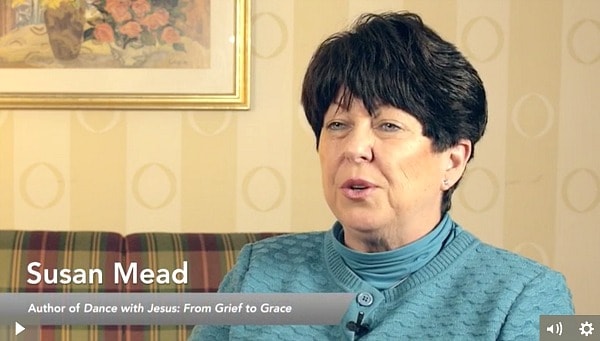 "7 and a half years ago I lost my youngest son and my world turned upside down, and in that chaotic moment, peace stepped in. I want to help others find that peaceful spot and that wonderful place where they can be calm, effective, capable and step out of the darkest holes of their life and into greatness."
Quantum Leap member Susan B. Mead is the author of the quote above and she's gone on to amazing success helping others overcome tragedies in their lives…
After retiring from a corporate career with Johnson & Johnson, Susan decided to write a book but knew nothing about publishing or marketing books. But she was determined to get her story out to the world and help others.
Today, she has 2 stunning websites… over 36,000 Facebook likes, over 85,000 Twitter followers and over 20,000 Instagram followers!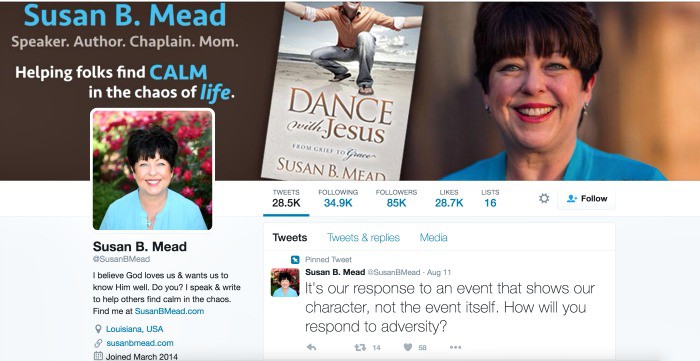 Even better, when she launched her book, Dance with Jesus: From Grief to Grace, it immediately hit #1 on Amazon's Christian grief category.
How did she get such great results? More importantly, how did she take a personal tragedy and turn it around to help thousands of others who need her help and advice?
Watch this video where Susan shares how she made her Quantum Leap!
One common thread we've seen is that most authors and speakers use a difficult event in their lives to help others get through difficult times in theirs.
Steve Harrison has worked with authors who've lost husbands and children… abused and battered wives… people who were once wealthy and lost it all to unscrupulous business partners… in fact, you name a problem, and he'll show you a brave soul who has used that strategy to help thousands of others.
If you have a story to share that can help others overcome challenges in their life, perhaps it's your calling to get it out there.
But of course, there's the stumbling block of actually writing the book, getting booked on speaking engagements, building a platform, creating a social media presence, and on and on.
Don't let your fear of computers or the Internet keep you from sharing your message to the thousands or millions of people you can help. You can follow Susan's footsteps. See what she did to succeed and how she overcame the hurdles in this video. Enjoy!
P.S. – Want Steve Harrison's team to work with you over the next year to see your goals become reality?
Apply now for a spot in Quantum Leap and get started!
P.P.S. – Susan was a prize winner in the annual "I Made A Quantum Leap" contest. When you join Quantum Leap, you too will have the chance to compete in the annual contest and celebrate your progress!